Genius ERP
¿Qué es Genius ERP?
Genius Solutions es una solución completa de planificación de recursos empresariales (ERP) que incluye software, servicios de implementación y experiencia de campo para pequeños y medianos fabricantes
Leer más
. Genius ERP ha sido diseñado para fabricantes que realizan fabricación bajo demanda, diseño bajo demanda, pedidos personalizados y fabricación con montaje bajo demanda. Estimación precisa, diseño de productos, control de inventario, planificación de producción, gestión de cuentas y supervisión completa: un sistema que ayuda a simplificar la fabricación compleja.
Mostrar menos
¿Quién usa Genius ERP?
Fabricantes de equipos y maquinaria personalizada. Fabricantes de equipos de procesos, tanques y equipos fotovoltaicos. Fabricantes de equipos de transporte. Fabricantes de troqueles, moldes y herramientas. Fabricación metálica.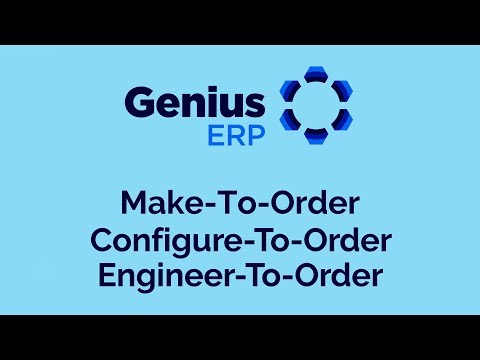 ¿No estás seguro sobre Genius ERP? Compara con una alternativa popular
No se han encontrado precios
Versión gratuita
Prueba gratuita
Versión gratuita
Prueba gratuita
¿Por qué estoy viendo esto?
Alternativas a Genius ERP
Sebastien
Plant Director en Canadá
Usuario de Linkedin verificado
Alimentación y bebidas, 51-200 empleados
Ha utilizado el software durante: Más de dos años
Alternativas consideradas:
Simple and efficient
Puntos a favor:
Easy to use. Transactions are fast. Great support at the implantation. intuitive ERP
Puntos en contra:
I will appreciate more basic KPI to be delivered with the program. Also, more normalized terms between each transaction
Samantha
President & CEO en Canadá
Maquinaria, 51-200 empleados
Ha utilizado el software durante: 6-12 meses
Alternativas consideradas:
Genius - Great Manufacturing ERP Software
Comentarios: The whole process from implementation to Go Live has been a great one overall. [SENSITIVE CONTENT] has been amazing with us!! I did feel that we were left alone a bit too much during this process, however this in turn has made us much better at understanding the software overall. Our team has adopted the new system well. We are still working through some issues and need to figure out all of the nuances of a new system.
Puntos a favor:
Our whole manufacturing process is managed including inventory control. I really like that the team can look into a job and figure out at what stage certain items are at in the manufacturing process. The engineering side is great, and allows our team not to have to do duplicate entries. This also ensures that there is much less human error since the items are imported directly from Inventor to the Engineering Document. This in turn is transferred to the job. From the quoting side, we were doing our small quotes manually previously, and now we quote within the system and then when a PO is given we convert it. Therefor no extra entry is needed.
Puntos en contra:
The accounting side is not the greatest. You can tell that this was added to the software after. It is really hard to follow the transactions. There is potential for it to be better. I think that one of the biggest downfalls of the software is how buy and sell parts are handled with regards to inventory. The system was not created for this purpose, and therefore is has a big weakness on how this is controlled/handled. The scheduling is a very hard concept to understand and it takes time to get it to work. There are items that don't make sense at times and you have to dig to figure out why. It is not always clear to know why certain dates are given. The standard reports are not great.
Kathleen
Accounting/HR Manager en EE. UU.
Maquinaria, 2-10 empleados
Ha utilizado el software durante: 6-12 meses
Older versions NOT accounting friendly
Comentarios: I am looking to upgrade our system, because it is by far one of the worst (least intuitive) accounting software programs I've ever used (and I've been in the industry for 10+ years).
Puntos a favor:
The accounting functions of our business can be tracked with the same software as our ERP
Puntos en contra:
Finding reports, and basic accounting functions is not intuitive and their online "help" is vague and NOT helpful. There is no way to retrieve past bank reconciliations (that I have found) which is inconvenient when you don't have access to previously saved records. Hopefully they've improved on later versions.
Josh
OPEX Manager en EE. UU.
Maquinaria, 51-200 empleados
Ha utilizado el software durante: 1-5 meses
Alternativas consideradas:
A Genius Fit for Custom Manufacturers
Comentarios: The implementation process was shockingly smooth. We were expecting a lot of clean up and things to fix and found that to be very little. Compared to our previous ERP, getting to data and having it available without the need to drill down several levels to find it is a major improvement. The ability to filter data using drag and drop headers makes data processing much faster. Overall it has improved our business functions dramatically and we are only getting started. There are many features we are bringing on board that will further improve the value to the business. The technical team has also been easy to work with and responsive.
Puntos a favor:
The integration by far was the most seamless and easy process that we've gone through with an ERP implementation. Being a custom manufacturer, we needed an ERP designed for our type of business. From CAD to BOM capability, preliminary purchasing of long lead time parts, scheduling using the drum-buffer-rope method and the ability to access data for metrics and data driven process control, Genius had it all!
Puntos en contra:
There are some features that are not customizable. If you can't adapt your process to fit then you've got to figure out ways to use other features in a different manner to achieve the goal. Luckily we've been able to do that for most processes and still maintain a high level of efficiency. The software has a Gantt chart feature but its not printable in a format that can be shared. That for us is the biggest omission for software focused on custom manufacturing.
Greg
Consultant en EE. UU.
Almacenamiento, 11-50 empleados
Ha utilizado el software durante: 6-12 meses
Alternativas consideradas:
Great Software and Functionality at a fraction of Big ERP Cost!
Comentarios: Very good. From signing the contract to go live with a small trailer manufacturer in NC was 2 months! Good training and experience in ERP helped that, but even if we added more complexity, we could have accomplished it in 4 months, tops.
Puntos a favor:
Having been in ERP space for 30+ years in Manufacturing Environments, I can attest that Genius ERP provides very robust functionality at a very competitive price. From BOM to Engineering Lifecycle to MRP and MPS, it really does it all. Their training is straightforward and their support is excellent! They also have scheduled "talk with an expert" sessions (~2x week) that enable you to get quick responses on issues of functionality. Being Cloud hosted means you don't have to invest in the infrastructure and sleep at night knowing your data is safe. Their security is as robust or simple as you'd like it to be. Lastly, if you're familiar with SQL databases, they have a very nice interface through their own Analytics Product and Power BI. Other nice features: Downloads of views of data to excel, Export/Import of major data sources; Robust custom fields; Report export to Excel, PDF, etc..; REST API to enable web based integrations.
Puntos en contra:
Being cloud hosted, we have to RDP into Azure (as opposed to a full-fledged html version) to get to a desktop (I believe this is on their roadmap). They do, however, have a Web Shop Floor interface that eliminates the need of the Remote Desktop for shop floor reporting. Lastly, because of the RDP, we have to rely on local default printers for printing (but there are many option for preview->pdf/excel). No OBC data access, but they do have a nice Power BI connector. Their General Ledger is servicable, but they tell you that from the outset. And I would never make a manufacturing ERP decision with the quality of the G/L being a major factor. Besides, you can get the data out of Genius via Analytics and/or PowerBI and cut/paste into Excel. File exchange (through Azure connectors) is accomplished by creating a share on Azure and local company and syncing the two. It's not immediate, but it is relatively timely. No local admin rights on the desktop, requiring a help desk ticket for any software install or upgrade. These are all relatively minor inconveniences, when you look at the core functionality of Genius.