¿Qué es Phorest?
Un software prémium todo en uno para salones con más de 3 empleados
El galardonado Phorest ofrece todo lo que necesitas para que tus clientes acudan más a menudo, gasten más y recomienden el salón. Incluye funciones de marketing por correo electrónico/marketing por SMS, aplicaciones de marca para el salón y programa de lealtad (TreatCard), alcance automatizado a los clientes que llevan tiempo sin acudir y reseñas de Google, Yelp y Facebook. Además, puedes administrar sin esfuerzo citas, existencias, listas y obtener un conjunto de informes en todas las áreas de tu salón.
¿Quién usa Phorest?
El software para salones Phorest es para propietarios de salones que desean crear experiencias mágicas para que los clientes vuelvan más a menudo y gasten más. #letsgrow
¿Dónde se puede implementar Phorest?
Cloud, SaaS, Web, Mac (desktop), Windows (desktop), Windows (local), Linux (local), Android (móvil), iPhone (móvil), iPad (móvil)
Sobre el proveedor
Phorest Salon Software
Ubicado en Cranford, EE. UU.
Fundada en 2005
Asistencia telefónica
Chat
Países disponibles
Canadá, Estados Unidos
Idiomas
alemán, finés, inglés
Sobre el proveedor
Phorest Salon Software
Ubicado en Cranford, EE. UU.
Fundada en 2005
Asistencia telefónica
Chat
Países disponibles
Canadá, Estados Unidos
Idiomas
alemán, finés, inglés
Imágenes y vídeos de Phorest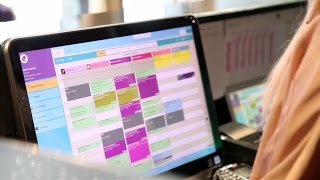 Comparar el precio de Phorest con productos similares
Funciones de Phorest
Automatización de marketing
Base de datos de clientes
Citas recurrentes
Confirmación y recordatorios
Conforme con HIPAA
Gestión de calendarios
Gestión de citas
Gestión de clientes
Gestión de descuentos
Gestión de docentes/personal escolar
Gestión de empleados
Gestión de inventarios
Gestión de nóminas
Gestión de tarjetas de regalo
Importación y exportación de datos
Informes de ventas
Integraciones de terceros
Lectura de código de barras/tickets
Marketing por correo electrónico
Para barberías
Para centros de belleza y balnearios
Perfiles de clientes
Planificación de personal
Procesamiento de pagos
Procesamiento de tarjetas de crédito
Programa de fidelización
Programación de citas
Punto de venta (POS)
Reserva en línea
Varias ubicaciones
Omar E.
General Manager en Canadá
Usuario de Linkedin verificado
Comercio minorista, 51-200 empleados
Ha utilizado el software durante: Más de dos años
Phorest is the best option on the market
Comentarios: Our salon has 4 locations, and operate in two different provinces. With Phorest, we are able to track all 4 locations from anywhere we have the software installed. This allows our management team to make reports and help with any booking/sales issues our receptionists may have. We've found the marketing tools to be very helpful to send our clients promotions, and newsletters.
Puntos a favor:
- Easy multi-location implementation and support. - Consistent updates that continue to improve the software. - Meets all of our booking and POS needs. - Includes an excellent built-in rewards/points system, that has customizable features. - Very comprehensive reports that make it easy to track the performance of the business, as well as, track the personal performance of each employee, allowing the management to set goals with employees and track their progress. - Online booking system works seamlessly with Phorest's application and works with our business website/facebook page. - Reasonable pricing.
Puntos en contra:
- We wish the reviews could be listed directly as a Facebook review instead of something we have to post ourselves on our business page wall. - We also hope to see a better system for employee categories in the near future. If I want to change the price on one service an employee does, I have to create a new category for them specifically, and there is no way to copy and past the old category. It makes a 1 second change into a 15-20 minute ordeal.
Emma H.
Co owner en Irlanda
Software informático
Ha utilizado el software durante: 1-5 meses
Implementing Phorest has been an excellent experience , so motivating, engaging & professional
Comentarios: Phorest provides everything you need for Cilent engagement and retention including email/SMS marketing; and a loyalty program via automated reach out to clients who are in danger of lapsing plus full social media integration. In addition, I can effortlessly manage appointments, stock, rosters plus get a suite of reports on all areas of my clinic
Puntos a favor:
I had researched various clinic software , but Phorest to date has exceeded my expectations . To highlight my favourite feature ,the software simplifies Cilent engagement & retention , in a way clients feel valued & special - text emails etc . This automated reach out to Cilents is such a time saving feature. I do like the loyalty scheme feature this I feel will support further growth together with the intervertebral social media marketing . I like that the software has centralised stock ,staff Cilent and clinic management . The stock management feature is an excellent tool to save time in creating orders plus provides me with a suite of reports on all areas of your my clinic . The Phorest Go app is very useful & when I was setting up the Phorest team gave me lots of useful easy tips to ensure I receive and utilise all its key features . I starting the wonder how we managed before we installed Phorest !
Puntos en contra:
One feature that is missing but I am aware it's a work in progress is Cilent consultation sheets , consent forms . & the storage of notes , Phorest is an excellent piece of soft ware but it does tend to be more salon orientated but I feel Phorest recognise the need to incorporate a support package more suitable to clinic . The training sessions I feel would be much more beneficial in smaller groups . With Phorest there does appear to be a lot of add ons to your original purchase price and monthly fee but hopefully as phorest's software encourages growth & Cilent retention these will be an investment .
Monique T.
Owner en EE. UU.
Redacción y edición, 2-10 empleados
Ha utilizado el software durante: Más de dos años
Alternativas consideradas:
Poor customer care
Comentarios: As of 2019 my experience is horrific. There is nothing I like about this software anymore. I would rather go back to salon iris. I just wish they were cloud base.
Puntos a favor:
Client management Client connect Email marketing
Puntos en contra:
US customer support is awful! Absolutely terrible. When they were in Ireland it was amazing. I can't wait to leave as I have tried to communicate with their teams for months but still nothing has gotten better. Software doesn't have you tube tutorials to help problem solve many features are not easy to find or use. When a client is a no show and you collect the deposit it goes to your billing and not to your bank account. That's just ridiculous.
Janine J.
salon owner en EE. UU.
Servicios para el consumidor, 11-50 empleados
Ha utilizado el software durante: Más de dos años
no longer a costomer
Comentarios: they were ok. we just didnt have a better option at the time . we now use boulevard
Puntos a favor:
the reports mainly. was great at showing retention, new clients and sales
Puntos en contra:
hard to train, online booking was messy for clients and always felt bets
Hospital y atención sanitaria, 2-10 empleados
Ha utilizado el software durante: Más de dos años
The best software ever!
Comentarios: Always brilliant, always efficient and never disappointed.
The system really is way ahead of any others on the market. It offers everything a business in the beauty industry would need and more.
Puntos a favor:
The ease of it and the reporting is excellent. It is a simple, yet really efficient system, and does everything I need for my business. I like the fact that the brand is honest, and doesn't rip people off to get a decent system, yet offers payment programmes to enable a business to be able to afford the best system within the industry. Everything about it is brilliant.
Puntos en contra:
Nothing really. Cant say I have got any cons. Anything I have suggested or requested on user voice has been implemented. The only thing I have ever found disappointing, was the tone of whoever was responding on user voice. They seemed more technical than customer focused, and came across rude and actually a bit obnoxious in their replies, which is very unlike the Phorest communication you normally give.