Workable
¿Qué es Workable?
Workable proporciona una interfaz flexible e intuitiva para rastrear y administrar candidatos. Los procesos visuales de contratación ofrecen actualizaciones de estado en vivo para cada trabajo, con
Leer más
perfiles enriquecidos de candidatos. Usa la base de datos de candidatos y el CRM de talento para nutrir y avanzar con los prospectivos empleados con el paso del tiempo. Crea un proceso de entrevista estructurado con kits de entrevistas y genere comentarios prácticos con tarjetas de puntuación personalizadas. La comunicación rastreable asegura fluidez en la colaboración con tu equipo. Disponible en versión para equipo de escritorio y móvil.
Mostrar menos
¿Quién usa Workable?
Workable cuenta con más de 6000 clientes en 88 países de todo el mundo. Al ser adecuado para cualquier negocio en crecimiento, tiene una gran proporción de clientes en los sectores de tecnología, finanzas y hostelería.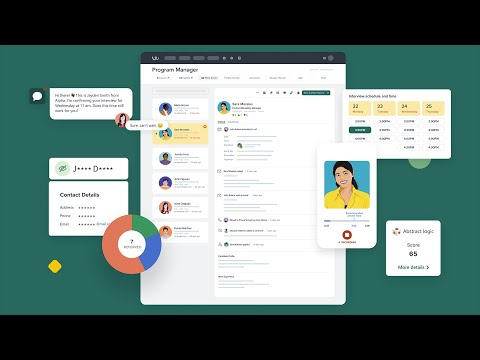 ¿No estás seguro sobre Workable? Compara con una alternativa popular
Versión gratuita
Prueba gratuita
Versión gratuita
Prueba gratuita
¿Por qué estoy viendo esto?
Courtney
Director of People Operations en EE. UU.
Usuario de Linkedin verificado
Hospital y atención sanitaria, 201-500 empleados
Ha utilizado el software durante: Más de un año
Great System, needs a few tweaks to be perfect
Comentarios: It's been great, the system is good, has a few things it could improve on but a good system.
Puntos a favor:
This system has really been great for us. It is easy to create jobs, post, and make notes throughout the process.
Puntos en contra:
Needs a better way for merging candidates from indeed, they get different email addresses so really causes a problem in our system. Need to be able to attach several reqs to one and clear they are together. Indeed integration is wonky, have issues with our jobs being seen but get far better results with a direct link. Ease of seeing things, if notes are so long hard to get to what is needed.
Respuesta de Workable Software
hace 3 años
Thank you for your feedback! It was shared with your Account Manager. We're glad that you've found Workable to be a great system.
Jessica
Game Programmer en EE. UU.
Usuario de Linkedin verificado
Software informático, 201-500 empleados
Ha utilizado el software durante: Más de dos años
Recruiting has never been easier and more efficient!
Comentarios: Workable was able to fix a few issues. Excellent work, in my opinion. Online Video Interview and Online Assessment Test services have already been incorporated, and this was undoubtedly one of the tool's most significant enhancements. As a result, when you purchase the ATS, you get both services for free.
Puntos a favor:
One of the most useful features of Workable is the ability to take notes at any point along the way. You may use Workable to send and receive candidate emails through the system, including a notifications page that functions something like a telephone. It has several AI integrations.
Puntos en contra:
As Workable is still a relatively young ATS that requires updates and a little of effort, reporting and other more complicated functionalities are a bit limited. Workable isn't the best choice if you want a tool that can do whatever you want it to.
Cheryl
Captain en EE. UU.
Fuerzas del orden público, 51-200 empleados
Ha utilizado el software durante: Más de dos años
Simpsonville PD Review
Comentarios: I think it is a great program. I like the ease of posting and accessing so many people with the one post. I like the accessibility of resumes that can be attached.
Puntos a favor:
I like how it branches out to many different companies with one posting. I also like the ease of how to contact the interested candidates.
Puntos en contra:
I haven't fount a feature that I like the least. It is pretty simple to use and allows us to have access to a vast amount of people that we would not generally reach with just our website.
Respuesta de Workable Software
hace 2 meses
Great to hear we're hitting the mark, Cheryl. Thanks for your review, and for being a Workable fan!
April
HR Manager en EE. UU.
Automoción, 51-200 empleados
Ha utilizado el software durante: Más de un año
Customer Service is a nightmare
Comentarios: This was our first experience with an ATS. The integration was easy - I had everything created and complete before the implementation team even reached out. However, the candidate tracking method is too clunky and customer service is an absolute nightmare.
Puntos a favor:
This was our first ATS and it was an easy place to start and learn the system.
Puntos en contra:
It needs a better candidate tracking method. If a person applies to more than one job or to a job more than once - there is no feature to consolidate the candidate information. You spend a lot of time clicking between screens to figure out previous interactions. The customer service was hands down the absolute worst I have ever seen. Any time I had an issue - I would be told that it was my fault and there was nothing they could do - specifically from one IT tech over and over. I finally requested to deal with someone else and that helped somewhat.When it was time to renew, we were reassured that the price would not be changing - there would be no increase in the annual bill (monthly payments are not an option). Then we were sent the invoice - with an additional $1300 on it. What? I asked out rep what the deal was and got completely blown off. I was told it was a charge that they added every year. I asked her about her promise that the bill was the same and was told yes and we added the extra charge - we do that to everyone. What?! Then she stopped answering my emails and calls. Needless to say - we will be changing at the end of our contract this year.
Tiffany
Talent Acquisition Associate Specialist en EE. UU.
Productos farmacéuticos, 1.001-5.000 empleados
Ha utilizado el software durante: 1-5 meses
Workable is easy for everyone to use!
Comentarios: Workable has been great. definitely one of the most intuitive ATS that i've ever worked with. It's easy to onboard our hiring managers into the system too because everything is right there for them:
clear toolbar, comment, evaluate, and so much more.
Puntos a favor:
The customizability of everything that Workable has makes the experience for the candidate so smooth. We can find out what information we're looking for right in the application. Reviewing, sharing, evaluating candidates have never been easier! The timeline tells you all the communication and actions taken with the candidate and the tabs organize the topic so that you can easily see all evaluations at once. Integration with Outlook/Microsoft 365 has made my workflow so smooth as well. Customer support is also SO helpful whenever I have a question, I know someone will be able to help me with it.
Puntos en contra:
There are a few features I wish Workable had. 1. while we are able to have the candidate's first name and last name, there is no placeholder for preferred names (Johnathan Smith's first name will always be Johnathan unless we manually type "John" or something else.) 2. A place where we can send a link to a sourced candidate's application instead of creating a separate google doc with their information or filling out the application on their behalf. ICIMS has a way to send a personalized link and login to candidates to see their application + fill in blanks.
Respuesta de Workable Software
hace 4 meses
Wonderful detail, thanks Tiffany. Will roll the preferred name and custom link ideas to product. You're also welcome to suggest them directly in our customer community: https://community.workable.com/ideas . Appreciate your feedback and support!