¿Qué es Ortto?
No acumules direcciones para enviar correos masivos. Envía correos electrónicos personales en el momento adecuado con la automatización de marketing visual y simple.
Mostrar menos
¿Quién usa Ortto?
Desde startups hasta empresas de Fortune 500, Autopilot es la forma más visual y sencilla para que los equipos automaticen sus trabajos de marketing.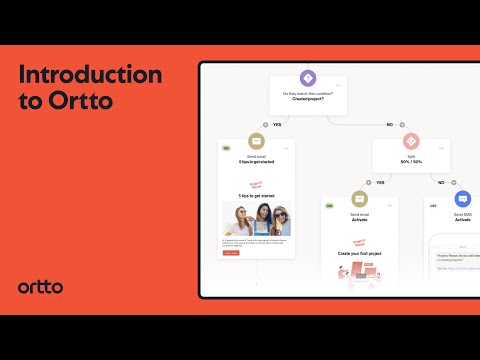 ¿No estás seguro sobre Ortto? Compara con una alternativa popular
Versión gratuita
Prueba gratuita
Versión gratuita
Prueba gratuita
¿Por qué estoy viendo esto?
Internet, Trabajador autónomo
Ha utilizado el software durante: Más de dos años
Autopilot is going the wrong direction
Comentarios: I've been using Autopilot for years and was a big fan of the good old Journey. I was really excited about the new platform. The data integration and visualisation was promising. I was shocked when they rebranded to Ortto after so many years out of the blue, and even though the new platform does have really nice features, overall it has way too many bugs and shows inconsistent results all the time, making it worthless for KPI measurement. I am also not a big fan of how they have changed long time features, like dropping integration with Typeforms and locking in features, like removing SMS integration with Twilio, for example, forcing us to buy expensive SMS packages from them.Also think the new limits are too low. The email "allowance" is low, and you will end up paying extra every month.
Puntos a favor:
Interface and automation capabilities. It's clean, easy on the eye and most of the time, easy to find what you're looking for.
Puntos en contra:
The new platform has huge number of bugs and it's showing inconsistent data. Even within the app itself, you will see different results in different parts of the platform. Some results are very inconsistent, like for example, WooCommerce sales for a campaign reporting a much different number than the campaign.
Respuesta de Ortto
hace 2 semanas
Hi Leni, Thank you for leaving a 4-star review. We are happy to hear you are enjoying Ortto's interface and automation capabilities. Our Support team has been in touch in regard to the data inconsistencies you were seeing, we are here to help if these problems persist. We do have a Typeform integration available to our users, you can find more information about this here: https://ortto.com/integrations/typeform/ If you would like to set up a demo to walk through the Ortto platform and discuss features like SMS, please reach out to our team on chat or help@ortto.com. We would love to show you around the platform and ensure you are able to make the most of all of Ortto's features and capabilities. Thank you for being an Ortto customer.
Alaa
Technical Outsourcing Specialist en Jordania
Tecnología y servicios de la información, 11-50 empleados
Ha utilizado el software durante: Más de dos años
Quality automation that organizes and attracts new customers
Comentarios: As a result of Ortto's automation, we've been able to build advertising campaigns and develop our customer base with ease, and we've always been thinking about increasing our database and targeting new customers. Our ability to respond quickly to changes is bolstered by the quality of the reports we get.
Puntos a favor:
Ortto offers a wide range of tools and templates to help you design a workflow and keep track of every aspect of it. In addition to the Ortto analytics that indicate how many customers reply and interact with messages, I love the ready-made templates that allow me to design campaigns and send them to lists of contacts. When it comes to reporting to management, the reporting system and dashboard are quite efficient. It's also great to have Ortto's automated functionality for adding new consumers and iteratively replicating prior campaigns while also updating target lists. Using automation, we can arrange our email sending dates so that we may target clients with our messages at specific times and dates. To me, Ortto's most appealing feature is the fact that it brings together a wide range of marketing tools into one platform where I can analyze and report on all of these elements at once. When it comes to reworking the subject lines, a copywriting helper can be an excellent solution to overcome writer's block. In addition, I greatly appreciate the Ortto team's responsiveness to clients' needs, since they are always ready to reply to any questions or requests.
Puntos en contra:
Because Ortto is so user-friendly and has so many resources for learning how everything works, there aren't any drawbacks worth mentioning. Additionally, the system's ease of use makes it easy for new employees to learn how the system works and to integrate it with other systems that the business uses.
Garrett
Marketing Manager - Technology en Canadá
Usuario de Linkedin verificado
Software informático, 11-50 empleados
Ha utilizado el software durante: Prueba gratis
A Great Alternative to Full-Fledged Automation Software
Comentarios: Autopilot is a great solution if you're looking for something to automate a sequence of emails. I wouldn't consider it a replacement for full-fledged marketing automation software... yet, but it's a fantastic tool for email automation. Just keep in mind that there are a few hiccups that you'll potentially need to navigate such as email SpamAssassin errors (always use mail-tester.com to check your emails) and CRM sync issues.
Puntos a favor:
It seems to me that Autopilot does only one thing - but it does that one thing REALLY well. I tested Autopilot briefly for a few weeks as an alternative to the drip program functionality in our Marketing Automation software. I was extremely impressed with how easy it is to build a drip program (called a "Journey" within Autopilot), as well as with the breadth of logic and functionality offered. Autopilot really sets itself apart with some amazing - seriously amazing - integrations and functionality that our Automation platform doesn't offer, such as sending SMS text messages or physical postcards. I really like that Autopilot offers in-app chat support, and that you generally don't need to wait longer than 5 minutes to get someone to help you out.
Puntos en contra:
During the few weeks I tested Autopilot, I found a few issues that prevented me from really continuing to use the software for my use-case. The integration with Salesforce was clunky and un-intuitive, and most concerningly, it seemed that when the platform saw leads that already existed in Salesforce, it would stop them from progressing through the drip program. This was a real frustration, and I ended up just disconnecting Autopilot from the CRM in order to finish my test. Another concern we had was that after testing the emails I had configured using mail-tester.com, there was an error identified that could only be resolved by getting a dedicated IP address - something which adds a significant additional monthly cost to the cost of the program.
Usuario verificado
Sales Marketing Positions en Chile
Usuario de Linkedin verificado
Estudios de mercado, 51-200 empleados
Ha utilizado el software durante: Más de dos años
Carry out email automation
Comentarios: Autopilot is used in the Marketing department to carry out email automation for our clients. It allows us to have an overview of the basic performance of our campaigns by email. Autopilot is a great tool for email marketing automation. I think the ideal scenario is for small and medium businesses with growing marketing teams, especially since their cost becomes much more accessible than applications like Marketo.
Puntos a favor:
Autopilot has a large number of email templates that allow us to track the embedded link of our committed users. In addition, Autopilot allows the Marketing team to create a coherent funnel, with intelligent and easy-to-use segments. Another thing is that it is able to cover a large number of tasks, such as sending email newsletters and creating an advanced link based on various factors, such as default fields, potential customer owners, rules, among others. Another thing is Autopilot support, which offers an in-app chat service within the same application, so we can usually get in touch with them in just a few minutes.
Puntos en contra:
There is much to be desired from the Autopilot WYSIWYG editor, which I hope can be improved with the next updates. Some actions related to APIs are very limited, so it would be good if they could provide a little more freedom. In addition, Autopilot allows very few integrations, and it would be excellent to work together with other marketing automation software to work faster.
Aaron
Property Maintenance General Manager en
Construcción, 11-50 empleados
Ha utilizado el software durante: Más de un año
Fuente: SoftwareAdvice
Improving on improvement
Comentarios: The cost per additional mobile app user is a bit annoying, but when we run the numbers, it still makes it a good investment to have most of our employees on the app.
Puntos a favor:
I love the fact that it tracks my whole business from lead generation (that helps me fill in routes based on a map) to setting up the contract (with recurring services and pre-scheduled packages) to crew management (with photo uploads and clock-in/clock-out of jobs and contacting customers) to invoicing (which can be automatic) to receiving payment (even by credit card on the mobile app!). Keeping records on paper and trying to run schedules for weekly, bi-weekly and tri-weekly services would be a nightmare! This really is an AutoPilot software. It is a complete solution that tracks everything which allows it to be the ultimate solution for reporting. I can look at sales close ratios, revenue per lead source, job completion times against budgeted hours, past-due invoices and so much more! I have worked with the system from Property Maintenance Technician to Sales Rep to General Manager and have not been disappointed.
Puntos en contra:
Their asset management portion is in its beginning stages and is not incredibly useful at the moment, but they continue to build on their system and I suspect that they will soon have a robust equipment and vehicle management system.