¿Qué es Influitive?
Influitive te permite crear una comunidad e invitar a defensores (clientes, socios y empleados) a completar desafíos: recomendaciones, reseñas de productos, publicaciones en redes sociales y más. A medida que completan estos desafíos, que pueden dirigirse a grupos o individuos, se obtienen automáticamente puntos, insignias y niveles para canjear ventajas y privilegios. Crea informes fácilmente sobre todas las actividades completadas, intégralas con tu CRM y mucho más para incorporar a los defensores en cada paso del camino.
¿Quién usa Influitive?
Los clientes de Influitive incluyen algunas de las empresas B2B de más rápido crecimiento, como Cisco, Oracle, Box y Hubspot. ¡Lee sus testimonios y resultados!
¿Dónde se puede implementar Influitive?
Cloud, SaaS, Web, Windows (local), Linux (local), Android (móvil), iPhone (móvil), iPad (móvil)
Sobre el proveedor
Influitive
Fundada en 2010
Asistencia telefónica
Chat
Sobre el proveedor
Influitive
Fundada en 2010
Asistencia telefónica
Chat
Imágenes y vídeos de Influitive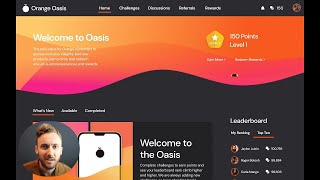 Comparar el precio de Influitive con productos similares
Funciones de Influitive
Acceso móvil
Alertas y notificaciones
Base de datos de contactos
CRM
Chat en tiempo real
Compromiso de clientes potenciales
Controles o permisos de acceso
Creación de informes y estadísticas
Creación de informes/análisis
Creación de marca personalizable
Debates y foros
Encuestas y comentarios
Generación de clientes potenciales
Gestión de abogados
Gestión de campañas
Gestión de comentarios
Gestión de contactos
Gestión de contenidos
Gestión de correo electrónico
Gestión de encuestas/sondeos
Gestión de grupos
Gestión de la comunicación
Gestión de los comentarios negativos
Gestión de membresías
Gestión de participantes
Gestión de recompensas
Historial de cliente
Ideación
Inscripción en línea
Integraciones de terceros
Integración de redes sociales
Ludificación
Marketing multicanal
Marketing por correo electrónico
Modelos personalizables
Moderación
Métricas de rendimiento
Panel de comunicaciones
Programa de fidelización
Recopilación de datos multicanal
Segmentación
Seguimiento ROI
Seguimiento de actividades
Seguimiento de la participación
Seguimiento de recomendaciones
Streaming en directo
Visualización de datos
Alternativas a Influitive
Nicholas C.
Product Marketing en
Usuario de Linkedin verificado
Tecnología y servicios de la información, 51-200 empleados
Ha utilizado el software durante: 1-5 meses
Fuente: GetApp
Producing Great Results!
Comentarios: The idea of customer advocacy and customer marketing is a new way of thinking within B2B business. I feel fortunate that we have chosen a partnership with Influitive, who in my mind, is the leader in this particular space. Our implementation was quite easy and even with my competing priority of creating an online user community at the same time.
Their customer support is quite incredible. They are timely, polite, and sure to close the loop. The knowledge base articles are great and usually show walk-throughs and how-to's on nearly everything. I also appreciate their willingness to continue to foster partnership through ongoing coaching with advocacy experts every two weeks. They have even gone so far as to add me to a great SLACK group with Awesome Advocate Marketers from around the world to learn and grow.
As a result of our coaching, execution, and leveraging the software within the first 30 days we have had 12 new software reviews, 9 referral leads, and 10+ users raising their hand to be references. I have been blown away with our results and so have my executives. We are going to continue to build on our early success and leverage this tool at an upcoming event - specifically with Influitive's great mobile app.
Another thing I appreciate about Influitive is they are constantly learning, growing and trying new things. Their own VIP AdvocateHub is a great place to learn about the company, what's coming around the corner, and also great advice to incorporate into your own hub.
We are really looking forward to continuing our success with our Hub and ultimately mobilizing our advocates to spread the footprint of our brand and services via word of mouth, social, and reviews while having fun at the same time!
Puntos a favor:
You truly get out what you put in. The time spent building campaigns and targeted challenges are directly related to what results you're able to yield thereafter. Their customer support is incredible. Their coaching is very helpful and they are all about building value for your Hub. If you are the sponsor, rest assured you will have plenty of benchmarking and metrics to present to your executive teams.
Puntos en contra:
No real cons to speak of at this time. Like any other B2B company, they are interested in appending add-on solutions such as API links to Marketo, Salesforce, SSO etc. These do cost money and are typically not included in a base contract.
Sue R.
Senior Manager of Installed Base Marketing and Advocacy en EE. UU.
Usuario de Linkedin verificado
Software informático, 1.001-5.000 empleados
Ha utilizado el software durante: Más de dos años
Influitive is a valued partner
Comentarios: From the beginning, we have had nothing but a positive experience with the Influitive product and the team. We've had a dedicated customer success manager with who we meet every month to plan our projects and key initiatives. The support team is responsive and helps
Puntos a favor:
Our company spent time researching which company would provide the best platform for running our online customer community and Influitive was the top pick. Almost five years later, we are still pleased with the decision. The Influitive platform is a safe, closed environment for our educator community to engage and collaborate. The evolution of the platform product roadmap continues to improve our administrative functionality in addition to the ease of use for our members. The channel functionality allows us to put similar activities into the same category. Members can pick and choose their areas of interest without having to sift through all the activities. The reporting functionality gives us the data we need to report out successes and evaluate areas that need improvement.
Puntos en contra:
Many of the issues I liked least about the software have been improved on the Influitive product roadmap including the ability to clone challenges with targeting, the ability to delete members, and the reporting functionalities. The thing I like least about the software is the campaign library can't always be edited easily to meet the tone and needs of our community. We generally create 95% of our own campaigns and don't rely on the campaign library.
Mike S.
Developer Marketing en EE. UU.
Telecomunicaciones, 1.001-5.000 empleados
Ha utilizado el software durante: Más de dos años
Buggy, Unreliable Software. Support is Non-existant
Comentarios: While we have had positive results with Influitive, we have faced numerous challenges. The team is almost impossible to work with (a far cry from the past where they were absolutely exceptional). There is a lack of caring about the customer and in expertise (even of their own software). My first few weeks with Influitive went like this: sales member left items out of the contract and rushed us to sign it (we did, realized our mistake, and accepted it). The company forgot to actually setup our hub (we had to email them to get them to give us what we purchased). The next thing I know I'm receiving crude calls from someone claiming to be their legal team telling me I'm being sued for someone else's account (yes they messed that up). Later, when we tried to purchase the item that was left out of the contract, they tried a bait and switch and tried again to sell us something we didn't want in place of what we specifically asked for. It's gotten to the point where we file a ticket knowing support will tell us to ignore it, and every senior person we've reached out to at the company is leaving or moving positions and unable to help us (redirecting us to other people who we never hear from).
Puntos a favor:
I've used Influitive for several years. It can drive results if implemented correctly and with dedicated resources. The platform offers a nice balance for users with challenges, rewards, a messaging center, and a new focus on a forum (although if you already have a forum you cannot turn this off and they will force you to use it).
Puntos en contra:
The company has changed directions pushing the forum over the challenges (the initial reason Influitive was created). The software is often unreliable, with our team finding bugs and issues almost daily. These issues range from targeting (advocates not receiving challenges), inaccurate counts, data disappearing, and blatant issues in production such as when they broke the rewards page or the challenge forms. We have numerous complaints from our users, and people complaining that it doesn't work. In less than a year we have filed probably over 20 bugs - most of which support ignores. The most common response we get is "it will fix itself eventually." While they have an API, it's very random and not well designed. For example, there is a groups endpoint, but the only way to get the group ID is to go back into the admin, go into reports, dig into the report, pivot and filter, and then eventually you'll find a hidden ID that doesn't match the group ID used throughout the system. The forum likewise is extremely buggy - although they've made vast improvements. Now posts and responses at least show up in order, although moderation and editing capabilities are a far cry from any other available forum solution (in most cases limited or non-existent). If users need to be able to copy/ paste code examples - you can forget it (this feature, while available doesn't work and is as you guessed it, extremely buggy). Unfortunately, this is the tip of the iceberg.
Blake W.
Customer Advocacy Coordinator en EE. UU.
Usuario de Linkedin verificado
Software informático, 1.001-5.000 empleados
Ha utilizado el software durante: Más de un año
Fuente: GetApp
Growing your program with Influitive...
Puntos a favor:
It gamifies advocate engagement to the point where it's not too "cheesy" on their end. Participation feels organic and can be as serious or fun as you want it to be. I feel this was something other vendors attempted but could never do as well. The AdvocateHub provides detailed metrics so that we can accurately present our success to other departments. Plenty of reports are at our fingertips and can be pulled quickly or sent automatically on a week-week, month-month basis. We needed that to be there and done well, it was selling point for the AdvocateHub. Customer advocates in our AdvocateHub are encouraged to engage daily and Influitive does a great job to coach us on how to do just that. You're never left in the dark or left alone to fend for yourself and your customers. Influitive is there with you to coach you through the process and truly cares about getting the most out of your new AdvocateHub. "You're their only customer" is the feeling you get from them.
Puntos en contra:
It's a growing vendor so there can still be a few dents in the software here and there. Targeting and uploading content can sometimes take a bit of time at certain points in the day but nothing that has hindered us so far.
Alvin Q.
Marketing Specialist en EE. UU.
Usuario de Linkedin verificado
Tecnología y servicios de la información, 501-1.000 empleados
Ha utilizado el software durante: Más de un año
Fuente: GetApp
Great Product = Great Results
Puntos a favor:
The AdvocateHub is a great product that many companies could make use of. Customer marketing and customer advocacy go hand in hand and it's on the rise. Before Influitive, I had no idea this was such a thing in marketing. With great effort comes great results which is what I've seen over the past 2 years. We have got feedback rather quickly from our advocates on their hub experience as well as product feedback which is great and beneficial. We have also been able to drive a ton of reviews, referrals, reference calls as well. Tons of quotes and testimonials that we share via Social Media have came from our hub. I believe if you utilize it in every opportunity that you get then you are definitely getting way more than your money's worth for this amazing product. The discussion forum is also a great place for our advocates to discuss our product as well as other things.
Puntos en contra:
Over the past few months, Influitive has been buggy at times as well as e-mail digests going out slower than usual due to lag times (Tuesday mornings on the West Coast) There's been maintenance issues during the day.