¿Qué es Reftab?
Specialized for Schools and IT departments. Reftab costs a fraction of the cost of the others with a better UI and the same, powerful features. We know you need a simple platform. Anyone, no matter their requirements or technical ability can use Reftab for a robust asset management platform.
¿Quién usa Reftab?
Schools and Universities, Technology and IT, Office Services, Not-for-profit, Warehouse Managers, Design Agencies, Hardware Management, Museums
¿Dónde se puede implementar Reftab?
Cloud, SaaS, Web, Mac (desktop), Windows (desktop), Linux (desktop), Chromebook (desktop), Android (móvil), iPhone (móvil), iPad (móvil)
Sobre el proveedor
Reftab
Ubicado en Astoria, EE. UU.
Fundada en 2013
Asistencia telefónica
Chat
Sobre el proveedor
Reftab
Ubicado en Astoria, EE. UU.
Fundada en 2013
Asistencia telefónica
Chat
Imágenes y vídeos de Reftab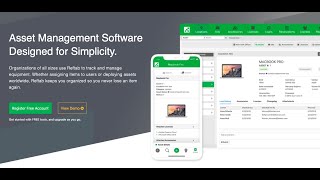 Comparar el precio de Reftab con productos similares
Funciones de Reftab
Acceso móvil
Alertas y notificaciones
Controles o permisos de acceso
Creación de informes/análisis
Códigos de barras/RFID
Gestión de activos fijos
Gestión de auditorías
Gestión de configuración
Gestión de contratos o licencias
Gestión de documentos
Gestión de inspecciones
Gestión de inventarios
Gestión de la amortización
Gestión de la conformidad
Gestión de pedidos de trabajo
Gestión de proveedores
Gestión de usuarios
Gestión del ciclo de vida de recursos
Gestión del mantenimiento
Integraciones de terceros
Lectura de código de barras/tickets
Mantenimiento preventivo
Modelos de etiquetas
Personalización
Programación del mantenimiento
Recordatorios
Registro de auditoría
Registro de entrada/salida
Seguimiento de actividades
Seguimiento de activos
Seguimiento de costes
Seguimiento de equipos
Seguimiento de inventario
Seguimiento de la conformidad
Seguimiento de números de serie
Seguimiento de ubicación
Robert
Associate Director IT en EE. UU.
Tecnología y servicios de la información, 10.000+ empleados
Ha utilizado el software durante: Más de dos años
Alternativas consideradas:
Reftab is awesome
Comentarios: I needed to find a solution to manage checkout hardware for staff and students. Anything from laptops to slide rulers. I checked into several options. Some free, some where the startup cost was over $5K. When I found Reftab, I was sold right away. It was so easy to get setup and it covered everything I needed. But then, there's the tech support and customer service aspect. Wholly cow, the Reftab team is on it!!! I've run into a few cases where I could use a feature. I submitted my use case and OMG, they developed it and implemented it. Now, if I asked for something that no one would use, mileage could vary, but they respond quickly and really seem to understand my needs as a customer. The product is great, but the support is what really sold me!
Puntos a favor:
Reftab is really intuitive. I setup my first instance without needing any support and barely glancing at the documentation. I had a fully functioning demo running with assets and testing check in check out in about an hour of signing up for a demo account. The mobile app adds to that intuitive use.
Puntos en contra:
I wish I could tie printing inventory labels to my Dymo labelwriter and use a label template to print more customized intentory labels right from the Dymo. OK... I haven't asked if that was possible, yet.
MarcAndre
IT Supervisor en Canadá
Juegos de ordenador, 5.001-10.000 empleados
Ha utilizado el software durante: Más de un año
Alternativas consideradas:
Reftab in a quickly changing environment
Comentarios: Every time we had ideas for features, the developers have been very responsive, very quick to apply them (or mention why it's not possible when that was the case). Reftab has been super flexible and very prone to help our business. We definitely have a before and after Reftab in term of quality of asset tracking.
Puntos a favor:
Reftab made it so much easier for us to adapt to the ever changing environment of our studio and constant movement of assets between desks or employees. It perfectly scaled to our studios worldwide, and allowed us to maintain standards between our studios.
Puntos en contra:
There is not much to not like about Reftab. We haven't used the customer portal since it's not very well suited for our kind of environment (where IT has a closer control on assets and accessories), but this doesn't mean I wouldn't recommend it.
Conrad
IT-Assistant en Suecia
Construcción naval, 51-200 empleados
Ha utilizado el software durante: 1-5 meses
Stockholm Repairyard review
Comentarios: We think it's really good, but have problems with the location problem.
Puntos a favor:
We here at Stockholm Repairyard are very happy about using Reftab. Now we can localise which house IT equipments are and the the information about the product.
Puntos en contra:
We at Stockholm Repairyard prefer to view our location images via the web application rather than the phone. We would also like to add photos from the location from the phone when we can only see it. We believe it would be preferable to be able to add and view photos from mobile devices. It would be easier to see locations on the web application if you could only add pictures but not see them; we think this is kind of stupid.
Olivia
Operations Assistant en Francia
Gestión de inversiones, 201-500 empleados
Ha utilizado el software durante: 1-5 meses
Alternativas consideradas:
Fantastic so far!
Comentarios: From the first point of contact, Reftab have been amazing. I have been in contact with Mike, who I believe to be one of the founders of the software. Personally I find that amazing that we have contact with a founder, who is really able to give me all the answers I need directly without going through long support terminals like with other software programs. Mike has been extremely helpful with the setup of our account - always replying very quickly to emails.
Although we are only just (slowly) starting to use Reftab, everything about it is great so far & it works really well.
Due to an extremely busy work schedule, we have not been able to push its limits just yet, but so far, so good. Thanks to the Reftab team for all the help so far!
Puntos a favor:
- The features are super easy to use - the Reftab team are very responsive, efficient & effective when it comes to troubleshooting or answering queries - The check-in /out feature is really simple to use - almost everything is modifiable & customisable
Puntos en contra:
The mobile app lacks the option to edit details / barcodes for Accessories, which from an Office Supply Management POV, is important as it allows me to work from my mobile when adding / editing stock. The request portal (to my knowledge) does not allow for indefinite loans of accessories OR assets, which could be useful for us at least. It also does not yet allow requests for consumable accessories, which again, could be useful for us.
Respuesta de Reftab
hace 3 meses
Hi Olivia, thank you for writing such a wonderful review! We're so happy to hear Reftab is working well for you and your team!
Kevin
Director of Quality en EE. UU.
Software informático, 11-50 empleados
Ha utilizado el software durante: 6-12 meses
Great New Asset Management Tool
Comentarios: I'd started w/ Reftab as a cloud based asset management tool for tracking and managing electric vehicle charging stations. I've also used Device42 then Insight by Riada as competing products because had developed integrations with Jira Cloud and Jira Service Desk Cloud for our task and service ticket management. Reftab continued to develop their product and has now integrated with Jira. Nice! The cost/month is currently less than 50% of the monthly subscription cost for competing products and the functionality and customer service are truly excellent for our asset tracking and management needs.
Puntos a favor:
Great value for $ Integrates and Interacts with Atlassian Jira and Jira Service Desk (Provides link between the asset and any issues or tickets) Bulk Import of existing asset information from existing tools. Easy to setup new fields with different configurations. Good filters to find what you are looking for quickly. Mobile app/interface
Puntos en contra:
The initial product did not integrate with Jira Service Desk. Reftab has since added this capability and setup was reasonably simple.