Deltek Vision
¿Qué es Deltek Vision?
Deltek Vision es una solución basada en proyectos para empresas de servicios profesionales que combina gestión de recursos, gestión de proyectos, gestión de tiempo/gastos y gestión de clientes en un
Leer más
solo producto. Deltek Vision es una solución basada en la Web y disponible para la implementación en la nube o en las instalaciones.
Mostrar menos
¿Quién usa Deltek Vision?
Deltek Vision brinda asistencia a empresas de servicios profesionales, tales como gestión y consultoría de TI, estudios de mercado, arquitectura e ingeniería.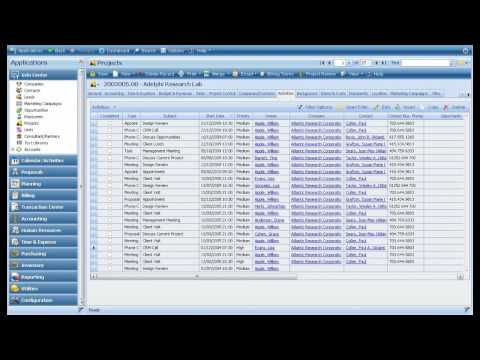 ¿No estás seguro sobre Deltek Vision? Compara con una alternativa popular
No se han encontrado precios
Versión gratuita
Prueba gratuita
No se han encontrado integraciones
No se han encontrado precios
Versión gratuita
Prueba gratuita
¿Por qué estoy viendo esto?
Alternativas a Deltek Vision
Opiniones de Deltek Vision
Rhonda
Manager, CRM Systems en EE. UU.
Ingeniería civil, 1.001-5.000 empleados
Ha utilizado el software durante: Más de dos años
I'm a believer in Deltek Vision
Puntos a favor:
We use Vision for CRM and Proposals-Custom Proposals and Government forms. I love the connectivity between your firms, contacts with your opportunities and jobs. Using Vision enables us to store and retrieve our corporate history and the story of us...our projects, our people and our client relationships. I confess I am a power-user and have done most of the configuration to the system, so therefore understand it more than most others, but I can provide data of any kind from our system. We are integrated with a different accounting platform, so I can also provide up-to-date project reporting. We also use an intranet connector that makes our information easily obtainable/viewable through PC and mobile app (not the Deltek mobile app). I have used the Deltek Vision product since 2005 and had prior Deltek products since the late 1990's. Dewberry is a 2,000 person firm with 50 office locations in 18 states.
Puntos en contra:
Although I live and breathe Deltek Vision, numerous people at our firm just can't grasp the details and complain that it is not user friendly. The learning curve seems slow for some people to overcome, actually many people, but once it's figured out, there seems to be high value in their usage. I like the custom reporting tool but my users find it so difficult that most refuse to use it. I think the most successful firms will have a Vision expert and a strong IT (SQL, reports) and application team on staff. If not, you probably would need a consultant. My team has been able to keep everything in house to date.
David
Chief Financial Officer en EE. UU.
Arquitectura y planificación, 51-200 empleados
Ha utilizado el software durante: Más de dos años
Twelve Years as a Deltek User
Comentarios: In 2004, the professional services firm I worked for was managing a $10M/year business using Quickbooks. It was clunky and problematic, with no real analytic capability (i.e., where and how were we making money). I investigated various solutions, and discovered Deltek Vision. We hired an outside consultant to install and configure Vision for us,and life changed. We suddenly had a true business management solution. As the CFO, I finally had a tool that could give me true insight into the underpinning of our business,and where were profitable (and where we were not). Two years later, at a architectural firm, I inherited Axiom Protrax, practically a DOS-based solution. I quickly tired of operating with a 20-year old platform, and advocated for Vision. Having experienced one implementation,I was not enthused with dropping $60K for an outside party to tell me what to do to configure the system. So, over three months,I single-handedly configured and implemented Vision at a 50-person architectural firm. And it has made all the difference. Vision has continued to grow, through internal development and outside acqusition, and through it all they have maintained a consistent look and feel to the product. Adding functionality without detracting from the user experience. And their customer support has remained top-notch. I love the quick chat. If I just have a quick question, I can go quick chat, and quickly resolve my issues. I love this produce, and it meets the needs of my business.
Puntos a favor:
The user experience. The ability to customize the interface. The ability to quickly drill down into reports.
Puntos en contra:
It is such a rich,deep product that some of its functionality remains unused.
Tony
Executive recruiter en EE. UU.
Construcción, 501-1.000 empleados
Ha utilizado el software durante: Más de un año
Fuente: SoftwareAdvice
See your Vision with Deltek!!!
Comentarios: This product is specifically designed to support the complete project lifecycle of professional services firms, Deltek Vision helps measure your most critical business functions. From pipeline building and client management to project execution and financial management, Deltek Vision users can experience measurable benefits immediately, including increased employee utilization, streamlined project management, reduced DSO and increased margins and profitability.
Puntos a favor:
Deltek Vision's is a software solution that allows you utilize custom proposal modules and government forms modules to cut down on hours off of proposal preparation. Because Deltek is the "source of truth" for our employee history and project history we are able to easily and quickly pull information from Vision onto proposal templates in minutes. Pulling information from a centralized archive it gives our users confidence in the data, employee updates/feedback are made one time (in Vision) instead having to always start the process over whenever a new proposal document is presented to the employee and gives our marketing professionals the extra time needed to craft the proposal to meet the RFP and client requested information. We use Deltek Vision to support our Strategic Plan goal for the company growing and win more work!
Puntos en contra:
The user interface is extremely difficult to get used to. Since we started using this software my group has received a lot of calls from people in my organization who are unsure how to do basic searches and will ask us for help/assistance because they'd rather not deal with it. The main thing that is not intuitive is its search function, which is critical.
Susan
Self Employed en EE. UU.
Ha utilizado el software durante: Más de dos años
Used Vision's General Ledger primarily in my role to produce month end and year end financial stmts.
Puntos a favor:
The general ledger was easy and logical for an accountant. The work breakdown structure allowed for reporting consolidated reports as well as subsidiary level, office level, and departmental reports. Vision handled large amounts of transactions and data efficiently. Vision offers functionality to do time sheets and expense reports remotely. Vision has great security features that can remove access to certain areas or information based on an employees role in the Company. It is easy to remove rights immediately when employees leave the Company. In addition, roles can control who can make changes or post transactions. Vision allows for automated reporting. For example, an Accounts Receivable report can be automatically sent to an employee's email on a scheduled basis.
Puntos en contra:
The software is not logical for non-accountants. The software is primarily for A'E firms but very difficult for those users. Most of the engineers are unable to write and run project reports. When they do get a report, the report isn't easily understood. The software is difficult to support internally and requires a database specialist to get maximum value. Vision contains a massive amount of data but the canned reports do not always offer the different types of data in same report. Unless you can write custom reports, you will have to pay expensive consulting fees.
Debra
Senior Staff en EE. UU.
Arquitectura y planificación, 1.001-5.000 empleados
Ha utilizado el software durante: Más de un año
Searching for data results in quick results, good report generation feature, easy to edit.
Comentarios: Information about each project such as who is the PM, lead architect, lead accountant, project location, legacy data, status, etc. is essential to our business. We can easily search for all current projects in any city, state, province, country. Our PMs use this to keep track of payments, invoices, employees assigned to the project, budget data, and documents stored on our servers can be linked from within a record. We can view other projects for the vendor or client.
Puntos a favor:
It allows me to have three databases open. In my case, Projects, Employees and Timesheets. It's great to toggle between them without having to log out and in again. Data retrieval is quick. It allows me to search for very specific information so my results don't overwhelm. Data access is controlled at the user level so people cannot edit fields without proper permission. Before Vision, we used a database that contained project numbers that were preserved in the Vision database. So if we need to look up project data based on the old number, we are able to. This saves us a lot of time.
Puntos en contra:
It is difficult to learn this software on your own beyond searching. There are so many features that allow us to look at the data in several ways. Most of those ways are unknown to me so training is required. I would suggest that companies provide proper training before implementing it firmwide to avoid frustration.