¿Qué es Codenvy?
Los espacios de trabajo bajo demanda de Codenvy mejoran el flujo de trabajo y automatizan el arranque de desarrolladores para potenciar el espíritu ágil. Aprovecha los entornos preconstruidos que soportan casi todos los idiomas y ofertas.
Ejecútalo detrás de tu firewall, conectado a tus sistemas y proyectos para eliminar el mantenimiento de la configuración del desarrollo. Impleméntalo en tu propio centro de datos o en cualquier nube.
Codenvy se basa en Eclipse Che, un proyecto de código abierto y compatible con Java, JS, PHP, Python, Android, entre otros.
¿Quién usa Codenvy?
DevOps y Desarrolladores. Los desarrolladores codifican en espacios de trabajo portátiles y compartibles con recursos ilimitados para construir y depurar desde cualquier lugar. DevOps aprovecha la automatización de entorno con un solo clic.
¿Dónde se puede implementar Codenvy?
Cloud, SaaS, Web, Mac (desktop), Windows (desktop), Linux (desktop), Android (móvil)
Sobre el proveedor
Codenvy
Fundada en 2013
Chat
Sobre el proveedor
Codenvy
Fundada en 2013
Chat
Imágenes y vídeos de Codenvy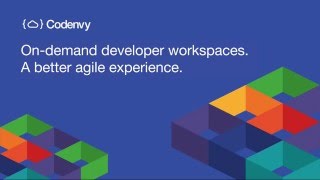 Comparar el precio de Codenvy con productos similares
Funciones de Codenvy
API
Cloud Computing
Controles o permisos de acceso
Creación de informes/análisis
Depuración
Desarrollo de código
Edición de código
Entorno de desarrollo integrado
Gestión de implementación
Interfaz gráfica de usuario
Para desarrolladores
Permite la programación de multiples idiomas
Seguridad de datos
Test de compatibilidad
Kyle P.
Mobile Developer en
Usuario de Linkedin verificado
51-200 empleados
Ha utilizado el software durante: No especificado
Fuente: GetApp
Hands down best Cloud IDE
Comentarios: When I moved over to a Chromebook a few years ago I was sifting through all the cloud IDE options and Codenvy really stuck out as the best option from the start. Through the years they have kept to their word and keep making the service better and better. The latest version is just a complete "wow!" from seeing how much the platform has grown. Yes, it's practically a platform since it has so many great features baked in besides being a higly performant IDE; Git (GitHub / Bitbucket), Docker, Bower, Google App Engine (GAE), multiple languages, starter templates, "local" datasources, etc.! The portability of it makes it a simple choice as well since there's nothing to install and works great on every platform I've needed access to my projects (Windows, Mac OSX, ChromeOS, Linux).
Puntos a favor:
Portability to be able to access projects on any OS with nothing to install. Just open up a browser tab and start coding. The flexibility to write virtually anything from native Android apps to web apps that run on most PaaS. The ease of the wizard to start a new project is unmatched.
Puntos en contra:
Certain Git commands don't fully execute correctly all the time (such as deletes) since the update to v3.x. Offline ability and a mobile/tablet app would really put this over the top. True FTP integration (it has it through a 3rd party currently) would also be great to make it the only cloud IDE I need.
Respuesta de Codenvy
hace 7 años
Thank you for the review, if you come across any Git issues please let us know by posting information on the problem to our Google Group (https://groups.google.com/a/codenvy.com/forum/#!forum/codenvy) our Git integration is very important to us and we want to make sure it's flawless. Regards, Brad
Marc F.
Web Application Developer en
Usuario de Linkedin verificado
11-50 empleados
Ha utilizado el software durante: No especificado
Fuente: GetApp
Cool Stuff...first Impressions
Comentarios: Just stumbled across code envy recently while looking at other cloud dev alternatives.
The whole process for signing up for a free tier account (512 MB) and getting something up and running couldn't have taken more than 10 or 15 minutes. As a new user, I am still playing around with it a bit but it has some great possibilities for running multiple dev environments without having to get all the pre reqs installed and configured on my own machine.
Puntos a favor:
From my perspective there are a number of things that I like: - Easy of setup - Pretty nice code editor - Anywhere access - Ability to have multiple environments - Multiple language support - Git support
Puntos en contra:
Since I am new to Docker, I would love to be able to get my hands into some advanced config options. Additional web development language support (other than PHP) would be nice to see.
Respuesta de Codenvy
hace 7 años
Thank you for the review - we are in the process of revamping how custom environments are handled and over the coming months you will see changes to make these even simpler to manage. For the web development language support we currently support many different languages including Javascript, Python and others. You can see a full list by creating a new project and scrolling down the list to the "samples" area. If there are still issues please contact us on our forum: https://codenvy.com/technical-support Thanks, Brad
Justin S.
Software Developer en
Usuario de Linkedin verificado
1.001-5.000 empleados
Ha utilizado el software durante: No especificado
Fuente: GetApp
Excellent service, but a few issues I hope will be ironed out
Comentarios: I have been very impressed with Codenvy's service so far. The big thing I was looking for was a service that could be used from multiple computers without having the set up an environment on each. This service easily meets that, and has support for a lot of languages. In terms of languages, I wanted a service with support for Java projects with Maven, and this seems to have support for that, among many other languages as well. The ease of use of the editor is important to me as well. Things like automatically adding closing brackets, tabbing when appropriate when I add a new line, etc. It has been a very pleasant experience in this area and I've been very pleased. There are still many editing features I have yet to explore, and I look forward to learning what all it has to offer. The only area I've noticed it lacks, is it sometimes adds closing brackets or tags when they already exist, if you rewrote the beginning tag for some reason - however even in advanced editors that can be an issue. My issue is it seems to not allow you to reorganize files without any long workaround methods. I would prefer to be able to drag and drop files in the tree view - it seems a basic feature in my day to day computer use, and it seems odd that I can't do it here. Perhaps there is another way to move files that I'm not aware of. So far I've only been able to create a new file, copy contents, and delete the old, or download then upload where desired. While they work, they are certainly not ideal methods. If this were possible, I could honestly see myself paying for the service in the near future - it's well worth it. Personally, I just graduated with a BS in Computer Science and have just begun working as a software developer in a large software company. I was really looking for something to play with some personal projects outside of my work hours.
Puntos a favor:
It's free! Cloud access from any computer Easy to use editor Editor contains many advanced features Supports many languages
Puntos en contra:
Unable to drag and drop files in the tree view (not sure if there is another way to move files - if so, I've yet to find it - however there are workarounds, such as creating a new file and copying contents, just not ideal)
Respuesta de Codenvy
hace 7 años
Thanks very much for using Codenvy and for your detailed review - the drag-and-drop is something that is in our backlog and that we will be attacking this year.
Tim L.
Usuario de Linkedin verificado
Tecnología y servicios de la información
Ha utilizado el software durante: No especificado
Fuente: GetApp
Next step in development
Comentarios: This is a great product that is almost there. We have started using it for little open source products. Its pretty easy to have one dev setup the project, and the others just clone the codenvy project. We are up and running in no time. I love that it is using Docker, and that you can provide your own docker run scripts.
Puntos a favor:
* Fast from 0 to up and running * Nice angular'ish interface that is quite responsive * Works on mobile enough to run your app * Integrates pretty well with GitHub * Many different types of projects supported (java, go, etc...) * Tech Support is great. I had 2 tickets answered w/in 24 hours. * Works well * Autocomplete is decent
Puntos en contra:
* Sometimes you get into a weird state with old sessions * No code search that I found, but I think they are working on this feature * 10 minute timeout can be annoying but sometimes its nice. Setting? * I wish i could just sign up for the $1/month service w/o contacting sales
Respuesta de Codenvy
hace 7 años
Thank you for the thoughtful and detailed review. We can confirm that we are working on a number of improvements to the product (we release >3x per month). We are also going to be changing our purchasing model so that it's completely automated and doesn't require speaking to Sales - this should be coming in several weeks. Thanks for being a customer! Brad
Timothy V.
Sr. Java Developer en
Usuario de Linkedin verificado
10.000+ empleados
Ha utilizado el software durante: No especificado
Fuente: GetApp
Great light weight option for cloud IDE, building, and live testing
Comentarios: Starting to play with it at work and am now using it for some of my small/medium projects. It's very easy to load code in and start going right away. I am using it to deploy java webapps to a tomcat container. Codenvy allows you to actually deploy a tomcat instance in a docker container for free. Setup takes about 10 minutes, and after that you're ready to go. The docker instance only lives for about 10 minutes. I've found this to be sufficient when testing features. The cloud IDE is really fast for what it is, but possibly isn't quite as snappy as a high-end development machine. I tried using it with a giant work project, and wasn't able to make it work.
Puntos a favor:
Quick supports multiple languages supports quick on line testing easy to use
Puntos en contra:
docker instance only live 10 minutes for free version Giant projects don't quite work.
Respuesta de Codenvy
hace 7 años
Thank you very much for your thorough review - we would love an opportunity to work with you on getting your work project running in Codenvy - please post some details on our Google Group: https://groups.google.com/a/codenvy.com/forum/#!forum/codenvy We will be moving to a new pricing model that will remove the 10 minute running timeout for free projects in April 2015. Thanks, Brad