Snappii
¿Qué es Snappii?
Snappii, una empresa líder de formularios y aplicaciones empresariales móviles, que ofrece aplicaciones de automatización de procesos de negocios y creación de informes de campo utilizados principalme
Leer más
nte en la gestión de la construcción, inspección y órdenes de trabajo, ha logrado que la transformación digital sea asequible especialmente para pequeñas y medianas empresas. Snappii ayuda a diseñar, crear y entregar aplicaciones de negocios y aplicaciones de formularios repletas de funciones en días en lugar de meses sin ninguna habilidad de codificación. Cualquier aplicación de negocios y formularios se puede crear de forma rápida, fácil y asequible.
Mostrar menos
¿Quién usa Snappii?
Desde pequeñas empresas hasta empresas Fortune 100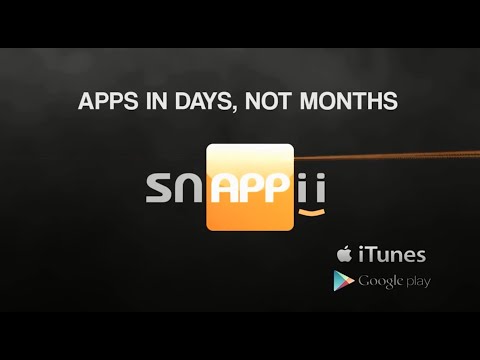 ¿No estás seguro sobre Snappii? Compara con una alternativa popular
Versión gratuita
Prueba gratuita
Versión gratuita
Prueba gratuita
¿Por qué estoy viendo esto?
Keith
Member manager en EE. UU.
Propiedad inmobiliaria, 11-50 empleados
Ha utilizado el software durante: Más de un año
Property Manager
Comentarios: The staff was great to work with and made any changes that i need to make the app work for me. They follow up to make sure everything the application is serving my needs.
Puntos a favor:
Easy to use, designed for my needs, saves me time while working
Puntos en contra:
App was designed for me so I don't have any issues
Transporte/transporte en camión/ferrocarril, Trabajador autónomo
Ha utilizado el software durante: Más de dos años
Snappii - Create your own mobile app
Comentarios: I give the Snappii platform 5 Stars. It is the best self-help Mobile App platform I could find. After spending trying at least 30 different platforms and studying how to create a mobile apps, I found the Snappii platform. It does so much more than any other platform. Matter of fact, if it wasn't for the this platform, I would not have been able to create my app. I have a very complicated app and I was able to create my app without having to learn programming code. Other self-help app platforms do not offer all the same features as the Snappii platform without learning programming code. I was looking for a platform hard to find features such as: Data base capabilities: Whereas I could build a database and access that database with multiple search options. Paid Subscriptions: User are able to subscribe to content in my app. Works on Multiple platforms: Iphone and Android What would have cost me $20,000-$40,000 for a programmer to build, I was able to build without learning any programming code? Was it easy? No, remember I said I have a complicated app. I spent about 1,000 hours building my app. You can build simple or complicated apps with the Snappii platform. Simple mobile apps will not take as long to build. The Snappii platform has templates that help making an app very easy. I took the more challenging way and created my app from scratch using the platform. The name of the app I created is called "ParkMyRig". It can be found in the Play Store or the App Store.
Puntos a favor:
Easier to learn than other apps, customer service and tech support was very helpful, and has powerful features not included in other self-help mobile app platforms.
Puntos en contra:
Just like any self-help Mobile app platform, it does not have every feature that you can get from a programmer. I guess it depends on whether you have time or money. If you have money, pay someone to build your app, but if you have the time, the Snappii platform is a very powerful platform that outperforms other self-help Mobile App Platforms.
Bryan
Operations Manager en EE. UU.
Materiales de construcción, 11-50 empleados
Ha utilizado el software durante: Más de un año
Super Useful, Extremely informative, saved our bacon and Helps us make Decisions
Comentarios: The SNAPPI team, from sales to development are nothing if not wonderful to work with. Their support is top notch, they thoroughly understand your project, and they follow through. I have plans for a production app that I look forward to developing together with SNAPPII.
Puntos a favor:
We had our App developed by SNAPPII, one of my favorite features is the flexibility of the development team and app to assemble an simple piece of software that is both easy to use and performs the critical tasks required. We are suppliers of pre-hung doors and trim used in residential construction. We pride ourselves in customer service which often includes same day delivery. Our SNAPPII app is critical to our ability to provide the best possible service and helps to save our bottom line. The app collects critical information, from customer name to delivery time stamps, from driver details to delivery status. All of this information is collected in real time and automatically sent to both our customer and the customers' salesman. The Photo feature is used with every delivery as proof of delivery, and has saved our company thousands of dollars, by not having to replace material that was either damaged or stolen. SNAPPII developers are quick to implement updates. On the rare occasion when there is difficulty, developers are eager to trouble shoot and quickly deploy corrective changes. The report...I can't say enough about the reports. These help identify how much time is dedicated to what type of deliveries, how the work load is distributed and where the driver is headed next.
Puntos en contra:
I maintain several pre-configured drop down lists. These lists are dynamic and always changing. Some of the lists are automatically alphabetized when additions or deletions are made, others are not. This is actually something I am certain the developers could fix, but I have been too lazy to bring it up.
John
Executive Director en EE. UU.
Hospital y atención sanitaria, 201-500 empleados
Ha utilizado el software durante: Más de dos años
Alternativas consideradas:
Efficiency = Expansion
Comentarios: We love Snappii! Our field staff is able to collect documents and have them emailed to our office staff and stored in our cloud instantaneously. This has reduced travel back and forth to our office, mailing of documents, and scanning of documents. This has saved our company both time and money. It has enabled us to scale our business at a rapid rate. We have grown quickly enough to be an Inc. 5000 company four years in a row, that wouldn't be possible without Snappii.
Puntos a favor:
-The ability to easily make changes in guru mode. -How user-friendly it is out in the field. -The reliability of the App working properly. -Support from Sales executive and others has been very quick and helpful.
Puntos en contra:
-The fact that our custom app is not able to be downloaded through the App store. -Occasionally the app won't submit documents and we have to refresh the app and then lose the documents.
Bahar
Reviewer en Bangladés
Usuario de Linkedin verificado
Redes informáticas, 2-10 empleados
Ha utilizado el software durante: Prueba gratis
Fuente: GetApp
Codeless app platform, mobile apps and forms
Puntos a favor:
Snappii mobile enterprise app development platform is a real alternative to hiring expensive mobile Apps developers that are hard to find, or outsourcing mobile app development to unknown and unreliable companies. Snappii offers web service integration and can connect to enterprises' back-end systems for secure data transition. In addition to do-it-yourself and custom app development, Snappii offers a wide selection of ready-made industry specific apps that are available for download from Apple AppStore and Google Play store. These apps can be 100% customized to meet the needs of a specific business. Over 68, 000 apps have already been built on Snappii codeless platform, with customers range from the largest companies to medium and small organizations and this number keeps growing.
Puntos en contra:
Hawkwood & Co run an intelligence service for the oil and gas industry. Using the Snappii platform, we have been able to develop an App to support the service. It allows us to deliver reports and geospatial intelligence directly to our clients Smartphones and Tablets, avoiding overstuffed inboxes. We can also ensure time critical information is delivered promptly via a push notification ensuring our