¿Qué es CAKE POS?
CAKE creó su POS para satisfacer las demandas de restaurantes de comida rápida y servicio completo. Es simple, intuitivo y asequible.
Maneja fácilmente las horas pico en los restaurantes de comida rápida con formularios de pedidos que controlan el flujo de tráfico y una pantalla orientada al cliente para que los huéspedes paguen, den propinas y firmen de forma privada desde su propia pantalla. Mejora tu POS de servicio completo con perfiles de invitados enriquecidos y actualizaciones automáticas del estado de las mesas. El POS CAKE facilita a los restaurantes trabajar más, día tras día.
¿Quién usa CAKE POS?
Brinda servicios a restaurantes de comida rápida y de servicio completo que desean soluciones que trabajen tan arduamente como ellos.
¿Dónde se puede implementar CAKE POS?
Cloud, SaaS, Web, Mac (desktop), Windows (desktop), Linux (desktop), Chromebook (desktop), iPad (móvil)
Sobre el proveedor
Mad Mobile
Asistencia telefónica
Asistencia 24/7
Chat
Países disponibles
Estados Unidos
Sobre el proveedor
Mad Mobile
Asistencia telefónica
Asistencia 24/7
Chat
Países disponibles
Estados Unidos
Imágenes y vídeos de CAKE POS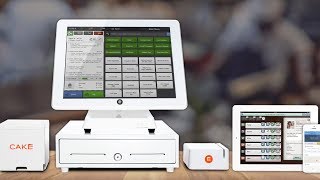 Comparar el precio de CAKE POS con productos similares
Funciones de CAKE POS
Acceso móvil
Alertas y notificaciones
Control de inventario
Controles por separado
Creación de informes y estadísticas
Creación de informes/análisis
Cuentas de clientes
División de cuentas
Entrega de alimentos
Facturación
Firma electrónica
Gestión de clientes
Gestión de consejos
Gestión de descuentos
Gestión de empleados
Gestión de entrega
Gestión de inventarios
Gestión de pedidos
Gestión de recibos
Gestión de reservas
Gestión de tablas
Gestión de tarjetas de regalo
Gestión de tesorería
Historial de cliente
Informes de ventas
Integración contable
Lectura de código de barras/tickets
Pagos electrónicos
Panel de actividades
Para bares/pubs
Para panaderías
Para restaurantes
Pedidos en línea
Procesamiento de pagos
Procesamiento de tarjetas de crédito
Programa de fidelización
Punto de venta (POS)
Punto de venta para restaurantes
Allison
CEO en EE. UU.
Usuario de Linkedin verificado
Restaurantes, 11-50 empleados
Ha utilizado el software durante: Más de un año
Review of CAKE
Comentarios: I enjoy that there is 24/7 customer support with any issues. (love the new text feature)
Puntos a favor:
I like that I can access it anywhere remotely to make changes, add menu items, and view sales.
Puntos en contra:
I don't like the new update. I feel the original version is easier to use.
Kristin
Owner/Executive Chef en EE. UU.
Restaurantes, 11-50 empleados
Ha utilizado el software durante: Más de dos años
Alternativas consideradas:
Value, Function, and Top Notch Customer Service
Comentarios: We were so thankful at how easy it was to activate online ordering. Our customers feel confident providing their credit card information through a secure system, and we love that we can remove items from the online system from our POS when we run out of a certain special. We appreciate the way the user dashboard online is simple to navigate and provides a clean pie-chart or graph style analysis of our sales, popular items, labor vs. income, etc. Those graphic visuals are invaluable when we are quickly checking in during a busy shift to see where our numbers are. We have a wide range of literacy comfort levels at our restaurant and we feel like our employees are all able to navigate the system easily and effectively. We think that is important from an accessibility standpoint.
Puntos a favor:
We switched to CAKE from another POS system in 2016, after being in operation for 1.5 years. We have been impressed with the way CAKE constantly tries to provide new features. As a farm-to-table quick-service restaurant, our menu changes weekly and we find it simple and straightforward to make updates each week. Due to COVID-19, we recently activated the online ordering and we believe it has saved our business. We were able to activate and integrate it quickly and we love the reporting capabilities the system gives us. Our customer service has been top notch--from our sysco rep to our CAKE customer support manager, we have received a quick response to any question we've had. We feel very comfortable requesting new features and integrations based on our needs and we feel like they really listen to us and try to incorporate our ideas quickly and simply. We did not have this level of customer support with our previous POS system and we really value being able to get a live person on the phone quickly and easily when we have an issue. We love the intuitive, easy-to-read sales analysis reports and use them each week with our management team to evaluate our menu items and determine our next round of specials. We really like that we can make menu edits both on the POS and with the online platform---hoping for a mobile app next for very quick and simple edits!
Puntos en contra:
We first purchased in Spring 2016. The software felt a little sluggish and honestly, we were not sure if it would easily keep up with our pace. But we have been very impressed with CAKE's constant evaluation and roll-out of new features and integrations--they haven't missed a beat! We don't use all the features yet, but because of the recent success with our online activation, we are now considering two more apps. I would prefer a tiered/capped monthly pricing system depending on how many apps/additional software platforms we integrate (like accounting, customer management, 3rd party delivery apps, etc)--rather than installing each a-la carte, but hopefully that will be an option in the future. The additional monthly fee per app has made us hesitant to try new ones. We would also like to have more control over the look and feel of the online ordering page--functionally it meets our needs, but would love to integrate it into our own website and select the background color, text color, etc, to make it feel like a seamless integration rather than making our customers feel like they are "leaving" our site to go to another. There are some features/edits that are only available from the POS system (not menu items, but system preferences/settings categories) In the future, I hope they make those features editable from the online access platform as well, because sometimes I want the flexibility of making certain adjustments from home on my computer during off-hours.
Respuesta de CAKE from Sysco
hace 2 años
Thank you Kristin for the detailed review about your experience with CAKE Point of Sale and being a customer since 2016! We're excited to hear that you've had such a great experience so far and we'll definitely forward your suggestions to our product team.
Alimentación y bebidas, 2-10 empleados
Ha utilizado el software durante: Más de dos años
Seems to have gotten over the transition well!
Comentarios: Overall it's been positive. Wish there was a book/manual to refer to.
Puntos a favor:
I am able to check see my menu entry before it publishes. This helps avoid problems that might occur through mis-catagorizing and double charging. Also can add my convenience fee to the tax line (yes, I have posted a sign!)
Puntos en contra:
I have trouble with remembering how to structure some of the items I am entering into the menu. I have not seen any manuals to help with that.
Dennis
CO-Owner en EE. UU.
Ha utilizado el software durante: Más de un año
Not ready for Prime Time. Crashes when you need it most.
Comentarios: I can't think of anything this POS does better than the one we replaced. If it wouldn't crash all the time, we could benefit from not having the servers leave the floor to put orders in and run credit cards, but since they are constantly crashing, we don't have that benefit.
Puntos a favor:
Easy to use interface. Order Pads should allow servers to spend more time on the floor Inexpensive POS System.
Puntos en contra:
It doesn't work when we need it to. We've been trying to get the issues resolved via Cake Support and Sysco Management for more than 8 months. It isn't getting any better. As soon as the dining room gets busy the Order Pad Apps crashes. All of our servers need to have paper and pencil ready at all times to complete their orders and stand in line at the terminal to enter them every rush. It seldom happens when we are slow. Orders get lost during entry causing double work to recover the in flight order, after printing in the kitchen causing them not to be charged on the customer's bill, and customer credit cards have been double billed as a result of Order Pad disconnects. We are spending hours with Cake Support that we should be spending working our business. We have to keep 1 person available to capture trouble shooting information for Cake Support during our rushes when (not if) the Order Pads go down. Cake Support is always busy, but will eventually call back. When they do, they aren't very knowledgeable with troubleshooting, they don't seem to be trained to go any deeper than the Cake University screens. The cheap price of the Cake system has become a huge expense in manpower and wasted time in our restaurant.
Respuesta de CAKE from Sysco
hace 5 años
Your CAKE hardware is definitely not performing as designed. Our Customer Success Team has reached out to resolve your issue. Thank you for the honest feedback, we'll use it to create better products and support in the future.
Restaurantes, 2-10 empleados
Ha utilizado el software durante: Más de un año
Alternativas consideradas:
Cake(MadMobile) POS Review
Comentarios: Very solid, they have earned my respect and trust. I have appreciated the help getting everything going and the simplicity that the software provides.
Puntos a favor:
Cake is an easy software to understand and use. Compared to Toast or Square the setup is straightforward, the interface is clean and the POS equipment is very high quality. Reports are instantly available, customer service is top-notch, and transactions are smooth and hassle free.
Puntos en contra:
Customizing the online ordering screen as well as the second screen for the POS. Both are very limited and don't allow me to alter font, or layout/style. I'd like to represent my image better and I can't do that if I can't alter the fonts and add graphics.