WellnessLiving
¿Qué es WellnessLiving?
WellnessLiving es una solución todo en uno para tu estudio de fitness. Este software ofrece programación de citas, marketing por correo electrónico, creación de informes sólidos, programas de
Leer más
recompensas, registros de progreso del cliente, gestión de la reputación, procesamiento de comerciantes y nómina, entre otras características. No hay costosas tarifas de complementos para integrar tu agenda en tu sitio, generar reseñas, enviar notificaciones por correo electrónico/mensaje SMS, utilizar un programa de recompensas o automatizar el marketing. WellnessLiving fue diseñado por y para los clientes.
Mostrar menos
¿Quién usa WellnessLiving?
WellnessLiving es asequible, confiable y versátil. Tiene todas las funciones sin necesidad de complementos, lo que reduce costos y ahorra tiempo. Su interfaz intuitiva es altamente visual y fácil de usar.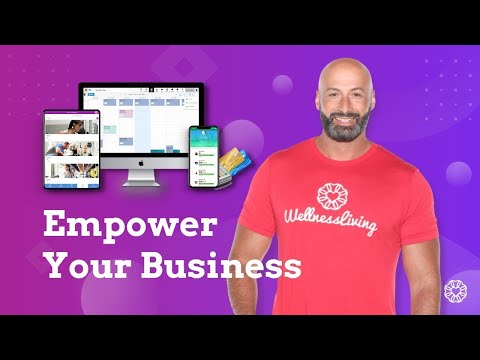 ¿No estás seguro sobre WellnessLiving? Compara con una alternativa popular
Versión gratuita
Prueba gratuita
Versión gratuita
Prueba gratuita
¿Por qué estoy viendo esto?
Alternativas a WellnessLiving
Opiniones de WellnessLiving
Lucie
Pilates Studio Owner
Usuario de Linkedin verificado
Salud, bienestar y deporte, 2-10 empleados
Ha utilizado el software durante: Más de un año
So Glad I Made the Switch
Los subtítulos en español están disponibles en el reproductor de vídeo
Anna
Studio Manager/ Event Coordinator en EE. UU.
Salud, bienestar y deporte, 11-50 empleados
Ha utilizado el software durante: Más de un año
Wellness Living Review
Comentarios: I cannot express enough how wonderful it is to work with the customer support team at Wellness Living. They go above and beyond to ensure that our business is thriving, and help us take it to the next level!The software is very intuitive and easy to use for us as administrators as well as our community members and clientele.
Puntos a favor:
Customer support is unmatched!Our members can sign up for classes with ease.Our schedule is available for all to see.Processing payments is a breeze. Integration from MindBody software was smooth.
Puntos en contra:
Some of our offers that should be auto renewed are available as a "one time purchase", but then auto renewed and causes confusion with our members and leads to more work to refund unrequested renewals.
Respuesta de WellnessLiving Systems
hace 2 semanas
Hey Anna, Thank you for the amazing review. We appreciate the positive feedback on your great experience with WellnessLiving, from the software usability itself to your time working with our customer support team. We market our product as a true all-in-one solution for just about every part of running your studio, and we're continuing to expand on the capabilities of the software to help better serve customers such as yourself. By making it simple for clients to see your schedule and book classes online, you start to see substantial growth in the number of clients who end up visiting your studio after viewing the site online, with incremental improvements to the number of clients who go on to convert into recurring memberships. You can then improve client retention rates by using our powerful automations and reporting tools, which also allow you to conduct personalized marketing campaigns to segmented client groups which have been found to be 50% more effective than standard, non-segmented equivalents. Please don't hesitate to contact our support team at any time for assistance with any sort of inquiry pertaining to the software, even for general how-to's or recommendations on setup. Thank you for choosing WellnessLiving! Ian N. (Customer Advocate)
Sara
Wellness Studio Owner en RU
Salud, bienestar y deporte, 2-10 empleados
Ha utilizado el software durante: 1-5 meses
Alternativas consideradas:
New User Feedback -
Comentarios: Great automation, simple and easy booking system with access for all my team. Easy to use a great for client journey especially with the white label app which looks great! Lots of training, detailed onboarding and tech support whenever required. Had a fantastic session with my Business Advisor [SENSITIVE CONTENT] who gave load of tips I could put into action immediately to improve sales and client journey.
Puntos a favor:
Team set up data migration from the previous company, fantastic feedback on ease of use of app, so much functionality and automation. Starts to become intuitive after a while. I'm really liked how it can do all of my bookings, reports and create a full client journey. Everything is in 'real time'.
Puntos en contra:
So much still to learn, little errors when setting up can set me back but the customer support team have been great and advising and resolving everything! New clients who are not as tech savvy, try to sign up and get confused by clicking Facebook/Google to sign up as it the first thing they see. They forget their password/struggle and give up or phone me because they have miseed the 'Sign Up' call to action at the bottom - would prefer this to be the first prompt.
Respuesta de WellnessLiving Systems
hace 2 semanas
Thanks for the great review Sara! We're glad to hear you're having a good time with ease of use on the app and with the software. WellnessLiving not only provides the various tools you need for your day-to-day but importantly it combines them into a an intuitively packaged platform so it's simple to learn, and easy to switch from one feature to another. We've focused much of our tech development into the ease-of-use factor, and we continue to do regular updates to add little tweaks into the interface (in addition to adding new features) so that you can count on an experience that keeps improving over time. We even added a tool in a recent update (based on customers requesting the same option!) so you can omit the Facebook/Google sign up and have the main 'Sign Up' button appear first on the screen. Please don't hesitate to contact our Support team or ask our experts on the Community Forum, we'd be happy to help you enable that in Setup. Thanks for choosing WellnessLiving! Natasha B. (Customer Advocate)
Marybeth
Owner en EE. UU.
Salud, bienestar y deporte, 2-10 empleados
Ha utilizado el software durante: Más de dos años
Alternativas consideradas:
Wellness Living Studio Review
Comentarios: We have been using WellnessLiving for over 3 years to run every aspect of our business. Our clients love using the app to keep track of their schedules and to learn about events.
Puntos a favor:
Wellness Living is integral to our business. The layout of the class schedule is intuitive to use and our staff can use their mobile devices and the studio computers. Any time we have question or trouble, the Wellness Living technical staff are patient and responsive to our concerns.
Puntos en contra:
I'd love to see a report with the revenue of each individual class.
Respuesta de WellnessLiving Systems
hace 2 meses
Hey Marybeth, We appreciate the great review! When software plays such a critical role in your day-to-day operations, it's important that you have a robust platform you can count on to effectively handle important tasks and consistently enhance the client experience. Our all-in-one solution has the tools you need to handle just about any part of your business, from scheduling to client management, payments and more. Interestingly enough, by so closely integrating these systems together we've actually been able to improve ease-of-use. And each layer of complexity we can eliminate helps your clients make more bookings, it helps staff get more done in less time, and it helps boost your bottom line. By the way, we've added reports that track revenue by service, and I believe we'll be able to get you the reporting data you're looking for! Someone from our team will be reaching out to help you pull that data. Thank you for choosing WellnessLiving! Marina A. (Customer Advocate)
Jonalyn
Owner/ Director en EE. UU.
Salud, bienestar y deporte, 2-10 empleados
Ha utilizado el software durante: Más de dos años
Long time user, I love WL!!
Comentarios: I recommend this software to anyone starting a fitness business. They take into consideration that we are in the business of health and wellness and have kept the software simple to use yet it has the ability to do as much as you need it to.
Puntos a favor:
I did not look forward to converting from a different software company, but the transition was so simple. I had excellent support from the WL team and ALL my data imported successfully. I've been with WL for 7 years and would never consider switching again. The software is easy to use and so customizable. Perfect for a small or large staff. I can easily access reports and creating new packages is a breeze. What sold me initially is the one stop shop- software, email campaigns, reviews, and an app all for one price!!
Puntos en contra:
The company has grown fast and they do their best but they could use a bigger customer service dept. I always get an answer, just not always right away.
Respuesta de WellnessLiving Systems
hace 2 meses
Hey Jonalyn, Thank you so much for sharing your amazing words! We've been blessed to maintain long-term working relationships with so many amazing customers like you! It's 100% true, no right-minded business owner looks forward to the trouble of moving to another software platform and perhaps our biggest skill has been in taking the pain out of software migration. Although outwardly there's quite a contrast between the yoga and software industries, success for any business largely comes down to being able to take care of your customers and in providing good value and we've been enormously fortunate to grow with the continuous support of an amazing community in the yoga and wellness space. For us, the only way forward is to reciprocate that amazing level of support to studios like yours in every way that we can to help you succeed and grow to your fullest potential. Thank you for choosing WellnessLiving. Alli Y. (Customer Advocate)
Salud, bienestar y deporte, 11-50 empleados
Ha utilizado el software durante: Más de dos años
Best club software!
Puntos a favor:
I have used Mindbody, Shape.net, and other software that were not as user friendly and were over-priced. I have loved the support WellnessLiving offers as well as their monthly releases with new updates and features always trying to improve their product based on feedback.
Puntos en contra:
I do not have any complaints and I would recommend Wellness Living to any business.
Respuesta de WellnessLiving Systems
hace 2 meses
Hey Lacey, Thanks for the review, we really appreciate it! WellnessLiving is a company built around a genuine customer focus because many of the other software providers like Mindbody aren't doing it. It affects the way you use the software, it affects your costs, it affects the quality of support, and all those things have a real impact on your business and the service you deliver to your clients. One example is that we are actively taking customer requests on enhancements and on the way they'd like to see certain features work, and we're actually making those changes to WellnessLiving to give you a consistently better product. It's amazing to the see the platform's evolution with each update release as you're able to provide more service options to your clients, utilize new integrations, and customize more to your liking with things like the store, the schedule, notifications, reports, you name it. Thanks for choosing WellnessLiving! Susan A. (Customer Advocate)