¿Qué es My Music Staff?
My Music Staff es un excelente software de gestión de estudios que automatiza la forma en que manejas tu estudio de música. Programa lecciones, crea facturas, registra pagos y mucho más. Si estás buscando una solución que tenga todo en un solo lugar y te ahorre tiempo y dinero, entonces tu búsqueda termina aquí. My Music Staff fue diseñado específicamente para profesores de música. Descubre por qué más profesores de música eligen My Music Staff. Comienza hoy tu prueba GRATIS de 30 días. Asistencia gratuita ilimitada por teléfono y correo electrónico.
¿Quién usa My Music Staff?
Profesores de música independientes y estudios con múltiples profesores, que necesitan un software asequible y fácil de usar, para gestionar los aspectos básicos de su negocio docente.
Información sobre My Music Staff
Port 443
Fundada en 2004
Información sobre My Music Staff
Port 443
Fundada en 2004
Imágenes y vídeos de My Music Staff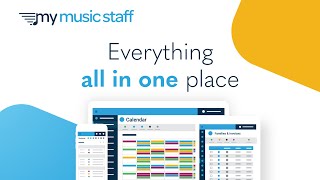 Comparar el precio de My Music Staff con productos similares
Precio inicial
12,95 US$/mes
45,00 US$/mes
N/A
No disponible
My Music Staff: implementación y asistencia
Asistencia
E-mail/Help Desk
Preguntas frecuentes/foro
Base de conocimientos
Asistencia telefónica
Chat
Formación
En vivo online
Documentación
Vídeos
Funciones de My Music Staff
API
Académico/formación
Aprendizaje asíncrono
Aprendizaje colaborativo
Aprendizaje mixto
Aprendizaje móvil
Aprendizaje sincronizado
Autoaprendizaje
Autoría de cursos
Autoría de cursos integrada
Biblioteca de contenidos
Certificación y licencias
Conformidad con SCORM
Creación de informes y estadísticas
Creación de marca personalizable
Empresa/negocios
Empresas de aprendizaje en línea
Encuestas y comentarios
Evaluación de habilidades
Gestión de aprendizaje
Gestión de asignaciones
Gestión de comercio electrónico
Gestión de contenidos
Gestión de cursos
Gestión de evaluaciones
Gestión de la conformidad
Gestión de la formación
Gestión de usuarios
Gestión del talento
Informes de avance
Informes personalizables
Integraciones de terceros
Libro de calificaciones
Ludificación
Líneas e itinerarios educativos
Métricas de rendimiento
Panel de actividades
Portal de autoservicio
Portal de empleados
Portal del alumno
Registro único
Seguimiento de actividades
Seguimiento de certificaciones
Seguimiento de competencias
Seguimiento de cursos
Seguimiento de la conformidad
Seguimiento del avance
Tests/Evaluaciones
Varios idiomas
Videoconferencia
API
Calendario de eventos
Creación de informes en tiempo real
Creación de informes y estadísticas
Cuentas de clientes
Facturación
Facturación recurrente y suscripciones
Formularios personalizables
Gestión de asistencia
Gestión de calendarios
Gestión de clases
Gestión de clientes
Gestión de correo electrónico
Gestión de docentes/personal escolar
Gestión de empleados
Gestión de estudiantes
Gestión de eventos
Gestión de facturas
Gestión de inscripción
Gestión de inventarios
Gestión de la comunicación
Gestión de nóminas
Gestión de repertorios
Historial de transacciones
Importación y exportación de datos
Informes personalizables
Inscripciones/incoporacionesr
Inscripción en línea
Integraciones de terceros
Integración de páginas web
Mensajería SMS
Pagos electrónicos
Pagos en línea
Panel de actividades
Para escuelas de música
Plantillas de correo electrónico
Portal de autoservicio
Portal de clientes
Portal de estudiantes
Portal de padres y estudiantes
Procesamiento de pagos ACH
Procesamiento de tarjetas de crédito
Programación
Programación automatizada
Programación de cursos
Programación de eventos
Recordatorios
Recordatorios por correo electrónico
Registro de ejercicio
Reserva de habitaciones
Seguimiento de la asistencia
Seguimiento del avance
Sincronización de calendario
Varias ubicaciones
Matthew B.
Owner / Music Director en EE. UU.
Usuario de Linkedin verificado
Música, 2-10 empleados
Ha utilizado el software durante: Más de dos años
Alternativas consideradas:
Couldn't run my music school without it
Puntos a favor:
It is extremely simple and easy to use. I only use the Students, Family and Calendar portions of it, and it serves well beyond what I need it for. So easy to view schedule and filter and organize it based on location, teacher, student, etc. i LOVE , as do the parents, the 24-hour in advance automatic reminders auto-texted or e-mailed (your choice).
Puntos en contra:
Besides a couple of very minor workflow impedances, it would be nice to integrate the calendar with an existing website, rather than only having the option to do so with the current website.
Larisse K.
Music Teacher en Australia
Música, Trabajador autónomo
Ha utilizado el software durante: Más de dos años
Alternativas consideradas:
Better than all the rest
Comentarios: I don't know how I have survived without it! It is also constantly listening to user feedback to improve on their software.
Puntos a favor:
This has literally everything you need and it is customised for music teachers. Very easy to set up and a great website for free to create and use. I have tried virtually every comparable software out there in this similar price bracket and this is hands down the best. Features too many things to list: Scheduling, payments, expenses, website, student/teacher/parent portal, practice log, lesson notes, blog, bulk emailing, integration with zoom and more
Puntos en contra:
not really any cons, It would be good to have a function to leave messages for students or students message the teacher and an alert is given that there is a message waiting.
Música, 2-10 empleados
Ha utilizado el software durante: 6-12 meses
My Music Staff review first year
Comentarios: I definitely have been having a great experience with My Music Staff. Especially their actual staff members. I spoke with [SENSITIVE CONTENT] recently and she did a phenomenal job at helping me fix my accounting issues and invoicing issues. She was very easy to talk to you she listened to my concerns and questions that I had and took time to teach me how to fix my accounting problems. I had several students accounts that had it inputs put in the wrong way for discounts etc. and she was able to quickly spot what the problems were as well as allow me the time to fix them and explain why not to do what I did before and how to properly and put the information I need to moving forward and why. I told her I think it would be nice if My Music Staff will give her a bonus to make videos on how to create invoices and teaching users how to utilize accounting and how all of the features work together to help balance out the accounting page and create invoices all of the ends and outs! She would be great at that as well!
Puntos a favor:
It's really kind of hard to pinpoint what specifically I like because there's a lot of features that I do like such as being able to schedule, pull reports, upload videos for our students, upload link sent of the learning material for our students, payroll etc
Puntos en contra:
I don't like that I'm not able to use PayPal and stripe at the same time to except payments. I do have parents who like to pay through PayPal as well but I have to utilize a different source to receive those payments because only stripe or PayPal can be used one at a time. I wish that it was also a lot easier to understand how to utilize the invoice an account features. I have gotten pretty confused and had to call in and ask questions several times in order to really get the hang of it. It can be a bit confusing without that additional coaching to understand how to bill clients. I've had moments where my numbers were off because I gave an additional discount or I build them incorrectly and didn't understand how I did it or why.
Respuesta Port 443
hace 2 meses
Hi Irma, thanks for a great review! We actually do have a number of tutorial videos already, including ones that go over various parts of invoicing. We also have a Getting Started Guide on our website that goes over how all of the features work together :)
Laurice V.
Managing Director en Irlanda
Música, 2-10 empleados
Ha utilizado el software durante: 6-12 meses
Review
Comentarios: Overall it has been good. Customer Service is quite quick once you get matched with a member. The Support centre and Pinterest links and How-To's are done very well. Not the mention the lovely additional bits like Social Media Calendar and worksheets for the kids is so lovely! And helpful!
I really like using it every day personally and so do my Staff. But my students, not so much. It's only easy to use when you are using it for a couple hours a day like me, otherwise its a total mind field
Puntos a favor:
I like the amount of customisation. The calendar Sync. The website functionality and the Families & Invoicing section.
Puntos en contra:
It is not user friendly for the public. It is far too complicated for my business. For example if someone wants to sign up for a course they have to go through Student Portals. Log In. Emails. Setting it up. Saving it to the Homepage. Then they cant pay immediately they have to wait for an invoice and then log in again and finally enter their bank details. I am im discussions of discontinuing with this software. While it has great benefits for Admin it really is too complicated for the public and inviting new customers in. Therefore it is not for us in the long term.
Nicole Q.
CEO and Teacher en Australia
Música, Trabajador autónomo
Ha utilizado el software durante: 6-12 meses
Communication and Organisation
Comentarios: This software definitely has 'bang for buck'. All of the things teachers are able to do through this platform certainly impress me. I started teaching 40 years ago and everything was done in hardcopy by hand. Wow, what a difference. What has impressed me the most, and continues to impress me, is your customer support. My questions are answered quickly and always with courtesy too. I feel like I am dealing with real people who care about my ability to use their product with as much ease as possible. It is an absolute pleasure doing business with you.
Puntos a favor:
There are quite a few things I like about MMS. The first is communication with my students. Being able to create lesson notes each week, schedule lessons on the calendar and do invoicing through the platform helps me to keep things organised. I also I like that it allows me to invoice my students and keep track of their payments easily. The library is very helpful. Now I don't lose things I loan out anymore and students (I believe) are notified when they have something that need to be returned.
Puntos en contra:
I am not very happy with my website and wish there was more support on how to do this well. Being a sole proprietor I cannot afford to hire someone to do this and it isn't very intuitive (although better than many others I looked at, especially when you consider what you get with the package). More videos that give direction, suggest and examples of this would be helpful. Maybe reach out to some of the teacher who have created exception sites and ask them to share their secrets. We're teachers, we can't help ourselves. : ) It is a little thing, however; buttons for social media (like Facebook, Instagram Linkedin, etc) would be really nice on the site as well.