¿Qué es Risk Cloud?
LogicGate es una plataforma ágil de automatización del flujo de trabajo que permite a prácticamente cualquier persona crear e implementar aplicaciones comerciales personalizadas que vinculen personas, procesos y datos, sin depender de los desarrolladores. Aprovecha la funcionalidad de arrastrar y soltar para crear flujos de trabajo de procesos empresariales complejos sin codificación. Define reglas y lógica en cada paso que activa tu negocio, derivando los problemas y las aprobaciones a las personas correspondientes, a tiempo.
¿Quién usa Risk Cloud?
Organizaciones que buscan mejorar sus procesos, gestionar los riesgos y reducir los costos operativos.
¿Dónde se puede implementar Risk Cloud?
Cloud, SaaS, Web
Sobre el proveedor
LogicGate
Ubicado en Chicago, EE. UU.
Fundada en 2015
Asistencia telefónica
Chat
Sobre el proveedor
LogicGate
Ubicado en Chicago, EE. UU.
Fundada en 2015
Asistencia telefónica
Chat
Imágenes y vídeos de Risk Cloud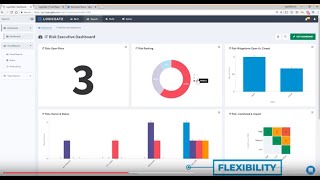 Comparar el precio de Risk Cloud con productos similares
Funciones de Risk Cloud
Acceso móvil
Alertas y notificaciones
Auditoría de elementos de control
Automatización proceso/flujo de trabajo
Cartografiado de datos
Certificado
Control de procesos de aprobación
Control de versiones
Creación de informes de riesgos
Creación de informes/análisis
Evaluación de riesgo
Evaluación de riesgos
Gestión de abastecimiento
Gestión de auditorías
Gestión de datos del proveedor
Gestión de excepciones
Gestión de flujos de trabajo
Gestión de formularios
Gestión de incidentes
Gestión de la conformidad
Gestión de metadatos de políticas
Gestión de políticas
Gestión de proveedores
Gestión de respuestas
Gestión de riesgos
Gestión de tareas
Gestión del consentimiento
Métricas de rendimiento
PIA/DPIA
Panel de comunicaciones
Para el sector médico
Portal de autoservicio
Registro de auditoría
Seguimiento de la conformidad
Seguridad de datos
Alternativas a Risk Cloud
Tish C.
Chief Compliance Officer en EE. UU.
Usuario de Linkedin verificado
Automoción, 1.001-5.000 empleados
Ha utilizado el software durante: 6-12 meses
Great Tool! Eliminate reliance on spreadsheets and emails to track audit and compliance activities
Comentarios: The LogicGate procurement, implementation and now support process has been amazing. The support team is unbelievable.
Puntos a favor:
LogicGate is easy to use, flexible, and has many great features. It's perfect for smaller or large corporate environments. We use the tool for 3 key departments right now: Audit, Compliance & Ethics and Business Continuity. We automated several processes that previously required a lot of manual touch points and constant human follow up with emails and spreadsheet tracking. All that is gone - automated! Our teams and our business users love the changes. We use it as a document repository, workflow automation for business request and updates, risk assessments, open issue tracking, etc. Very easy to use with drag and drop functions and the LogicGate support team is amazing. So responsive and helpful.
Puntos en contra:
No cons from my point of view. It is a fairly new software, so the LogicGate team is actively taking customer feedback and updating their product. Many features we requested have now been added for all users.
Respuesta de LogicGate
hace 2 años
Hi Tish, Thank you so much for the wonderful review! We're so glad that you and your team have found LogicGate easy to use and that the automation features have been able to save your team so much time. We really appreciate your partnership! -Chris, LogicGate Customer Success Manager
Michael R.
product compliance engineer en EE. UU.
Logística y cadena de suministro, 10.000+ empleados
Ha utilizado el software durante: 1-5 meses
user of extensive structure and data content
Comentarios: Customer support services have been phenomenal during training and implementation. the tool performs well and contains the modifications and flexibility that our company administrators can address on their own.
Puntos a favor:
The software tool is very flexible for creating data structures and workflows. Our assigned administrators are empowered to create or modify many aspects of the tool for our own purposes and needs. This includes adding users with specific roles and access levels, modify data structure, modify workflows, change screen layout formats, and add notification jobs. The tool reports can show visual and table outputs for data analysis of content in many ways and can be exported out as well.
Puntos en contra:
As LogicGate is relatively new company, this software tool has a few minor limitations for our specific needs. These limitations have been easily worked around with different options for solving, and LogicGate has already added many features that companies have requested. The company and software continues to grow and expand with periodic release updates and additional functionality.
Respuesta de LogicGate
hace 2 años
Hi Michael, Thank you so much for the great review! We're so glad that LogicGate can empower your team to create the data structure that works for you. Your feedback is much appreciated!
Eric C.
Public Safety Manager en EE. UU.
Hospital y atención sanitaria, 501-1.000 empleados
Ha utilizado el software durante: Más de dos años
Straightforward software
Comentarios: Useful software to keep tickets and the historical follow-up all in once place
Puntos a favor:
I found it to be pretty simple to use. I was able to keep track of all of the cases that were assigned to me and was reminded when ample follow-up was needed.
Puntos en contra:
I didn't like that at times the program would duplicate tickets that were created but this was rectified pretty quickly with the customer support team. Also the software could have looked nicer but it was satisfactory in terms of design.
Catherine H.
Analyst en EE. UU.
Servicios financieros, 1.001-5.000 empleados
Ha utilizado el software durante: 6-12 meses
Incredibly hard to use despite having good features
Comentarios: Governance is necessary, and LogicGate has the potential to make it easier but it's not there yet.
Puntos a favor:
The features of the software are great and provide what we need. It provides governance structure and record-keeping.
Puntos en contra:
The features are incredibly unintuitive to access and use. It is hard to find tasks and commitments after they are created. It is like they got halfway through developing the website and stopped.
Seguridad informática y de redes, 51-200 empleados
Ha utilizado el software durante: 6-12 meses
Alternativas consideradas:
Grows With You
Comentarios: I am solving a variety of business problems with LogicGate (controls management, policy management, Third Party Risk, Business Continuity, GDPR, and others). Each of these applications are able to interact with each in a logical way. I have been able to build our security and privacy program exactly how I want to build it due to LG's flexibility.
Puntos a favor:
Personally, I love the customization ability within the LogicGate tool. I am able to build, grow, and edit the various different applications within the tool as I see fit. If the default, out of the box apps don't work for me, I can change them myself. I can also create my own reporting tools easily, and can show my leadership exactly what I want to show them.
Puntos en contra:
Compared to competitors, this tool my take some time to learn if you want to customize it; however, you ARE able to build the tool how you want to. You are not reliant on LogicGate and their staff to make changes that are important to you.