¿Qué es Vin eRetail?
Vin eRetail WMS is a leading SaaS warehouse management system designed for growing brands, retailers, 3PLs, marketplaces and distributors with one or multiple warehouses. The system is modular, scalable and cost-effective. It is a part Gartner Magic Quadrant for WMS, for 4 consecutive years (2017-20). Our solution is trusted by global brands including RedTape, Puma, Bata and more. It provides a central hub to manage warehouses and fulfill B2B & B2C orders, helping you Scale Faster.
¿Quién usa Vin eRetail?
Brands, Retailers, 3PLs, Marketplaces, and Brand Distributors in India, South-East Asia, Middle East, and USA
¿Dónde se puede implementar Vin eRetail?
Cloud, SaaS, Web, Mac (desktop), Windows (desktop), Windows (local), Linux (local), Android (móvil), iPhone (móvil)
Sobre el proveedor
Vinculum Solutions
Ubicado en Noida, India
Fundada en 2007
Asistencia telefónica
Chat
Países disponibles
Estados Unidos, India
Sobre el proveedor
Vinculum Solutions
Ubicado en Noida, India
Fundada en 2007
Asistencia telefónica
Chat
Países disponibles
Estados Unidos, India
Imágenes y vídeos de Vin eRetail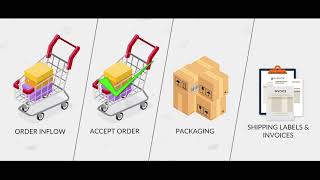 Comparar el precio de Vin eRetail con productos similares
Funciones de Vin eRetail
Acceso móvil
Alertas y notificaciones
Auditoría de inventario
Búsqueda/filtro
Compras y recepción
Control de inventario
Creación de informes/análisis
Códigos de barras/RFID
Equipamiento
Gestión 3PL
Gestión de artículos
Gestión de comercio electrónico
Gestión de descuentos
Gestión de empleados
Gestión de envíos
Gestión de ingresos
Gestión de inventario de minoristas
Gestión de inventarios
Gestión de la calidad
Gestión de pedidos
Gestión de promociones
Gestión de proveedores
Gestión de recibo y almacenamiento
Gestión de renovaciones de pedidos
Gestión de órdenes de compra
Gestión multicanal
Identificación del producto
Informes de ventas
Integración contable
Lectura de código de barras/tickets
Optimización de inventario
Pagos electrónicos
Punto de venta (POS)
Registro de entrada/salida
Seguimiento de inventario
Varias ubicaciones
Alternativas a Vin eRetail
Usuario verificado
Cofounder en India
Usuario de Linkedin verificado
Comercio minorista
Ha utilizado el software durante: Más de dos años
It has been a good experience and I have proactively promoted Vinicullum among my peers
Puntos a favor:
I am able to generate different reports for daily backend activities. Also batch creation process is very helpful for the operations team.
Puntos en contra:
The user experience on the platform is poor. The learning curve for any new user is long. The processes are not as simple as it seems.
Vinayak K.
IT Executive en India
Logística y cadena de suministro, 11-50 empleados
Ha utilizado el software durante: Más de dos años
Best Ecommerce solution for your organization. Now manage your all marketplace order in one place.
Comentarios: 1) I am really satisfied with the solution provided by Vin eRetail.
2) Now I have to concentrate on sale only instead of inventory management on all portals.
3) It has maximize our sale because top selling sku get synchronized on all portals automatically.
4) It helped us to process all marketplace orders in one place.
Puntos a favor:
1) We can process all marketplace order in one place. 2) We can generate one pick list for all marketplace order to speed up picking of same sku. 3) Even we can generate marketplace wise pick list. 4) Current Inventory get synchronized on all marketplace automatically and we don't need to upload inventory on each portal one by one. 5) We can set parameter to control inventory on channels (market place). We can set marketplace wise inventory percentage and reserve qty to maximize sale. 6) As the real time inventory get synchronized with all marketplace it avoids loss of sale due to stock unavailability in one portal. e.g. If we have 2 pc in stock and it will synchronize this inventory on all marketplace until it gets zero. It helps maximize your sale. 7) We can use their app in handheld device for putaway and picking. Which enables faster putaway and picking than manual process. 8) High accuracy in inward and outward process using barcode, handheld device can be achieved. 9) There are almost all reports provided by them required for your business whether it is inventory report, dispatch report, grn report, Sku transaction history etc. 10) Can set function level wise access to user.
Puntos en contra:
I don't think I have any point to dislike Vin eRetail. But their helpdesk and customer service needs to be improved. Sometimes they takes more than 48 hours to resolve issue.
Syed M.
FCA Associate en India
Salud, bienestar y deporte, 201-500 empleados
Ha utilizado el software durante: Más de dos años
Feedback
Comentarios: your customer service is very pathetic. they are not taking responsibility for the any concern.
Puntos a favor:
It's functionality and customize feature is very effective of business.
Puntos en contra:
Some of parallel feature are not synchronize with each other. like cancel put away and pack-bin.
Shamim A.
Ecommerce Operation en India
Software informático, 2-10 empleados
Ha utilizado el software durante: Más de un año
This software works fine and compete with the players available in market economically & features.
Puntos a favor:
In this tool most friendly part is : 1. Channel Integration, its very easy to integrate new channel with the help of support documents available 2. Order Processing, its very simple and in one page solution. 3. Bulk Stock update, very simple to update stock in bulk 4. Sales Report & Product creation
Puntos en contra:
Features which need to improve: 1. Dashboard: this should present business summary Weekly, monthly & quarterly. There should be chart presentation that can be easy to understand business 2. Reports: There should be provision of different kindly of report like Sales Report, Returns, Payment report, Stock report & Business summary report and most selling items report etc. which will help seller to work on same. 3. Inventory Sync: This is the heart of software and this should work with 100% precision. 4. Chat tool: I really don't like this feature location in the page because this hides the count of order OR data available on the page. My suggestion is that either this should be very small icon like + sign or this can be relocated by user.
David J.
Sr. eCommerce Consultant en India
Comercio minorista, 51-200 empleados
Ha utilizado el software durante: Más de un año
Fuente: SoftwareAdvice
Good Inventory Management System for Small Business
Comentarios: We were managing our orders and inventory manually and we were taking lots of time to keep it organized. Easy to use and can generate reports easily. A good software to control inventory and making sure everything is running smooth.
Puntos a favor:
You can easily sell on multiple marketplaces at one go. You can upload and manage thousands of SKUs' information just by uploading a single excel file. Report generation and step by step status tracking of the order is quite appreciable.
Puntos en contra:
Not con but User interface could improve, team Vin eRetail is more capable with their process and implementation, Please do change your color theme and interface.