¿Qué es Rocket.Chat?
De código abierto, libre para implementar la alternativa de Slack para colaboraciones y comunicaciones en equipo. Tiene documentos para compartir, mensajes de voz, así como conferencias de video y audio. Interfaz de chat moderna con emojis, reacciones, vistas previas de enlaces, voz, fotos y video. Grupos privados y mensajes fuera de registro permiten conversaciones privadas cifradas. Los canales públicos permiten la colaboración entre departamentos y con los socios. Admite API y bots. Disponible en iOS, Android, Windows, Mac OS y Linux.
¿Quién usa Rocket.Chat?
Equipos con comunicación interactiva y necesidades de colaboración. Usuarios que buscan migrar fuera de Slack. Empresas de todos los tamaños que requieren una plataforma extensible de colaboración y mensajería.
¿Dónde se puede implementar Rocket.Chat?
Cloud, SaaS, Web, Mac (desktop), Windows (desktop), Windows (local), Linux (local), Android (móvil), iPhone (móvil), iPad (móvil)
Sobre el proveedor
Rocket.Chat
Ubicado en Porto Alegre, EE. UU.
Fundada en 2016
Asistencia telefónica
Asistencia 24/7
Chat
Países disponibles
Estados Unidos
Sobre el proveedor
Rocket.Chat
Ubicado en Porto Alegre, EE. UU.
Fundada en 2016
Asistencia telefónica
Asistencia 24/7
Chat
Países disponibles
Estados Unidos
Imágenes y vídeos de Rocket.Chat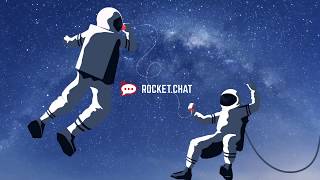 Comparar el precio de Rocket.Chat con productos similares
Funciones de Rocket.Chat
Acceso móvil
Alertas y notificaciones
Archivos de audio y vídeo bidireccionales
Asistencia remota
Autorrespondedores
Búsqueda/filtro
Chat de vídeo
Chat en tiempo real
Chat en tiempo real dirigido a consumidores
Chat en vivo
Chat proactivo
Chat y mensajería
Colaboración entre varios usuarios
Control/Acceso remoto
Creación de informes y estadísticas
Creación de informes/análisis
Creación de marca personalizable
Debates y foros
Edición en tiempo real
Formulario sin conexión
Gestión de contactos
Gestión de contenidos
Gestión de documentos
Gestión de la comunicación
Gestión de tareas
Herramientas de colaboración
Historial de transcripciones/chat
Integraciones de terceros
Llamadas de audio
Lluvia de ideas
Notificaciones en tiempo real
Panel de actividades
Registro único
Seguimiento de visitantes de la web
Transferencias/enrutamiento
Uso compartido de archivos
Uso compartido de la pantalla
Videoconferencia
Alternativas a Rocket.Chat
Julien D.
CEO en Costa Rica
Usuario de Linkedin verificado
Tecnología y servicios de la información, 11-50 empleados
Ha utilizado el software durante: Más de un año
Alternativas consideradas:
This OpenSource tool made our whole business possible
Comentarios: We started our self-managed hosted community version of Rocket.Chat a week before starting our company. We were able to quickly facilitate collaboration and communication in our firm. We have implemented a custom made chatbot linked to our MySQL database for work distribution. This tool have been and still is the best we have used in the last two years. It is our "remote office" base. Amazing software, very customizable, unlimited possibilities.
Puntos a favor:
The possibility of having a self-managed version of it, running on our own servers, for free. This ensured our data stayed ours. We also implemented a chatbot connected to our MySQL and automatized the work distribution.
Puntos en contra:
There are over 1200 permission settings. Around 50% of the software is "okay" documented, the rest indicates it is "under development". Very complex to know exactly what impact will have each setting.
Hendy I.
CTO en Indonesia
Usuario de Linkedin verificado
Servicios individuales y familiares, 2-10 empleados
Ha utilizado el software durante: 6-12 meses
Alternativas consideradas:
Lots of features as open-source & enterprise group chat software
Comentarios: Rocket.Chat has been very useful and relatively low-maintenance. Especially since we deployed it in MongoDB Atlas (another commercial product as DBaaS), so our MongoDB cluster is also low-maintenance. There are many features that can be enabled and configured, it's quite overwhelming at first. (to be honest, it still is now) But it makes me feel good too because if there's a use case, I feel that maybe 60-70% of the time, Rocket.Chat already provides that as an option.
Puntos a favor:
The core software is open-source, so the cost is low to get started. You have the option, but not forced to, to purchase business/enterprise support and upgrade for additional features, and Rocket.Chat company also provides hosting services. In case you want to modify the code (likely you won't need it), but you can, so it's a big plus for feeling in control. Rocket.Chat supports OpenID Connect for SSO authentication out-of-the-box, which we integrate with FusionAuth and it works as expected. So really happy about this. We also did submit some patches and enhancements to Rocket.Chat GitHub, and while response time varies, we were welcomed, some of our contributions were accepted, some were not accepted but with clear explanation. So we're very happy that we can collaborate directly with Rocket.Chat developers and hopefully having good relationship in the long term.
Puntos en contra:
I still see stability issues, sometimes chats not refreshing, and random minor issues. It's quite hard to debug/diagnose the issue, and on GitHub some issues have been waiting for weeks or months. I understand this is complex code without various platforms connected together, and to be fair Rocket.Chat tried to provide several debugging options inside it, so they do put effort in this. Configuring to use own Firebase Cloud Messaging (FCM) push notification is tricky, and requires deploying customized Android and iOS app... but this is to be expected and I'm not sure how it can be made easier. It still feels that they're pushing for new features more than to fix bugs. Which can be both a good thing or bad thing, depending on which side you're getting.
Respuesta de Rocket.Chat
el año pasado
Hello Hendy, we're incredibly happy to see you've been having a positive experience with our product! Your feedback is very important for us - it's the only way we can improve our product. Thank you so much for your review :)
Usuario verificado
Advisor en Madagascar
Usuario de Linkedin verificado
Externalización/deslocalización, 51-200 empleados
Ha utilizado el software durante: Más de dos años
A completely free chat tool for a basic use
Comentarios: For a free software, it is a good one. It could replace a basic use of Slack for example. You could spare some cost for a startup, as it is for our case.
Puntos a favor:
It is FREE. Really free. COMPLETELY free chat system, documents sharing, team discussions and info sharing. Also, you can create conversation inside channel as a room. Quite handy to avoid 1000 channels.
Puntos en contra:
There are bugs that are not fixed (and it has been years...) Eg : once you remove notifications from a channel, even if you try reactivate them, it does not work anymore. It is very confusing to go back if you click on add a file out of purpose... It makes it difficult to use sometimes.
Usuario verificado
SDR en Madagascar
Usuario de Linkedin verificado
Servicios para el consumidor, 51-200 empleados
Ha utilizado el software durante: 6-12 meses
Another collaborative tool you can use for your team
Comentarios: Overall, I have a good experience using Rocket.Chat. As a user and not an admin though, I think it's quite disturbing not to know where's the limit of my privacy.
Puntos a favor:
It's a collaborative tool. It has got an app that you can install into all your collaborators system. As other ones, you can use to direct chat and talk to your team - and them to each other. You can put constraints and boundaries into the tool itself.
Puntos en contra:
As a collaborator using it and not an admin, I really don't know how it works in terms of privacy. I am sometimes wondering if admins can see all we talk about at work etc.
Tecnología y servicios de la información, 11-50 empleados
Ha utilizado el software durante: 6-12 meses
Alternativas consideradas:
My 6 months with Rocket Chat
Comentarios: Very satisfied . I have used Slack, Teamwork Chat before, but Rocket Chat is very economical to me ( free- minus the VPS cost). ANd it has everything we need.
Puntos a favor:
1. Installation is a breeze. I was able to install Rocket Chat, get SSL configured, and had a running server set up in an hour without having to wave through endless linux commands. 2. Inbuilt support, for Video call using Jitsi, and inbuilt notifications. 3. Slack like user interface , which my team can instantly connect to.
Puntos en contra:
1. The Quote a message, can be improved, it is visually not very clear. 2. The Video call doesn't ring inside the application, only gives a button to join which makes people skip it some times. 3. On Windows, if the app is running in background, you need to go to the notification panel to bring it to front, if you start from the Start Menu, it doesn't come to front. Overall, the shortcomings are very less and trivial. The software is very stable and a breeze to use.
Respuesta de Rocket.Chat
hace 3 años
Hi Aditya, our team is constantly improving the platform to offer our users an amazing team chat platform for internal and external communication. We would love to understand better the problems you are facing, would you be able to detail them and send us on support@rocket.chat? thanks for your feedback!