WooPOS
¿Qué es WooPOS?
WooPOS es un sistema de gestión de tiendas minoristas que te ayudará a ejecutar todos los aspectos de tu negocio minorista. Desde la gestión de inventarios hasta las analíticas de datos, el procesamie
Leer más
nto de ventas y la administración de empleados, el software de punto de venta basado en Windows te ayudará a administrar tus tiendas físicas en una sola ubicación o en varias, y tu tienda en línea WooCommerce.
Mostrar menos
¿Quién usa WooPOS?
POS WooCommerce, punto de venta WooCommerce, gestión de inventarios WooCommerce, gestión de relaciones con los clientes, sistema de punto de venta robusto, solución de gestión de comercios minoristas, punto de venta.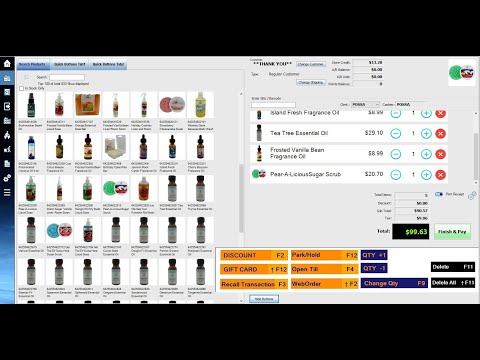 ¿No estás seguro sobre WooPOS? Compara con una alternativa popular
Versión gratuita
Prueba gratuita
No se han encontrado precios
Versión gratuita
Prueba gratuita
¿Por qué estoy viendo esto?
Greg
Operations Fellow
Usuario de Linkedin verificado
Educación superior, 1.001-5.000 empleados
Ha utilizado el software durante: 1-5 meses
Posted a few products with WooCommerce.
Los subtítulos en español están disponibles en el reproductor de vídeo
Doug
Agency Owner en EE. UU.
Tecnología y servicios de la información, Trabajador autónomo
Ha utilizado el software durante: Más de dos años
The Beast of POS Systems
Comentarios: Extremely Amazing! Why? Because of [SENSITIVE CONTENT]. [SENSITIVE CONTENT] is the Man!
I was introduced to the system via an article written about one his clients, a vacuum business. In that article it mentioned WooPos. Why, I don't remember. I called that company and asked about his experience with WooPos. He said, he loved it but there was 1 thing he didn't understand. He said, "I only ever talked to guy, a guy named [SENSITIVE CONTENT]. But, every time he needed a customization or something fixed or changed, it was done in 20 minutes. He didn't understand it, because in the beginning there was quite a few 'tweaks' he wanted, but they were all done in 20-30 minutes. He loved it. My experience, the exact same. It's been Amazing working with [SENSITIVE CONTENT]. He will do whatever it takes to help you get things off the ground and hold your hand to get it configured properly and up and running. And the 20 minute turn around time, it's real.
Puntos a favor:
The fact that this thing does 'EVERYTHING' when it comes to a POS system is the biggest benefit. It literally does it all when it comes to managing anything that has anything to do with retail, from inventory stock level control to auto ordering based on those stock levels. Employee time cards, simple check-in and check-out. From simple daily reports to a complex breakdown to the micro detail. No limits either on data queries. Build them out exactly how you want, quick and simple.
Puntos en contra:
On the other hand... The complexity of it can be overwhelming. You have to be ready to learn and really take it all in. The biggest downfall to the software is the dated interface. While it doesn't look all fancy, it's a seriously solid piece of software and your not going to find updates breaking things or being dependent on an internet connection. You'll need one, but if the net goes down your POS doesn't. The downfall is the way you have to build out your quick launch buttons. To create custom buttons you have to use an odd search/query string that is not so easy, or at least it's not so easy for me to wrap my head around it. I've installed the system twice and in one setting we are implementing as much of it as possible, over a period of time that is. Their help files and documentation is pretty good and they have a page dedicated to these codes so that does help.
Usuario verificado
Executive Administrator en EE. UU.
Usuario de Linkedin verificado
Ha utilizado el software durante: Más de dos años
Built multiple online stores and was always to make it meet the needs of my clients.
Comentarios: I have been able to build, and more specifically custom tailor, multiple online stores for a variety of clients with relative ease.
Puntos a favor:
I love that Woocommerce is on Wordpress, and that it supports third-party plugins. They offer a slew of plug-ins themselves. This enables you to build in the features you want, and not have very much added bulk and useless features taking up space on your server. It's almost ridiculously simple 90% of the time, with little need for assistance. On the rare occasion that you might need it, they have a lot of documentation for the program itself as well as their plug-ins. Their customer service is helpful the majority of the time. For a while they would take 1-2 days to reply to an email, and only had email support as an option, but in the past 6-12 months they added live chat and made the experience 100% better. They've even stepped up their game in being more proactive about their support than they used to be also. If you want to have complete control over the look, feel, and data of your site, I highly recommend that you go with Woocommerce.
Puntos en contra:
Their plug-ins are a bit pricey. To be fair, they only have an annual fee, but they are a bit steep depending on the feature that you want. It would be a lot better if they charged a single annual fee or monthly fee, and allowed unfettered access to all of their plug-ins. That way, you wouldn't have a different annual billing date for each of those little extra features you thought of adding later on, nor would the cost be so astronomical. There are often third-party alternative plug-ins, but the issue is that Woocommerce's plug-ins usually work best (as they should since it's their platform). Additionally, implementation of requests for new features on any plug-in or Woocommerce itself seems to be rather slow, and they don't take suggestions via customer service, but rather via forum and user voting.
Andrew
President en Canadá
Comercio minorista, 2-10 empleados
Ha utilizado el software durante: 1-5 meses
Handles large Database
Comentarios: The software is easy to use and lots of support documentation...the learning curve is more about adjusting to a different process compared to what we used before. Overall the change to WooPOS has been positive and staff seem to like the new system better.
Working with their head programmer has been beneficial in understanding and adapting to a new system.
Puntos a favor:
Our database has over 500,000 items in it and product searches and reports are faster than my previous system. We mainly use it as an inventory management system for our website and store...website is updated instantaneously. Easy to update database with excel data loads. Easy to customize invoice, labels and layout of screens. Fairly user friendly with pop ups/tips when a function or command is skipped or missing.
Puntos en contra:
Would be better if some of the inventory reports could be user defined/generated more easily than having to build (and understand how) a custom SQL query. Would like to see more/better basic accounting functionality as it is not an accounting program...it can export some ledger information to Quickbooks and others...but would like more.
Darrin
Sole Proprietor en Malasia
Usuario de Linkedin verificado
Ha utilizado el software durante: Más de un año
WooCommerce enables almost anyone to create an online store quickly and cheaply
Comentarios: WooCommerce is invaluable in helping me deploy an online store, and it has all the features I need run it well (in conjunction with numerous third party plugins). It is always updated, easy to manage, and does not require too much server resources. Best of all, the cost of running a WooCommerce store is much less than other professional platforms of a similar nature.
Puntos a favor:
What can I say about WooCommerce? It is the best DIY solution for anyone wanting to create a store online of their own - and on their own. And if you don't want to DIY, there are plenty of people offering to do it for you at very low cost. What is great about WooCommerce is it integrates seamlessly with WordPress and the basic functionality in order to makes sales is totally FREE. Of course, if you want to enhance your store and have a really professional-looking one, there are so many plugins/themes both free and paid, that can help you achieve that. And not only that, WooCommerce is always updated so that it stays secure and cutting edge. Everything you need to build a store online is already available in WooCommerce.
Puntos en contra:
Integration with Paypal is not really good. When you need to create a specific checkout page with the specific logo of your store showing on that page, you need to setup an entirely new Paypal account just for it. Paypal used to support multiple Custom Checkout logos under one single Paypal account, but this changed late in 2016. Besides this issue, WooCommerce support takes a while to reply, if you email them with an issue, although paid help is readily available from numerous online WordPress/WooCommerce experts, so you are never really stranded.
Megan
Director en EE. UU.
Artículos deportivos, 11-50 empleados
Ha utilizado el software durante: Más de dos años
Best Shopping Cart
Comentarios: We saved tens of thousands by using Woocommerce to build our online site. We make sales daily thru it and are able to design and setup the site exactly to fit our needs.
Puntos a favor:
Woocommerce is free and easy to use, so as a business owner I was able to take the time to learn how to use it and create my own website with Wordpress and Woocommerce. I have no web design background, but was able to learn thru google and helpful articles and videos. As a platform, Wordpress is built to be easy to use and have made it simple for developers to create and sell useful plugins. Woocommerce is a great add-on to Wordpress and has allowed me and others to create beautiful and effective shopping carts. If we had to pay someone to custom create and maintain a site for us it would have been tens of thousands of dollars.
Puntos en contra:
Because Wordpress is a free base and countless developers can create their own plugins, there can be a lot of conflicts between plugins. Especially when there are essential or major updates to Wordpress or Woocommerce. This can have a huge impact on a website, and you need to be prepared to test major updates before they go live. One update once changed the entire structure of variable products and created hours and hours of work on the backend for us. You would not see this with a contained shopping cart (like 3DCart), but that's because you pay more for the other services. For the price, Woocommerce is unmatched.