¿Qué es WooPOS?
WooPOS es un sistema de gestión de tiendas minoristas que te ayudará a ejecutar todos los aspectos de tu negocio minorista. Desde la gestión de inventarios hasta las analíticas de datos, el procesamiento de ventas y la administración de empleados, el software de punto de venta basado en Windows te ayudará a administrar tus tiendas físicas en una sola ubicación o en varias, y tu tienda en línea WooCommerce.
¿Quién usa WooPOS?
POS WooCommerce, punto de venta WooCommerce, gestión de inventarios WooCommerce, gestión de relaciones con los clientes, sistema de punto de venta robusto, solución de gestión de comercios minoristas, punto de venta.
¿Dónde se puede implementar WooPOS?
Cloud, SaaS, Web, Mac (desktop), Windows (desktop), Windows (local), Chromebook (desktop), Android (móvil)
Sobre el proveedor
WooPOS
Ubicado en Vancouver, Canadá
Fundada en 2016
Asistencia telefónica
Países disponibles
Canadá, Estados Unidos
Sobre el proveedor
WooPOS
Ubicado en Vancouver, Canadá
Fundada en 2016
Asistencia telefónica
Países disponibles
Canadá, Estados Unidos
Imágenes y vídeos de WooPOS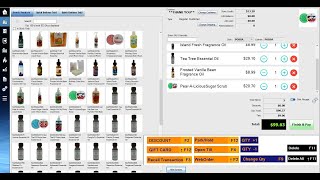 Comparar el precio de WooPOS con productos similares
Funciones de WooPOS
Acceso móvil
Alertas y notificaciones
Auditoría de inventario
Búsqueda/filtro
CRM
Control de inventario
Creación de informes/análisis
Cuentas de clientes
Códigos de barras/RFID
Firma electrónica
Gestión de artículos
Gestión de comercio electrónico
Gestión de comercios minoristas
Gestión de contactos
Gestión de descuentos
Gestión de empleados
Gestión de envíos
Gestión de ingresos
Gestión de inventario de minoristas
Gestión de inventarios
Gestión de pedidos
Gestión de precios
Gestión de proveedores
Gestión de renovaciones de pedidos
Gestión de tarjetas de regalo
Gestión de órdenes de compra
Gestión multicanal
Identificación del producto
Importación y exportación de datos
Informes de ventas
Integraciones de terceros
Integración contable
Lectura de código de barras/tickets
Marketing por correo electrónico
Optimización de inventario
Pantalla táctil
Para comercio detallista
Previsión
Procesamiento de pagos
Punto de venta (POS)
Seguimiento de costes
Seguimiento de ingresos
Seguimiento de pedidos
Varias ubicaciones
Scott
Web Developer en RU
Usuario de Linkedin verificado
Ha utilizado el software durante: Más de dos años
One of the most customizable ecommerce addon
Puntos a favor:
What makes Woocommerce greatis the fact that it is higly cutomizable. WIth your every need it can exceed your expectations by far. Built for speed and custom it is another great tool to work with as a designer. The easy to install and manage make it for users ideal for small and large shops. You can manage a multi store from the same dashboard and start making some severe changes. It integrates perfectly with other plugins and apis
Puntos en contra:
The export data function should be tailored for less fields or make it more compact, it is great for export import in the same ecommerce platform but a nighmare just to upload it to something else.
Andrew
President en Canadá
Comercio minorista, 2-10 empleados
Ha utilizado el software durante: 1-5 meses
Handles large Database
Comentarios: The software is easy to use and lots of support documentation...the learning curve is more about adjusting to a different process compared to what we used before. Overall the change to WooPOS has been positive and staff seem to like the new system better.
Working with their head programmer has been beneficial in understanding and adapting to a new system.
Puntos a favor:
Our database has over 500,000 items in it and product searches and reports are faster than my previous system. We mainly use it as an inventory management system for our website and store...website is updated instantaneously. Easy to update database with excel data loads. Easy to customize invoice, labels and layout of screens. Fairly user friendly with pop ups/tips when a function or command is skipped or missing.
Puntos en contra:
Would be better if some of the inventory reports could be user defined/generated more easily than having to build (and understand how) a custom SQL query. Would like to see more/better basic accounting functionality as it is not an accounting program...it can export some ledger information to Quickbooks and others...but would like more.
Recaudación de fondos, 2-10 empleados
Ha utilizado el software durante: Más de dos años
Support is Excellent and accurate
Comentarios: We had support software upgrades and caused a failure with some features of the Gift Card plugin. We reached out to support and got an immediate response with suggestions to fix. We needed more support and [SENSITIVE CONTENT] in WooPOS support was able to quickly solve all our issues. We are very happy.
Puntos a favor:
Ease of use, and ability to upload Gift Card in batch. Tracking is excellent and feature to control the card and use of card by customers.
Puntos en contra:
This plugin is perfect for our industry and is the only Gift Card plugin with the ability to set the card as a 'one time use only'. Out of 10 or more we test it is the best, easy to use and can customize. We control 100's of card per month with little effort.
Zied
Web developer and president of a company en Canadá
Medios online, 2-10 empleados
Ha utilizado el software durante: Prueba gratis
Amazing soft but needs a lot of changes
Comentarios: See above
Puntos a favor:
A lot of usefull functionnalities. One of the rare professional Pos easily linked with woocommece.
Puntos en contra:
Hard to configure Hard to customize frontend pos Hard to customize functionalities Not user friendly Please add a custom product for when the cashier scans an unavailable product they can add a custom product with price and name. Add a function to customize front end pos to simplify the visual complexity for the cashier for example remove the search product tab. Add a category product instead to access example vegetables fruits ... and when you click on it a list of these product are shown .... But overall the pos is really great just need some easy friendly platform and some additional custom functions I ll be the first to go back to your soft . Please keep me posted for any updates this
Respuesta de WooPOS
hace 3 años
Hi Zied, Thanks for the review. But we have all the custom options you have mentioned in your review. Some functions are hidden or need advanced special settings to show up. Please email us to get help on setup. And don't forget to give us a better review! Thanks
Doug
Agency Owner en EE. UU.
Tecnología y servicios de la información, Trabajador autónomo
Ha utilizado el software durante: Más de dos años
The Beast of POS Systems
Comentarios: Extremely Amazing! Why? Because of [SENSITIVE CONTENT]. [SENSITIVE CONTENT] is the Man!
I was introduced to the system via an article written about one his clients, a vacuum business. In that article it mentioned WooPos. Why, I don't remember. I called that company and asked about his experience with WooPos. He said, he loved it but there was 1 thing he didn't understand. He said, "I only ever talked to guy, a guy named [SENSITIVE CONTENT]. But, every time he needed a customization or something fixed or changed, it was done in 20 minutes. He didn't understand it, because in the beginning there was quite a few 'tweaks' he wanted, but they were all done in 20-30 minutes. He loved it. My experience, the exact same. It's been Amazing working with [SENSITIVE CONTENT]. He will do whatever it takes to help you get things off the ground and hold your hand to get it configured properly and up and running. And the 20 minute turn around time, it's real.
Puntos a favor:
The fact that this thing does 'EVERYTHING' when it comes to a POS system is the biggest benefit. It literally does it all when it comes to managing anything that has anything to do with retail, from inventory stock level control to auto ordering based on those stock levels. Employee time cards, simple check-in and check-out. From simple daily reports to a complex breakdown to the micro detail. No limits either on data queries. Build them out exactly how you want, quick and simple.
Puntos en contra:
On the other hand... The complexity of it can be overwhelming. You have to be ready to learn and really take it all in. The biggest downfall to the software is the dated interface. While it doesn't look all fancy, it's a seriously solid piece of software and your not going to find updates breaking things or being dependent on an internet connection. You'll need one, but if the net goes down your POS doesn't. The downfall is the way you have to build out your quick launch buttons. To create custom buttons you have to use an odd search/query string that is not so easy, or at least it's not so easy for me to wrap my head around it. I've installed the system twice and in one setting we are implementing as much of it as possible, over a period of time that is. Their help files and documentation is pretty good and they have a page dedicated to these codes so that does help.