¿Quién usa AmeriCommerce?
AmeriCommerce es un potente software de comercio electrónico diseñado para tiendas online de gran volumen y productos complejos. Esta plataforma personalizable para múltiples tiendas está diseñada para quienes necesitan una solución con menos limitaciones.
¿Qué es AmeriCommerce?
Es una de las pocas soluciones diseñadas para múltiples escaparates, comercio electrónico B2B y catálogos de productos complejos, como AmeriCommerce. Tanto si eres una pequeña empresa o un gigante del comercio electrónico, puedes estar tranquilo de que AmeriCommerce es una plataforma repleta de funciones que no limitará tu crecimiento. Obtén una prueba gratis y ve por ti mismo por qué comerciantes de todo el mundo eligen AmeriCommerce.
Información sobre AmeriCommerce
https://www.americommerce.com/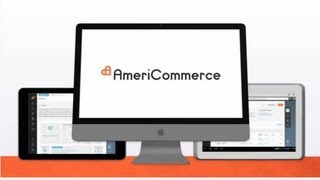 Play
Compara AmeriCommerce con productos similares
Precio inicial
24,95 US$/mes
No disponible
499,00 US$/mes
29,95 US$/mes
AmeriCommerce: implementación y asistencia
Asistencia
E-mail/Help Desk
Preguntas frecuentes/foro
Base de conocimientos
Asistencia telefónica
Formación
En vivo online
Webinars
Documentación
Vídeos
Funcionalidades de AmeriCommerce
---
Evaluación media
Relación calidad-precio
4,4
Cydnie G.
Graphic Designer Production
Agricultura, 11-50 empleados
Ha utilizado el software durante: 6-12 meses
Valoración global

Facilidad de uso

Funcionalidades

Asistencia técnica

Relación calidad-precio

Probabilidad de recomendación
Fuente de la reseña

Publicado el 18/1/2019
"Software for All Users"
Comentarios: I'm very pleased with the service AmeriCommerce has provided. I really like that their site is approachable by people of all tech skill levels. Their customer support is outstanding as well.
Ventajas: AmeriCommerce caters to a wide variety of users. If you have no coding background at all using one of their many templates might be for you. However if you are savvy with code and want to add customized features, you have a great deal of access to do so.
Desventajas: There is a steep learning curve when you originally begin using AmeriCommerce and it's not always intuitive but their support is often helpful when you need to find something. One feature I wish could be added to the site is for there to be an option for adding items to your cart and instead of being redirected somewhere, you simply receive a notification saying the item was added.
Respuesta de proveedores
por AmeriCommerce el 23/1/2019
Cydnie,
Thanks for the review!
We wanted to mention that the feature you are requesting already exists! If you navigate to Themes > Global Theme Settings > Shopping Cart you will see a navigation setting with multiple options on where to redirect the user after adding an item to cart.
As always, our support team is standing by to help if you need any assistance.
Happy Selling!
Fuente de la reseña

Publicado el 18/1/2019
Colin W.
Co-Owner
Ropa y moda, 2-10 empleados
Ha utilizado el software durante: Más de un año
Valoración global

Facilidad de uso

Funcionalidades

Asistencia técnica

Relación calidad-precio

Probabilidad de recomendación
Fuente de la reseña

Publicado el 8/4/2020
"Incredible piece of software and great company"
Comentarios: Overall extremely positive. Ive certainly had a couple of frustrating moments, because there is definitely a learning curve, and there are a couple features I really wish it had. However that is to be expected with any platform. It seems every day I uncover a new method or technique to get what I want out of the platform, and that keeps me intrigued and excited to keep using it.
Ventajas: The features!! Americommerce is hands down the most native feature packed B2B ecommerce platform out there that I'm aware of. I can't tell you how difficult it is to find a solution out there that *out of the box* comes with the capabilities to build and manage a multi-store / multi-customer type (B2B, B2C, C2C) ecommerce operation without having to frankenstein together a bunch of 3rd party apps that may or may not work well together and/or slow down the system.
If we're talking about my most favorite feature, that would be the rule engines for advanced pricing, orders, customers, analytics, etc. The amount of control over tiny details in the customer experience that comes with the rule engine is so vast I have not yet discovered the full spectrum of possibilities after a full year of use.
Additionally, the API works extremely well for everything i've used it for, and like everything else on the americommerce platform, runs FAST.
Desventajas: The documentation... I generally consider myself to be pretty good at navigating documentation and finding the right solutions quickly, but I frequently run into issues with out of date docs and missing or difficult to locate information, and often find that I miss information that WAS in the documentation only after I talk to support which ends up wasting both our time. HOWEVER! this negative is balanced and even overshadowed by the extremely positive interactions i've had with the support team, who are quick to respond and very friendly and knowledgeable. Also, the documentation thing is understandable when you're dealing with such a feature rich platform. As a front end developer, i'm constantly amazed at how much work must have gone into the development of Americommerce to make such a complex piece of software run so quickly and smoothly and I know documenting multifaceted fast evolving platforms can be a nightmare, so ultimately Im understanding to this issue, plus Im aware that they are currently developing a new format for documentation anyways, so i'm excited to see improvement.
Fuente de la reseña

Publicado el 8/4/2020
Chad W.
Front-End Developer
Internet, 11-50 empleados
Ha utilizado el software durante: Más de dos años
Valoración global

Facilidad de uso

Funcionalidades

Asistencia técnica

Relación calidad-precio

Probabilidad de recomendación
Fuente de la reseña

Publicado el 26/10/2018
"An outdated and unintuitive mess of software that falls short in every regard"
Comentarios: CONS continued:
Not safe, not smart, not secure, but that's the only way a blog editor can use their blog on Americommerce. Reports are a joke. No customization, primitive filtering, no DOWNLOADING, and the designs are horrendous. File management is a glorified FTP interface. That means search is slow and there's no mass-editing tool. It's missing simple stuff like "copy file URL" and "delete folder". Last thing I'll say: in a world run by search engines, Americommerce charges you for bandwidth. Every bot that crawls your site is costing you money. BOTTOM LINE:
STAY AWAY FROM AMERICOMMERCE. There is SO much better in literally any platform. I had to delete about half of my cons because it wouldn't even FIT in the review.
Ventajas: There are a few good things about Americommerce. Their customer support staff is friendly. The custom rule engine is power, albeit hard to use. The API integrations allow for some deeper integrations with old custom and oracle-based software. Their recent integration with Cloudflare allows for automatic SSL renewal, and there's a photo cropper tool in case you need it. The CON list didn't have enough room, so here are my CONs: Americommerce doesn't adhere to basic CSS3 standards and can't handle responsive design or modern styling techniques. Responsive design has to be included in a separate file in the head tags, and can't be integrated into a single page. You have to put all your media queries into the head tags, so they load on every single page of your site. All the themes I've used (even the Americommerce-made Base theme) look like trash compared to modern web competitors like SquareSpace, WordPress, Wix, etc. The themes are poorly coded and don't follow good design principles. "Magic numbers" are everywhere, and that's bad code. Bottom line: getting your site to look good on Americommerce is a painful and arduous process. The page content editor's WYSIWYG preview is wildly off - making it completely useless. Good luck previewing any changes before pushing live updates to the page. The ubiquitous "pane" system is slow and wastes screen real estate...
Desventajas: CONS continued:
Editing a content pages uses a 1/3 pane that's not resizeable. Editing products, content pages, categories, discounts, users - literally everything - wastes 2/3 of your screen real estate. Editing products is slow and painful, and the mass editor just allows you to edit product basics one at a time a tiny bit faster. You can't drag-and-drop photos to rearrange. The theme editor is comprehensive but unintuitive and fragile. Keep local copies of each page you edit, because Americommerce WILL lose your changes. No version history and no backups. One "error" in your CSS will discard all updates. I say "error" because the CSS linter is WAY too strict. For example, having a -webkit prefix alongside a fallback (a standard in forward-thinking design) will return an error. Comments aren't allowed either. Whoever arrange the Settings hierarchy needs to be fired and shot. Editing users is in the security tab. Changing one setting (like a favicon) may find you traveling to 2 or 3 different sections to complete. The contact forms are limited at best and don't support placeholder text. Americommerce doesn't store entries on the site, so once it sends that admin email, the entry is gone forever. I've been burned badly by this. Adding forms to content pages is troublesome and has been solved better on other platforms. User permissions are buggy. Long story short, every single user is an admin for all of the multi-store accounts...
Respuesta de proveedores
por AmeriCommerce el 9/1/2019
Chad,
Thank you for providing this feedback. A lot of these concerns have actually already been addressed or are on our product roadmap for future development.
For example:
We just published a new feature allowing you to restore backup theme html, css, and widgets.
The WYSIWYG has been updated and improved.
Several new themes are on the roadmap for 2019, although not sure how much that affects front end developers.
Bulk actions such as mass folder delete is currently in production and set to release in next software update.
The issue where you mention that "one CSS error will discard your changes" was originally put in place as a protector users that weren't code savvy. However, we are reviewing that component and will be either upgrading it or removing it very soon (this was already planned).
We value all of your feedback as a customer and it hurts to see this review. We would love to have you back and put our new features to the test.
Happy Selling!
Fuente de la reseña

Publicado el 26/10/2018
Philip K.
Director of Business Development
Automoción, 11-50 empleados
Ha utilizado el software durante: Más de dos años
Valoración global

Facilidad de uso

Funcionalidades

Asistencia técnica

Relación calidad-precio

Probabilidad de recomendación
Fuente de la reseña

Publicado el 26/4/2018
"AmeriCommerce has been our eCommerce platform of choice for over decade. Great service. Great team."
Comentarios: AmeriCommerce allows us to deliver a great experience for our customers. The ability to customize this platform with reasonable development times allows us to concentrate on our own product development rather than programming. It's easy to manage large data sets, make daily site updates and fulfill orders. It's mobile friendly themes, top-notch security and fast servers make it a great option for those companies just starting out and those that need just a little extra care.
Ventajas: The platform is constantly improving, rolling out new features monthly at no additional cost to their customers. We have grown from a basic subscription plan to a platinum custom plan that meets and exceeds our customer demands. We attribute much of our growth to their ability to customize the platform to meet our needs. We offer products with hundreds of variations and need to serve up that information in digestible formats for our customers and with their developer's help we have grown 300% year over year for the past three years. Not a small feat for a mature site!
Desventajas: We really have not had too many issues with their service or platform that could not be addressed in a timely fashion. The only issue we have had in the past year was a single instance of excessive downtime, greater than 24 hours. This has only happened once in a decade of service.
Fuente de la reseña

Publicado el 26/4/2018
Ellen B.
Web Wrangler
Edición, 2-10 empleados
Ha utilizado el software durante: Más de dos años
Valoración global

Facilidad de uso

Funcionalidades

Asistencia técnica

Relación calidad-precio

Probabilidad de recomendación
Fuente de la reseña

Publicado el 25/1/2019
"Nothing but praise for AmeriCommerce"
Comentarios: A long time ago, I created a website for this company from pure html and css. The orders were processed via a simple email script that would send the order to the office to be charged and filled. For the time, it was effective and made the company a lot of money. Unfortunately the owner of the server passed without leaving the sign in information and the company was stuck. I did research and found AmeriCommerce and it is so much better as well as less wear and tear on yours truly. I don't have to focus on code any longer. Furthermore the built in ability to sell digital products has taken this company into the future of publishing through the internet.
Ventajas: I like the huge array of features available but most of all the support and customer service is the best. The team is responsive as well as forgiving and understanding of my own errors.
Desventajas: It's not about the software so much as the documentation. I cannot always find the instructions that I need to implement a feature and sometimes it is old. When I started out, it was kind of a nightmare wading through everything. Now that I have seen it all, I can usually remember on my own or sometimes ask for a hint from a customer support person. I'm not sure that an online manual, instead of just a searchable support system of articles would help sell the product but it might.
Fuente de la reseña

Publicado el 25/1/2019