Katana Manufacturing ERP
¿Qué es Katana Manufacturing ERP?
Software de gestión de inventarios y fabricación adaptado para fabricantes y pequeñas empresas manufactureras que venden en línea (por ejemplo, Shopify). Logra que la gestión de la producción y el
Leer más
control del inventario sean más fáciles que nunca para los comerciantes en línea. Adecuado para pequeñas empresas que buscan escalar y llevar la estructura a sus operaciones diarias.
Mostrar menos
¿Quién usa Katana Manufacturing ERP?
Fabricantes, artesanos y pequeñas empresas manufactureras que venden en línea.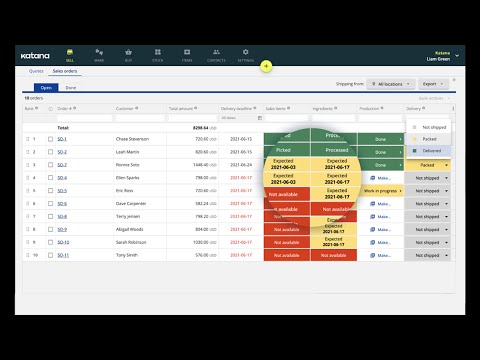 ¿No estás seguro sobre Katana Manufacturing ERP? Compara con una alternativa popular
Versión gratuita
Prueba gratuita
No se han encontrado precios
Versión gratuita
Prueba gratuita
¿Por qué estoy viendo esto?
Alternativas a Katana Manufacturing ERP
Opiniones de Katana Manufacturing ERP
Usuario verificado
Estudiante de programación en España
Usuario de Linkedin verificado
Software informático, 51-200 empleados
Ha utilizado el software durante: 1-5 meses
Katana - Gestión de inventarios
Comentarios: En general, es una buena aplicación para poder gestionar de forma rápida y más automática todo lo relacionado a los inventarios. Es sencilla de usar y es perfecta para pequeñas y medianas empresas.
Puntos a favor:
Este software, ayuda a las empresas a optimizar su gestión de inventario, ya sea en relación a la fabricación, el almacén, las ventas o las compras. Su sistema está en la nube y posee una gestión de inventario a tiempo real.
Puntos en contra:
Creo que tiene un precio elevado y existen otras aplicaciones más económicas que hacen el mismo uso.
Alimentación y bebidas, 2-10 empleados
Ha utilizado el software durante: 1-5 meses
Alternativas consideradas:
Intuitive, Fast To Implement, and Beautifully Designed
Puntos a favor:
The user interface is clean and very intuitive, requiring essentially no time to learn. Some of the other MRP solutions we tried were difficult to navigate and use, and training on them would have been labor intensive and costly. Katana is beautifully designed, and the batch-tracking and inventory management is easy to adapt to our business (MRPeasy/ERPAG were very clearly not designed with food manufacturing in mind, so making them even remotely functional for that purpose felt like a bit of a fools errand, whereas Katana just works).
Puntos en contra:
While it is very user-friendly and it has the ability to track batches/lots (which is critical for us), we've had to develop workarounds to make it function the way we need it to -- it doesn't quite handle this the way I would envision it should. There are also some minor time wasters. If there's one simple feature I wish they would change, it's being able to type in the expiration dates rather than having to scroll through the calendar manually to select the correct date. This becomes so onerous when receiving multiple items on a PO and having to manually click through/scroll through the calendar to select the correct date as opposed to simply having a field that allows you to type in the date and move on.
Jared
VP Operations en EE. UU.
Usuario de Linkedin verificado
Producción de alimentos, 2-10 empleados
Ha utilizado el software durante: 6-12 meses
Alternativas consideradas:
The MRP system I wish I'd always had
Comentarios: Katana's awesome, full stop. I've been working with manufacturing businesses for years, and for years I've lamented Xero's relatively weak inventory management system. Two years ago I tried literally every MRP app I could find to plugin to Xero; they were all pretty bad. Along comes Katana, which maybe was around earlier but was "new to me" just this year, and ... wow. Mostly, it Just Works. The Xero integration works seamlessly for bills and sales orders, which speeds AP/AR quite a bit. 90% of the tool's value is outside of Xero though, and I now have a permanently-pinned Katana tab in my browser for tracking everything in the production flow from raw materials purchasing, to production, to sale, to reconciliation of remaining materials and product stock. It's great. Is it perfect? Not quite. They need to do some performance work, as load times are often a little sluggish. Also, it would be nice to see finer-grained automation, and better contact syncing. But overall, I'm delighted.
Puntos a favor:
- It's really easy to use - Makes it easy to track materials on hand, reorder, etc - Calculates margin including labor cost - Xero integration works perfectly - Zapier integration makes it really flexible from an automation standpoint - Really lots of other stuff ... it's truly an excellent product and an outlier in a pretty clunky space.
Puntos en contra:
It can be a little slow, and the contact syncing could be more robust.
Klaus
Management en Alemania
Maquinaria, 2-10 empleados
Ha utilizado el software durante: 1-5 meses
Alternativas consideradas:
First Impression KATANA - perfect fit for smaller companies which do not need a complex ERP-system
Comentarios: For our requirements, set-up and company size the best we could find and test!
We will manage inventory/warehouse with 5000+ items, handle products with ingredients & operations, edit quotes, generate sales orders and mark received orders as shipped for automated invoice generation in Quickbooks. The cloud-based concept and the reduced complexity combined with an intuitivbe operatzion makes this SW easy to install and to work with if you have a team in different geographic locatioopns (as we have).
Set-up of KATANA is absolutely simple, mostl yself-explanatory and can be done by any "power-user" without need of (expensive) external ERP-consultants.
Puntos a favor:
Handling of inventory, items, products, ingredients, sales orders - all this is handled in a very efficient, clear and easy to use way. Makes the difference compared to many alternative MRP-/ERP-systems. Connector to QuickBooks with automatic trigger for invoices in QB once the products are marked as shipped in KATANA. Connector to Shopify for on-line sale of spare parts. 100% helpful and open minded customer service - very helpful in helping to understand all features and finding the best workflow for specific situations.
Puntos en contra:
There are some functions/features which need improvement, e.g. the customization of documents such as Quotations so every company can generate a set of individual template to serve different areas (machines, spare parts, service,..). 3-5 custom fields for Quotes/Sales Orders/Products would be helpful. Althoug KATANA is intended to be a MRP-system it would be helpful to integrate SERVICE-articles (not only MAKE or BUY articles). This would allow to add a possible service portion to a spare parts quote. Dedicated Delivery Notes (with partial shipments) would be a great feature.
Respuesta de Katana MRP
hace 2 años
Thank you! Glad you are getting value out of Katana.
Lisa
Owner en EE. UU.
Usuario de Linkedin verificado
Comercio minorista, 2-10 empleados
Ha utilizado el software durante: Más de un año
Met our needs at beginning, as needs grew Katana team listened and added features
Comentarios: We maintain about 1500-2000 SKUS and all assemblers work at home. Some do different steps, returning work weekly and then having it distributed to the next person. Giving every MO an actual number has kept every bag of parts and supplies organized. We can track who has it, where it's at in the manufacturing process, etc. Even though we have used Katana since January, it's the last 3 months that it's really proven it's value to us. We do not use it for order fulfillment, just in-house manufacturing. But it's allowed us to prep for holiday season from July forward and stay completely organized and efficient. No more "where-did-it-go" or "how-many-have-we-prepped" frantic moments. We began the year knowing we needed a software that "fit" our company's size and our needs. Katana has proven invaluable for our company this year. We are currently doing our first complete inventory and we hope to add these numbers to Katana in 2020 and continue to improve our efficiency.
Puntos a favor:
The ability to use Resources as a way to assign a specific person to each task so I can see who is working on what step of the manufacturing process and the allotted time they are provided for the task. This year we went from contract labor/paid-per-piece to employees/hourly-wage and Katana has made this a much smoother transition then it could have been. Having both "cost-per-piece" for assembly of items as well as "cost-per-minute" has given us the ability to compare former payment procedures with what to expect per hour from employees.
Puntos en contra:
There are a variety of tasks that were unable to be done when we began using Katana in January 2019 but I am thrilled to say that most of them have been developed. The developers listen and are very attentive to requests, bug reports, and ideas and so despite the fact that some of the features were not available (exporting reports, importing recipes, bulk print MOs/pick lists, etc.) they have added these and the software continues to grow. The next feature I'd love to see is the ability to have a product photo attached to each product that prints out an image with the MO. Also, we have some items "on hold" (not sent to distribution center yet) and we use Resources to specify ONHOLD-BIN221 etc. to know the status of any particular SKU completed. We'd prefer not to use different locations, but rather have the ability to add a couple more "status" options. Either a misc or a custom. For now, everything on hold gets marked BLOCKED status and then the Resource is used to say it's on hold in whatever bin.
Respuesta de Katana MRP
hace 3 años
Thank you for very thorough feedback! Love to have you growing with us!