lemlist
¿Qué es lemlist?
lemlist es una poderosa herramienta de alcance por correo electrónico que te da la capacidad de personalizar presentaciones, automatizar el seguimiento y registrar el éxito de tus correos electrónicos
Leer más
. lemlist es también la primera plataforma de automatización de correo electrónico que te permite generar imágenes personalizadas automáticamente, incluidos el logotipo de la empresa, el nombre de la empresa, el nombre de los empleados, etc. Estas son solo algunas de las tareas que lemlist facilita: ventas B2B, comunicación con la prensa, actividades de backlink de SEO y asociación, contratación, entre otras.
Mostrar menos
¿Quién usa lemlist?
lemlist es para profesionales de ventas, fundadores y emprendedores, comercializadores de contenido y cualquier persona que busque ganar clientes potenciales a través de un programa de ayuda.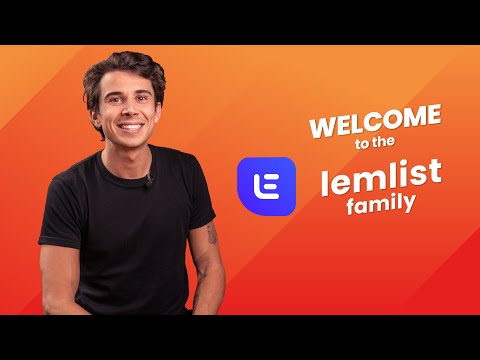 ¿No estás seguro sobre lemlist? Compara con una alternativa popular
Versión gratuita
Prueba gratuita
Versión gratuita
Prueba gratuita
¿Por qué estoy viendo esto?
Bryce
Marketing Director
Usuario de Linkedin verificado
Producción audiovisual, 2-10 empleados
Ha utilizado el software durante: Más de un año
Not fairly priced, yet the backbone is old technology (agency user with 10+ seats)
Los subtítulos en español están disponibles en el reproductor de vídeo
Caleb
Owner en EE. UU.
Usuario de Linkedin verificado
Marketing y publicidad, 2-10 empleados
Ha utilizado el software durante: 1-5 meses
Alternativas consideradas:
Lemlist Rocks!
Comentarios: Warming up campaigns is definitely one of the biggest wins. I love how you can still use lemwarm even after warming up a campaign to keep your inbox engaged and healthy. The statistics for lemwarm and many others make it very easy to keep your inbox happy and healthy. The dynamic images and pages definitely help break the normal boring messages that most of us have all received at some point. It creates a very personal touch even if it is automated. They amount of templates available straight out of the box, definitely helps someone get started.
Puntos a favor:
The ease and flow of the UI/UX is absolutely beautiful. Very Dynamic software and very creative with dynamic images and Landing Pages. One of the biggest things that brought me to the platform from using a different service is "Lemwarm" and the ability to automatically warm up your inbox before getting ready to launch a campaign. So many amazing features. There was definitely thought and intention with the entire platform to embody everything needed to launch a "cold" email campaign that doesn't feel so cold.
Puntos en contra:
Downsides? What downsides? ;) i definitely haven't found anything about the platform or Lemlist, that I don't love!
Usuario verificado
Freelancer in B2B Growth & Operations en Alemania
Usuario de Linkedin verificado
Tecnología y servicios de la información, Trabajador autónomo
Ha utilizado el software durante: Más de un año
Alternativas consideradas:
Big fan of this tool. Offering an amazing degree of personaliziation
Comentarios: Lemlist was extremely helpful in personalizing outreach at scale. You get a lot for your money. Extra features like the pods or super fast customer service make this tool a no-brainer when it comes to cold outreach.
Puntos a favor:
Degree of personalization; bulk import & export functions; extremely helpful customer service (quick & effective responses)
Puntos en contra:
The only thing about this software which was not to rate five stars was the design (UI). Used light-grey and white elements were sometimes hard to find..
Thomas
Director of Marketing en Canadá
Servicios financieros, 11-50 empleados
Ha utilizado el software durante: 6-12 meses
Great experience overall
Comentarios: Really great experience overall - we've had some amazing results with the solution.
Puntos a favor:
The personalization features are powerful, such as the variables on images. The software is very easy to use and they have an incredible Customer Success team who answers questions in 2-3 min and produce a ton of resources to make you successful. Love the multi-platform capabilities too.
Puntos en contra:
2 things. One is reporting. You have some campaign stats but no intelligence to help you focus. An example is a leaderboard with the most engaged leads of a campaign across all platforms so that the sales team knows who to focus on. Would love some automated tips based on their knowledge acquired from other customers - similar to Gong giving tips on how to get better on customer calls. Second is automation rules. You don't have the IF THIS THEN THAN rule to create multiple logics based on behavior. Example being if no reply on LinkedIn after 3 days, then switch to email.
Wil
Creative Director en EE. UU.
Producción audiovisual, 11-50 empleados
Ha utilizado el software durante: Más de un año
Alternativas consideradas:
Not fairly priced, yet the backbone is old technology (agency user with 10+ seats)
Comentarios: Due to how often they continually update the platform--and you would expect this to actually be a good thing but it's not--the UI will change and functionality you began to rely on working fast suddenly slows down considerably. They update their platform multiple times a week on the backend. It's like, just build it right the first time and let. it. be. It's not even adding new features it's just busy work. If you run more than 2 email addresses, you're an agency or you have 3 or more users, I suggest using a different platform, you'll get better functionality out of something like woodpecker.co or market.to then Lemlist and for a much more reasonable price. They don't even offer a discount on their $60/seat rate until you have had at least 20 seats.
Puntos a favor:
I liked that it was fairly quick to actually queue new campaigns on lemlist. I could duplicate a campaign, keep the settings and then just put in the sender and associate a list to it. As an agency using it, I found that was effective, though actually getting the settings I'd put in to take often required a lot of server lag.
Puntos en contra:
This was fixed but it took about 4 months to do it: how LONG it takes list changes to go into affect. If you for instance had 1k contacts you wanted to remove from a campaign, it would take 20-30 minutes for those to be removed. How poorly they integrated with HubSpot and Salesforce. Sure there was some integration but it required I learn ALOT about the platform to make it work as an agency. I had to make changes on HubSpot to tailor it to work with Lemlist and there is absolutely no automation interaction unless you use a third party software and even then Lemlist doesn't offer many triggers on zapier. Lemlist will throttle you into the ground as an agency if one of your domains has low deliverability the algorithm will stop them all I started sending 150-200 emails per day from each seat and before long it became 50 at most. Their pricing model is pretty insane really. Comparable software goes for half the price of Lemlist with better features and cross platform multi-channel integration. Support wasn't very helpful and very pushy for positive reviews of their support. I often was told whatever issue I had wasn't their responsibility to resolve or wasn't understood so my support requests would get escalated to their dev team who responded 3-4 business days later through the tech, not directly and the answer only rarely was actually salient to my issue so another message would have to be sent by me to clarify which took another 3-4 days.
Usuario verificado
Marketing Manager en India
Usuario de Linkedin verificado
Software informático, 51-200 empleados
Ha utilizado el software durante: Más de un año
Good for a small subscriber list
Puntos a favor:
I quite like the way it took only minutes to setup.
Puntos en contra:
It's really not good in terms of delivery rate, I was shocked to see that most emails lan ded in spam and when I ran a campaign on same list in different tool, it worked fine.