JumpCloud Directory Platform
¿Qué es JumpCloud Directory Platform?
JumpCloud Directory-as-a-Service es reimaginado para Active Directory y LDAP. JumpCloud gestiona y conecta de forma segura a tus usuarios con sus sistemas, aplicaciones, archivos y redes. JumpCloud
Leer más
gestiona los usuarios y sus sistemas, ya sea Mac, Linux o Windows, y proporciona acceso a la nube y a recursos locales, como Office 365, G Suite, AWS, Salesforce y Jira. El mismo inicio de sesión conecta a los usuarios a las redes y archivos compartidos a través de RADIUS y Samba, respectivamente, asegurando el WiFi de tus organizaciones.
Mostrar menos
¿Quién usa JumpCloud Directory Platform?
JumpCloud sirve a organizaciones desde pequeñas a medianas empresas hasta corporaciones multinacionales de gran escala. JumpCloud también trabaja en estrecha colaboración con instituciones educativas, organizaciones sin ánimo de lucro y agencias gubernamentales.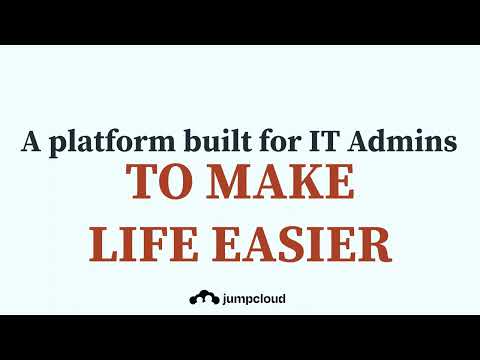 ¿No estás seguro sobre JumpCloud Directory Platform? Compara con una alternativa popular
JumpCloud Directory Platform
Versión gratuita
Prueba gratuita
No se han encontrado precios
Versión gratuita
Prueba gratuita
¿Por qué estoy viendo esto?
Alternativas a JumpCloud Directory Platform
Opiniones de JumpCloud Directory Platform
Trevor
Operations Engineer en EE. UU.
Software informático, 51-200 empleados
Ha utilizado el software durante: 6-12 meses
Alternativas consideradas:
Look out Microsoft AD...
Comentarios: I was hired into my organization to bring on a directory platform and consolidate our IT practices among users and computers. I came from a microsoft active directory shop, but my new company was not interested in AD. That was a seemingly tall task, until I found JumpCloud. I thoroughly enjoy coming into work and using jumpcloud to build the next era of our IT practices and procedures. We are primarily focused on SSO at the moment, and that is proving to be very simple to configure. I am looking forward to getting devices managed with JC in the next coming months using their pre-defined policies, as well as their command runner feature and powershell module. JumpCloud will soon be a serious competitor to Microsoft's admin suite, and I am very happy to be on board.
Puntos a favor:
SSO integrations are incredibly easy to configure, no matter if you are using a prebuilt configuration or need to make a custom connector. Having SSO, LDAP, Radius, MFA in the same platform as device authentication and configuration policies is something I have not found outside of Microsoft AD and JumpCloud. There are remote management and monitoring tools out there that claim to do these things, but so far JumpCloud has proven to be incredibly simple. I am constantly amazed that my tests just work within the first few tries. I am used to Microsoft environments where testing gets very tedious and gives minimal feedback on how to make things work. JumpCloud supports MacBooks like a champion. If your office is heavily invested in MacBooks, and you are looking for an easy way to centrally manage authentication and hardening, JumpCloud is the tool for you. By far my favorite feature is "Submit an idea" right in the admin console. You get the sense that they really care about their admins and want to make a tool that is always getting better.
Puntos en contra:
1) No nested user groups! I feel this is essential for identity and access governance. 2) The device policies that they have available cover a lot of the base security hardening needs, but I am excited to see just how much of the various supported OS jumpcloud will eventually be able to tap into. I would love to see JC mirror Active Directory Group Policies as much as possible, and continue to get more configurations added for MacOS. 3) iOS and Android devices are not able to be managed by JumpCloud, but I have been told this is coming by the end of 2021/early 2022. 4) Only TOTP MFA is supported for the admin console, and after getting SSO set up on a lot of tools the pain of that is getting to me, but I know they are working on this feature as well. 5) I personally believe that a remote desktop tool would make JumpCloud the king of IT tools.
Edan
Manager, Information Security and Infrastructure en EE. UU.
Internet, 51-200 empleados
Ha utilizado el software durante: Más de dos años
It's your directory service, in the clouds. Free yourself from AD.
Comentarios: Faults aside, I love JumpCloud.
I'd never go back to AD.
Multi-platform endpoint management is huge.
Apple MDM is the answer to our Mac admin needs.
VPP and software deployment is getting there. This is an Apple-created issue as much as anything and JumpCloud is working to provide a best-in-class solution. There not there yet, but getting there.
The pricing situation, breaking things out into feature-gated buckets is, annoying to say the least.
I get it, they have to show growth. They'll likely IPO in the near future.
They just raised a ton of cash and should see accelerated feature growth.
I can't think of a single thing I'd replace it with. If I had to go back to AD... well, let's say the kindest thing I can say about AD is not very kind at all.
Things like MDM policies are lacking in terms of their canned, out-of-the-box selection. That makes sense, to a point. Yes, you can create your own policies as you likely did w/ any other MDM, but solutions such as Meraki and JAMF, while... different, offer a ton of options for pre-defined policies that you just need to fill in.
Wifi for example. Re-writing my own policies when JumpCloud's RADIUS certs expire - forget it. This should be a template in their console. Fill in your SSID and JumpCloud auto-generates a policy, signs it, and pushes it. I shouldn't have to maintain tons of policies.
Puntos a favor:
It's cloudy, SaaSy, and requires no on-prem or self-managed hardware to maintain.
Puntos en contra:
Feature rollout is random. Like w/ any software, sometimes my prorities are hit, sometimes they feel forgotten. What's important to me and my company's use-case isn't always going to match up with what matters to JumpCloud. That being said, certain features are a long time in the offing.
Software informático, 51-200 empleados
Ha utilizado el software durante: Más de dos años
Alternativas consideradas:
Great Platform
Comentarios: Jumpcloud has helped us move to one platform for Security, MDM and in the future I'm sure we will move for software updates and rolling software to users. I'm really enjoying the new features and roadmaps that Jumpcloud will bring to us all.
Puntos a favor:
Jumpcloud has several features that will bring ease of use to you life. The simplicity of the system and the ease of understanding is key. Going from a brand name MDM to using Jumpcloud was super easy. The everyday management and the use of it, is definite stand out for me in terms of using Jumpcloud.
Puntos en contra:
Jumpcloud has alot of items, some are less relevant. But one negative aspect, and this is getting better, is the possibility to push macOs application to users. This is still fiddly but I'm sure that Jumpcloud will come out with a solution.
Usuario verificado
IT Architect en Singapur
Usuario de Linkedin verificado
Tecnología y servicios de la información, 5.001-10.000 empleados
Ha utilizado el software durante: Más de dos años
Alternativas consideradas:
Holistic And Neutral Solution For IAM And Device Management
Comentarios: JumpCloud is the only solution which can provide an authoritative directory, an IdP for SAML and device management combined in a single unified SaaS-based solution. The neutral approach by serving well established standards such as LDAP, SAML and RADIUS for AuthN/AuthZ and having the capability to managed identities (user and their devices) and credentials including SSH-keys on devices is a true differentiator to competitive solutions. On top, JumpCloud's agent for devices enables broad and versatile capabilities to deploy software, configure endpoints and even use this for remediation purposes. Recently, extremely useful additional capabilities have further enabled the value of this solution. Broad insights about systems and the directory itself, consumable via UI and API's, not only helps IT admins in their daily operations, but also serves well for Information Security and GRC-related purposes such as auditing and compliance. Their API's have also enabled capabilities to better orchestrate and automate the on-/offboarding of users and their respective devices and gives good options to venture into ChatOps. New features related to MDM for macOS are now giving an opportunity to further simplify the overall management of the Apple-flee. Especially since macOS Big Sur, the stronger focus on MDM is another enabler.
Puntos a favor:
The most important benegit, as highlighted above, is that there is no reliance on any on-premise or self-hosted directory infrastructure. A cloud-native solutions such as JumpCloud allows to operate efficiently without being forced to configure, maintain, operate and secure a footprint-heavy stack.
Puntos en contra:
Until now, MFA is limited compared to other players in the field like Cisco Duo. More options, such as Push-MFA or even QR-codes to be used as multiple factors during authentication across devices and protocols, including LDAP/RADIUS, would further enable leaner footprints and higher efficiency.
Lance
Head of Information Security en EE. UU.
Servicios financieros, 201-500 empleados
Ha utilizado el software durante: Más de dos años
Alternativas consideradas:
Satisfied Jumpcloud Organization
Comentarios: We have had a very positive experience. From the onset, we have had great customer support throughout. The customer success teams and engineering teams have all been responsive, and it is clear that they care about the voice of the customer. Our inquiries are responded to quickly, and we are kept in the loop on a monthly basis, or more frequently if necessary, of any changes and what the roadmap looks like.
Puntos a favor:
Jumpcloud has provided us with a full DaaS solution which we were able to scale easily, and have seen the benefits versus our prior environment. We are able to implement policies and enhance our security posture very easily by utilizing Jumpcloud. The SSO integration is a great feature which is included in the standard plan, and allows us to save money and resources on having an additional solution in our tech stack. The ability to manage all users and endpoints through the console allows for streamlined processing of requests through our Sys admin team.
Puntos en contra:
I don't like the lack of readily available reporting which can be generated directly from Jumpcloud. The data is all there, and we can get it through various extracts, but I would like to see some high quality embedded reporting with the ability to share and customize reports. I also want to see more integration with services like Slack.