¿Qué es Halp?
Halp is a conversational ticketing solution for modern internal operations teams to assign, prioritize, track, and answer requests from Slack in a message-based interface. Companies using Halp get
Leer más
faster response times, more productive operational support teams, and happier employees. Halp functions as a standalone ticketing system, or it integrates directly with Zendesk, Jira, ServiceNow, and other legacy ticketing systems.
Mostrar menos
¿Quién usa Halp?
Fast-growing IT, TechOps and Internal Ops teams at small, medium, or enterprise companies.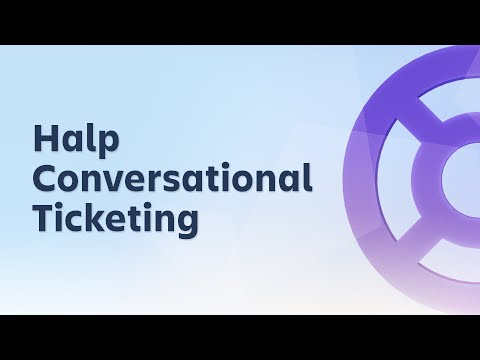 ¿No estás seguro sobre Halp? Compara con una alternativa popular
Versión gratuita
Prueba gratuita
Versión gratuita
Prueba gratuita
¿Por qué estoy viendo esto?
Opiniones de Halp
Opiniones por tamaño de empresa (empleados)
<50
51-200
201-1.000
>1.001
Encontrar opiniones por puntuación
Victor
Director of IT en EE. UU.
Usuario de Linkedin verificado
Construcción, 201-500 empleados
Ha utilizado el software durante: 1-5 meses
Halp: filling the gap between the helpdesk@ email and a full helpdesk
Comentarios: Halp has been a great transition for us from a basic helpdesk@ shared mailbox. It's great value for money and inexpensive for what it does--we look forward to seeing how the product grows and how we will end up using it as we grow.
Puntos a favor:
Halp made it super easy to set up our team to start processing tickets and most importantly helping our internal customers. The Microsoft Teams interface is slick, and since we're all on it, people are enjoying being able to directly interact with helpdesk resources through Teams. It was quick to setup and intuitive for us and our end users. We like the search interface's speed for helping us find similar issues and get up to speed quickly.
Puntos en contra:
It's still pretty basic: reassigning a ticket in Teams isn't possible (use the web interface), it handles message attachments poorly, and sometimes we still have to dig out the original email that came into our helpdesk account to figure out what the request is about. No macro/frequently used text support.
Randy
IT Manager en EE. UU.
Salud, bienestar y deporte, 501-1.000 empleados
Ha utilizado el software durante: 6-12 meses
Great Product, Great People.
Comentarios: Every single person I have interacted with at Halp is passionate about the product and how it can help me. They are super supportive and knowledgeable, so not only do they listen to my feedback, but they have great ideas of how to use Halp fully with the other tools I have.
Puntos a favor:
I am in an environment with Slack and Zendesk used heavily. I love that I now have these tied together in an easy way to be able to quickly push tickets without even having to go back to the web interface. There own ticketing system backend is ever improving and I fully intend to move my IT team off of Zendesk and over to Halp fully, hopefully within this next year. Also, the BetterCloud integration to be able to kick off workflows is AWESOME.
Puntos en contra:
They did originate as BubbleIQ and have grown into what they are now. Because of this, the feature set it still growing. That is not a horrible Con, as they are actively growing the feature set and constantly seek input from customers to determine the best roadmap.
Hoey
Director of IT en EE. UU.
Servicios para el consumidor, 201-500 empleados
Ha utilizado el software durante: Más de un año
Halp has completely changed the way we do IT Support
Comentarios: Our employees communicate almost explicitly in Slack. This has allowed us to provide an easy way for our employees to ask for help which has vastly improved our employee IT support satisfaction rates. We also us halp to provide our employees with custom request forms which makes it simple for them to make requests for equipment needs, etc.
Puntos a favor:
Our ability to handle IT support issues quickly in conversation mode has enabled us to provide a much higher level of service to our employees. Halp enables our team to easily collaborate on support requests and provide curated solutions (Answers) to our employees to help them solve IT issues quickly.
Puntos en contra:
There are a few features that are lacking that would help our team provide better support: automatic form field syncing, shared triage channels between Slack Connect instances and customizable satisfaction surveys
An
IT Technician en Canadá
Logística y cadena de suministro, 501-1.000 empleados
Ha utilizado el software durante: 1-5 meses
Halp is a intuitive way for both users and technicians to solve problems.
Puntos a favor:
The fact that HALP is integrated into Teams - a platform that the business I, along with much of the business world works on makes it one of the best ticketing systems I have used. The HALP team is constantly improving the product is a nice bonus. It is much cheaper than comparative ticketing solutions. Good looking UI.
Puntos en contra:
There is a specific feature that I would like to see in future updates: the ability to save views (tickets assigned to a certain agent, tickets with a certain status) to your HALP profile