¿Qué es EventTitans?
La pasión por los eventos hace que el enfoque principal de esta solución de software sea hacer que las personas se enamoren de tu evento. Esta plataforma de eventos incluye potentes características exclusivas, tales como incorporación de oradores y patrocinadores, registros de invitados, creador de sitios web de eventos, emisión de entradas y registro, gestión de sesiones, analíticas de eventos, gestión de ofertas de proveedores, aplicaciones móviles y de redes, programa de recompensas para usuarios, reservas hoteleras, impresión de credenciales, realización de encuestas y trivias, sondeos y sesiones de preguntas y respuestas en vivo, CRM incorporado, plataformas de marketing y mucho más.
¿Quién usa EventTitans?
EventTitans brinda servicios a múltiples sectores tales como arte y entretenimiento, ceremonia de premios, reuniones de negocios, directores de conferencias y recaudadores de cenas de gala. Consulta el sitio web de EventTitans para más información.
¿Dónde se puede implementar EventTitans?
Cloud, SaaS, Web, Android (móvil), iPhone (móvil), iPad (móvil)
Sobre el proveedor
EventTitans
Ubicado en Atlanta, EE. UU.
Fundada en 2017
Asistencia telefónica
Asistencia 24/7
Chat
Países disponibles
Australia, Canadá, Estados Unidos, Reino Unido, Rusia
Sobre el proveedor
EventTitans
Ubicado en Atlanta, EE. UU.
Fundada en 2017
Asistencia telefónica
Asistencia 24/7
Chat
Países disponibles
Australia, Canadá, Estados Unidos, Reino Unido, Rusia
Imágenes y vídeos de EventTitans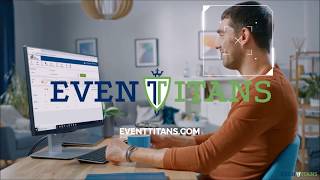 Comparar el precio de EventTitans con productos similares
Funciones de EventTitans
API
Acceso móvil
Actualizaciones en tiempo real
Alertas y notificaciones
Arrastrar y soltar
Automatización de marketing
Calendario de eventos
Chat en tiempo real
Check-in móvil
Clasificación
Compra de entradas
Confirmación y recordatorios
Creación de informes y estadísticas
Creación de informes/análisis
Creación de marca personalizable
Definición y seguimiento de objetivos
Generación de clientes potenciales
Gestión de calendario
Gestión de calendarios
Gestión de comentarios
Gestión de concursos
Gestión de contactos
Gestión de datos del cliente
Gestión de encuestas/sondeos
Gestión de entradas para eventos
Gestión de eventos
Gestión de exposiciones y de proveedores
Gestión de inscripción
Gestión de la comunicación
Gestión de participantes
Gestión de promociones
Gestión de páginas web
Gestión de recompensas
Gestión de reservas
Gestión de tarjetas de identificación
Herramientas de colaboración
Informes personalizables
Inscripción de grupos
Inscripción en línea
Inscripción in situ
Integraciones de terceros
Integración de redes sociales
Lectura de código de barras/tickets
Mapas de eventos
Marketing por correo electrónico
Mensajería individualizada
Métricas de rendimiento
Networking
Pagos en línea
Panel de actividades
Perfil de los participantes
Perfiles de los ponentes
Presupuestos/previsiones
Procesamiento de pagos
Programación de eventos
Promoción social
Punto de venta (POS)
Registro de visitantes
Reserva de entradas
Seguimiento de asistentes
Alternativas a EventTitans
Paawan S.
Managing Director en India
Usuario de Linkedin verificado
Marketing y publicidad, 11-50 empleados
Ha utilizado el software durante: 1-5 meses
Best in Email and website templates
Comentarios: I think this
platform simplifies the process of building a hybrid event. All in all, a
super-duper platform and I would highly recommend ET to everyone.
Puntos a favor:
ET's website and email templates are very user-friendly and visually attractive. It makes the creation of great looking websites and emails extremely easy on this platform. It also allows for integration with other tools like HubSpot and CrowdCompass.
Puntos en contra:
There can't be any cons in a highly integrated platform such as this. I found it to be really streamlined and flawless.
Melissa F.
Marketing & Training Development en EE. UU.
Seguros, 11-50 empleados
Ha utilizado el software durante: 1-5 meses
Great customer service and value
Comentarios: We usually have our conference in person but due to Covid we had to go virtual and EventTitans was a great platform to create an experience as close to our in person event as we could. Overall it was a great value for the level of customization and features they offer and the customer service and responsiveness was fantastic.
Puntos a favor:
The price point for this product was fantastic compared to similar platforms and also included the ability to customize it to our needs way beyond just changing colors and logos. They incorporated items that involved their development team to build custom for us. The EventTitans teams was always available for any issue or requests we had. We had many comments from our conference attendees on how it felt like a real conference with the virtual lobby, exhibit hall and sessions. Since it integrated with Zoom, which is a platform we use daily, it made the live sessions pretty easy for us to maneuver. This also helped us with some trouble shooting during the conference as some corporate computers were blocking the site from showing the session so we were able to give them a direct link to the Zoom session instead. We were also impressed with the detailed reporting post conference.
Puntos en contra:
Some of the behind the scenes administrative/build functions were not as intuitive as I had hoped but I was able to become fairly proficient with it with the help of the EventTitans team. They were always willing to walk me though anything I was unable to figure out. I think some documentation and guides would be very helpful.
Ryan T.
Managing Director en EE. UU.
Veterinaria, Trabajador autónomo
Ha utilizado el software durante: 1-5 meses
Not focused on the Exhibitor at all...
Comentarios: Overall, I think your online virtual conferences are "middle of the road". I have participated in events on other platforms that offered less ability to prepare the booth with materials but were better at connecting you with attendees through a virtual calendar where they could request a video call at a later time in the day. I have also been on platforms that offered more interactivity, even allowing you show yourself on webcam when attendees first entered the booth so they knew you were present and ready to answer questions. Overall, the platform was stable but didn't seem very well thought out for the exhibitors/sponsors. I understand that your main focus is the attendee and their lecture viewing experience, but considering we as sponsors pay the bills it is rather disappointing how little you worked on features to provide benefits to us.
Puntos a favor:
The chat features were useful to interact with people who came by the booth. However, you have to reload the page every minute or so to see who has visited, it did not update on its own very quickly. Perhaps once every 5-7 minutes, which is enough time for the visitor to leave before you can engage them. I liked that you can upload "handouts" and videos alike, that definitely helped the booth feel more robust.
Puntos en contra:
The rating system doesn't require a visitor to interact with the materials or the exhibitor at all before leaving a review. In fact, we had someone stop by the night before the event took place and leave a 3-star review without having watched any videos, downloaded any handouts, or trying to chat with the rep who was manning the booth during the set the exhibit hall hours. It gave us a negative review before the event even began. We also noticed in our second event we couldn't actively reach out to visitors via chat. They had to open the chat from their end. When I viewed our booth activity and clicked on the attendee name nothing happened which I found odd because in the first event and last event we participated in we could click their name and proactively start a chat with them.
Heather W.
Director, Member Relations en EE. UU.
Veterinaria, 10.000+ empleados
Ha utilizado el software durante: 1-5 meses
EventTitans - Up and coming, lots of potential, great value!
Comentarios: Great group of people to work. Extremely tentative and professional. Questions/issues were answered in a timely fashion. Great price for the platform compared to others out there. Would definitely recommend ET.
Puntos a favor:
When I was looking for a platform to host our virtual conferences it was really important for the platform to feel like you were at an in-person event. ET did that for us. What I liked most about the ET platform is the look of the virtual lobby and most especially the look and functionality of the virtual exhibit vendor booths. I also was looking for a platform that could support gamification and EventTitans did just that. We were able to have our attendees engage with the platform and connect with our vendor sponsors by offering up "tickets" for completing certain tasks within the event.
Puntos en contra:
There were some minor hiccups along the way with the uploading of some documents in the vendor booth and attendees not receiving their invites to access the venue but all of these minor issues were handled pretty immediately. I didn't expect there not to be some hiccups.
Respuesta de EventTitans
el año pasado
Thanks much for your feedback Heather. Appreciate it.
Linda B.
Music Director en EE. UU.
Música, 2-10 empleados
Ha utilizado el software durante: 1-5 meses
Excellent choice for non-profit fundraisers
Comentarios: This site is very easy to use. I say that as a customer and administrator. When I had a problem they were there for me almost immediately--and I didn't have to jump through gatekeeper hoops to get them to help. All I did was shoot them an email and the problem was solved within a couple hours. On a weekend! I also ordered product to test it out and it was surprised by how easy it was to shop and order. Simple and easy. Thank you, EventTitans!
Puntos a favor:
Easy to set up and use. EventTitans contacted Stripe for me and got it connected. They got my fundraiser event organized and the page designed, and made a dashboard that I could understand and quickly. They get it--we don't have time to learn a lot of fancy stuff because we're busy running our non-profits.
Puntos en contra:
I didn't quite get that I could shop for all coffee choices off the one SHOP button, but that one was on me. I wish I could change our photos as we get new ones, or maybe add some quotes about the organization.
Respuesta de EventTitans
hace 2 años
Thanks a bunch Linda for your kind review. Appreciate it.