Dynamics 365 Business Central
¿Qué es Dynamics 365 Business Central?
Microsoft Dynamics 365 Business Central es una solución integral de gestión empresarial diseñada para pequeñas y medianas empresas. El software proporciona funciones para pronósticos y creación de
Leer más
informes financieros, optimización de la cadena de suministro, planificación y seguimiento de proyectos.
Mostrar menos
¿Quién usa Dynamics 365 Business Central?
Diseñada para pequeñas y medianas empresas, es una solución de gestión empresarial que ayuda a trazar el rendimiento financiero en tiempo real, optimizar la capacidad de fabricación y priorizar los clientes potenciales de ventas.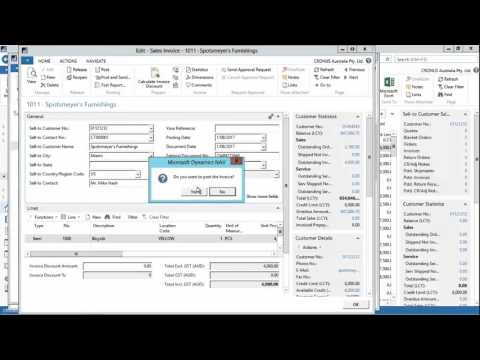 ¿No estás seguro sobre Dynamics 365 Business Central? Compara con una alternativa popular
Dynamics 365 Business Central
Versión gratuita
Prueba gratuita
Versión gratuita
Prueba gratuita
¿Por qué estoy viendo esto?
Alternativas a Dynamics 365 Business Central
Opiniones de Dynamics 365 Business Central
Yonatan
Head of Sales Northern Europe
Usuario de Linkedin verificado
Software informático, 11-50 empleados
Ha utilizado el software durante: Más de un año
Keeps everything in once place.
Los subtítulos en español están disponibles en el reproductor de vídeo
Saurabh
Microsoft Functional Consultant en India
Usuario de Linkedin verificado
Tecnología y servicios de la información, 51-200 empleados
Ha utilizado el software durante: Más de dos años
Alternativas consideradas:
BC One stop ERP solution
Puntos a favor:
It is a very ease to use software similar to just like using Excel Spreadsheet. As per my opinion it is a very effective product available today for all our Enterprise Building Solution. All the functions in Business Central are very Great and can be very fruitful for the Business if adapted effectively and efficiently.
Puntos en contra:
Nothing to Report as of Now. I am not able to find anything to Report at the Moment
Lora
Accountant en EE. UU.
Construcción, 11-50 empleados
Ha utilizado el software durante: 6-12 meses
Alternativas consideradas:
Pretty easy to navigate, but the screen formatting needs adjusted
Comentarios: We use the collections module, sales, purchasing, service cost, job cost, subcontractor module, and more. We use purchase orders and 3 way matching and use dynamics for a wide range of use.
Puntos a favor:
You can easily adjust titles to be in red or have distinctive features to stand out, but it is not always easy to do on the financial module and you cannot do it when using features like smartlist.
Puntos en contra:
The inability to generate certain reports (you have to set them up yourself) which can be VERY time consuming.
Akash
Quality Engineer en India
Electrónica de consumo, 501-1.000 empleados
Ha utilizado el software durante: Más de dos años
Dynamics 365 Business Central - One Stop Business Management solution
Comentarios: It saves time by processing huge amounts of data in few secs and keeps records of everything that we want and helps a lot in inventory management and resource planning as per Customer's requirement.Helps to calculate profit/loss on monthly basis/yearly basis.
Puntos a favor:
Every firm/business needs a solution for managing Daily Ledger, Inventory management, Supply chain management, Process Management, Accounting management, HR management, Profit Management, etc - Dynamics 365 Business Central has everything available in a single software which can be accessed on all types of devices running on different platforms. It provides flexibility to the users to work from anywhere/ anytime by having authorized access. It has top level encryption to keep your data safe and keeps a log of it in its database to compare and analyze data according to our need. I mostly use it for Project management and Process management.
Puntos en contra:
The user interface of the software is little complex one as use of icons is very less due to which we have to read the name of that particular option/field which we want to choose. Rest there are no cons according to my use
Ha utilizado el software durante: No especificado
Fuente: SoftwareAdvice
Comentarios: I have worked in the supply chain for 5 years now and have experience with 3 different ERP's. Our old ERP was limiting, though it was also fairly straight forward. The biggest issue seemed to be how incredibly date sensitive how ever without requiring dates at the same time. This pushed the change to a new ERP and Microsoft NAV was chosen through their partner company Just Foods. A truly bizarre system, the flow of documentation through the program makes little sense and over complicates what would normally be easy transactions. For instance Purchase Orders follow this document flow - First the purchase order is created once you receive your order, a warehouse receipt document is created and received in. However, once it is received in the warehouse, the receipt document disappears and becomes a posted receipt document (both have completely different document numbers that don't connect to each other). At this point your original Purchase order has been changed to reflect what ever was received in, and you have to have a second column to view what you originally ordered. Otherwise, figuring out if you over or under received is difficult at best. Now once the invoice comes in and is posted against the posted warehouse document, your purchase order disappears. The only place your purchase order exists in its original form is the in Purchase order Archive, which was never mentioned to us during implementation, forcing us to call Just Foods later on and pay for their customer service. This same, strange flow of documents, that are essentially intermediary documents only existing to complete a transaction, over complicate what should be a straight forward shipping and receiving process. There are some other basic functionality issues, like figuring out what day you actually shipped or received an item. The easiest way to figure that out seems to require access to the warehouse functionality, which you may or may not want people to have. We get a lot of errors where the tables are locked with other users, and you are just stuck until the report or other person finishes up. The Dimensions on lines can mysteriously disappear, even though the G/L Code and Department code show as filled out in the order. Our MRP has never worked correctly, so in general, we are forced to use Excel to put together our production schedule. All in all, its a sub-par program that you can tell is 5 or 6 different original programs that have been slapped together to try an resemble an ERP system. Now having said all that, obviously I am looking at this from a supply chain perspective as it is what I do. Perhaps on the accounting end it has some ease of use, but due to how difficult it is to understand on the operations end, the accounting rarely comes out correct due to faulty information in the system. On the positive side there do seem to be a million different ways to do the same thing in NAV, and many of the built in reports are extremely useful assuming that the information in the system is correct.
David
Engineering Manager en EE. UU.
Ingeniería industrial o mecánica, 51-200 empleados
Ha utilizado el software durante: Más de dos años
Alternativas consideradas:
Dynamics Review
Puntos a favor:
It easily integrates with Microsoft products and has a full set of features that we use regularly.
Puntos en contra:
Like any software it has a learning curve. This takes time and effort of the individuals teaching and those learning.