Zoho Creator
¿Qué es Zoho Creator?
Zoho Creator es un software de desarrollo de aplicaciones todo en uno, low-code, que está diseñado para ayudar a las empresas a digitalizar sus operaciones, pero sin las molestias de las tareas de
Leer más
desarrollo tradicional. Cada negocio es único y esta plataforma está desarrollada para abordar sus particularidades. Más de 13 000 empresas con más de 7 millones de usuarios en todo el mundo confían en esta solución como su socio tecnológico. Tú también puedes comenzar tu recorrido para crear aplicaciones personalizadas hoy mismo.
Mostrar menos
¿Quién usa Zoho Creator?
Empresas de tamaño pequeño y mediano en cualquier sector. Zoho Creator es útil para emprendedores, pequeñas empresas, institutos educativos e incluso organizaciones sin ánimo de lucro.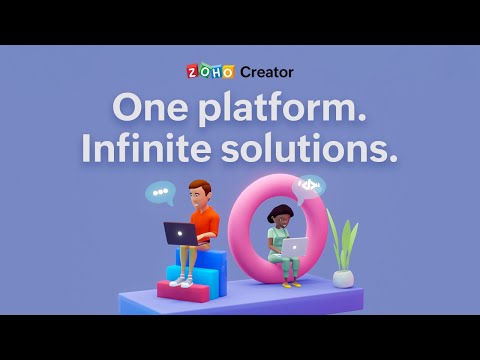 ¿No estás seguro sobre Zoho Creator? Compara con una alternativa popular
Versión gratuita
Prueba gratuita
No se han encontrado precios
Versión gratuita
Prueba gratuita
¿Por qué estoy viendo esto?
Alternativas a Zoho Creator
Opiniones de Zoho Creator
Jordan
CEO
Usuario de Linkedin verificado
Aprendizaje en línea, Trabajador autónomo
Ha utilizado el software durante: 1-5 meses
Very handy software (if you are already using Zoho One)
Los subtítulos en español están disponibles en el reproductor de vídeo
Rose
IT Network Manager en EE. UU.
Usuario de Linkedin verificado
Banca, 201-500 empleados
Ha utilizado el software durante: Más de dos años
An Incredible Builder of Mobile Applications
Comentarios: Zoho Creator has always been one of my top softwares because of its incredible capabilities and ease of use when making simple mobile applications.
Puntos a favor:
With Zoho Creator, I do not need to have the best programming skills to build a mobile app. The process is not difficult at all. Zoho Creator is a great online platform that makes it easy to build simple but excellently-looking mobile applications. I like the ease of use of Zoho Creator.
Puntos en contra:
Zoho Creator continues to be my favorite builder of mobile applications. The only con I have about it is the slow support team.
Michael
President en EE. UU.
Edición, 11-50 empleados
Ha utilizado el software durante: Más de dos años
Extremely Versatile - Perhaps Too Versatile.
Comentarios: All in all, I would rate my experience as a 9 out of 10. Building basis databases and creating reports is very straightforward and by and large you can do a lot of things with their drag-and-drop interface quite easily. I do admit to not being very impressed with their support, and occasionally we've had issues with server uptime, but their pricing is fair and the tool is powerful. In spite of the shortcomings I have expressed, I still wouldn't hesitate to deploy Zoho again in another enterprise. It continues to drive our daily production schedule with hundreds of projects simultaneously in motion.
Puntos a favor:
I ran a web development firm for nearly 20 years prior to moving into a different industry, so I knew the power of databases and the importance of them in day to day processes. Moving in to a startup with zero infrastructure, one of my first tasks was to get a production database going. We struggled along for awhile passing Excel spreadsheets back and forth for a few months and quickly outgrew that. I did not want to create a web app from scratch with mySQL. We didn't have the developers, time, or budget to do that. So, I started looking around for a tool that would let me do what I needed to do. Zoho Creator was a perfect match. To be honest, there's not much you can't do with this tool. It will probably handle 90% of what most mid-sized businesses need. It's totally customizable, and their Deluge programming language lets you do special things that most basic web-based drag-and-drop solutions wouldn't be able to handle. To be honest, Zoho is almost too powerful. It fits our needs and we've barely scratched the surface of its abilities.
Puntos en contra:
The documentation for Zoho Creator is fair, but if you can't get your questions answered through their knowledge base, finding an expert isn't easy. Their support email is not too helpful. And while they do have a database of experienced Deluge developers that you can call on, it seems a little cumbersome to have to bring in a third party. Also, there are a couple of different versions of Zoho Creator currently in deployment. So, depending on which version your account is on, the documentation might differ - the features certainly do differ. It's a very very powerful product, but because it is a closed-source, proprietary solution, you're somewhat at the mercy of Zoho to get answers to your programming questions.
Usuario verificado
CEO en RU
Usuario de Linkedin verificado
Tecnología y servicios de la información, 2-10 empleados
Ha utilizado el software durante: Más de dos años
Alternativas consideradas:
Powerful and easy to use creator solution at a reasonable cost.
Comentarios: We use the software to keep track of computer assets from an app created in Zoho Creator and like the rest of their solutions was easy to use and powerful. Support is also excellent and responses are quick despite the time differences.
Puntos a favor:
You can quickly and easily make a powerful app or database that you can use across desktops, tablets and mobiles. There are a lot of templates to start with or you can make your own without too much of a learning curve.
Puntos en contra:
A lot of the template wizards are aimed at solutions for the States and need a lot of changing around if in the UK.
Phill
Nueva Zelanda
Usuario de Linkedin verificado
Producción de alimentos
Ha utilizado el software durante: Más de dos años
Fuente: GetApp
Security flaw within Zoho Creator
Puntos a favor:
I've been using this app for a couple of years and a lot of my business is based around it. I would usually rave about how good it is
Puntos en contra:
I have a data security issue with the app. The product claims that your user data is protected, but there is a flaw with the way the dropdown menu data is shared. Lets say you enter some data in one sheet, and want to use this data in another sheet via a dropdown menu. Not only is your data shown, but so is everyone else. This cannot be fixed by profiles / roles / filters etc. I am on the unlimited users plan and this is a serious flaw in the system for me. I have been unable to further develop my app for a month or so and take it to the next level for my business. I have communicated this with Zoho and they have acknowledged the issue and told me a developer can fix the problem. I have paid one of their certified developers to fix this for me - but he just took my money and hasn't been in touch for a month or so. I have made a formal complaint to Zoho about him, but he is still listed on their website as a certified and recommended developer. I have asked numerous times for help and have got no where. I am now just being passed from one unknown support person to the next. I am absolutely fed up. It seems that this issue could be solved in an hour or so, but I have now probably spent over 12 hours of my own time on it and still don't have a solution.
Zach
Music Teacher/ Business Owner en EE. UU.
Música, Trabajador autónomo
Ha utilizado el software durante: Más de dos años
Alternativas consideradas:
Happy User
Comentarios: Tracking billing, services, expenses, and clients in one place has made zoho my one stop shop. Great customer service whenever I need it.
Puntos a favor:
It is what you put into it. I'm happy with mobile access through the web and endless customization abilities.
Puntos en contra:
Some time so many customizable options can be overwhelming. It's clean, but if you aren't in it regularly and they make a big backend design change... you may get lost really easy.