¿Qué es iContact?
Envío ilimitado. Asistencia en los Estados Unidos. Expertos en correo electrónico dentro del personal. El marketing por correo electrónico de iContact ayuda a las empresas de todas las etapas y tamaños a obtener resultados. iContact ofrece un plan para satisfacer todas las necesidades, desde la pequeña empresa que acaba de comenzar, los profesionales de marketing y las agencias, hasta los remitentes de gran volumen con 25 mil hasta más de 500 mil suscriptores. Todos los clientes obtienen un Success Manager dedicado a poner en funcionamiento rápidamente la empresa, acceso ilimitado al soporte técnico premiado y una calificación de entrega del 98 %.
¿Quién usa iContact?
iContact es perfecto para pequeñas empresas, empresarios, comercializadores, agencias, remitentes de alto volumen con 25 mil a 500 mil suscriptores. Organizaciones sin fines de lucro, EDU, servicios financieros, gestores de eventos y muchos más aman esta aplicación.
¿Dónde se puede implementar iContact?
Basado en la nube
Entorno local
---
Sobre el proveedor
iContact
Ubicado en Morrisville, EE. UU.
Fundada en 2003
Asistencia de iContact
Asistencia telefónica
Chat
Sobre el proveedor
iContact
Ubicado en Morrisville, EE. UU.
Fundada en 2003
Asistencia de iContact
Asistencia telefónica
Chat
Imágenes y vídeos de iContact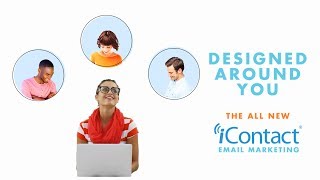 Comparar el precio de iContact con productos similares
Funciones de iContact
Acciones activadas por evento
Análisis de campañas
Automatización de marketing
Autorrespondedores
Campañas de goteo
Campos personalizables
Captura de clientes potenciales
Conformidad CAN SPAM
Correos electrónicos optimizados para el formato móvil
Creación de informes/análisis
Cualificación de leads
Editor WYSIWYG
Gestión de campañas
Gestión de campañas de email
Gestión de canales
Gestión de clientes potenciales
Gestión de contactos
Gestión de correo electrónico
Gestión de listas
Gestión de modelos
Gestión de respuestas
Gestión de suscriptores
Importación y exportación de datos
Integraciones de terceros
Marketing por correo electrónico
Modelos personalizables
Para pequeñas empresas
Planificación de campañas
Plantillas de correo electrónico
Pruebas A/B
Páginas de aterrizaje y formularios web
Segmentación
Segmentación de clientes
Seguimiento ROI
Seguimiento de clics
Seguimiento por correo electrónico
Varias campañas
Lauren
Marketing Coordinator en EE. UU.
Usuario de Linkedin verificado
, 11-50 empleados
Ha utilizado el software durante: Más de dos años
iContact helps me be successful at my job
Puntos a favor:
iContact is a very user friendly product for anyone. My company sends thousands of emails a week and we are always very pleased with how easy it is to create an email and send it immediately. I also really enjoy the dashboard, it helps me keep track knowing what emails have been sent and what emails I have yet to send. i also appreciate that iContact technology can delete any duplicate people in a contact list. That saves me time from having to go through thousands of people making sure I don't have any duplicates. My customer support is also amazing. My iContact rep. is always so good about getting back to me when I have questions or concerns.
Puntos en contra:
Sometimes when I am creating a contact list in iContact, I have several excel sheets I need to upload to that one contact list...iContact doesn't let me select multiple excel sheets to upload at once, I have to do one at a time which takes a lot of extra time for me to do. I also wish I could delete more than one contact list at once. On the "upload contact" box, I want to be able to see the whole title of my contact list. Sometimes iContact cuts off my list title if it's too long, I would like to see the whole title...
Respuesta de iContact
hace 5 años
Hi Lauren! We sincerely appreciate you taking the time to provide this feedback. Our support team loves helping companies like HireLive who make such a tremendous positive impact. As for the concerns you raised about list uploading, we are taking all product improvement comments very seriously and are working to continually improve our product. We currently do allow you to have 5 concurrent uploads at any given time, but you must start the uploads one at a time. And you are correct, we cannot upload multiple sheets from one excel file. We have noted this potential feature, along with multiple list deletion, and title expansion ¿ and we realize its importance. Thank you again and have a great day!
Karen
Consultant en EE. UU.
Tecnología y servicios de la información, 11-50 empleados
Ha utilizado el software durante: Más de dos años
Works great for us
Comentarios: We've had to contact support a couple of times and they have been helpful. The level we purchased isn't a comprehensive marketing solution. But we came back to it after having trouble with ClickDimensions, it actually works better.
Puntos a favor:
When I want to send out an email, I go into my list of prior emails, make changes, and send. It's very easy. It has all of the functionality we need for sending out bulk emails.
Puntos en contra:
The editor is a bit clunky. It does take a bit of time to create a new email format. Sometimes it doesn't behave like it is supposed to. But once you save that new format you can use it over and over.
Respuesta de iContact
hace 2 años
Hello Karen, Thank you for taking the time to leave this detailed feedback for us, we greatly appreciate it! All the best, Carlos, Customer Marketing Manager
Maura
Communications Cordinator en EE. UU.
Instituciones religiosas, 2-10 empleados
Ha utilizado el software durante: Más de dos años
Ease of learning & time to create is minimal
Comentarios: we are keeping our church members informed. many are elderly and find our e-mails informative and easy to read.
Puntos a favor:
I inherited this task from a retiring volunteer. The ease of passing the job from one to another was great. I copy reuse & recreate and get my weekly information to members without spending a lot of time. I can set up , go on vacation and have another person update and add any information needed while I am gone. The spam check results in minimum recipients that have our email in the spam box.
Puntos en contra:
Having difficulty managing old e-mails that are in the data base. Not sure what happens when some one un-subscribes but wanted to get e-mails. (confirmations on unsubscribing?)
Respuesta de iContact
hace 2 meses
Maura, thank you for your review. It means a lot to us!
Marta
PPC Account Manager en España
Marketing y publicidad, 51-200 empleados
Ha utilizado el software durante: 1-5 meses
I am very happy with the application
Puntos a favor:
Intuitive software. It has helped me to personalize a lot my mails to send to my subscribers.
Puntos en contra:
At the moment I have not seen any bugs in the application, maybe later.
Respuesta de iContact
hace 2 meses
Marta, thank you for your review. We would love to learn how we could have scored higher. Please let us know if you can.
Meghann
Marketing Administrator en EE. UU.
Servicios jurídicos, 11-50 empleados
Ha utilizado el software durante: Más de dos años
Alternativas consideradas:
For Small Businesses ONLY
Comentarios: Overall, I love iContact for small businesses. I would look elsewhere for bigger businesses with more than 10+ on staff. It could be more user friendly, but it gets the job done and works for our law firm.
Puntos a favor:
It's extremely easy to deploy automated marketing campaigns, newsletters, quick information to your target audience using this platform. I enjoyed the ease of use in terms of sending out an email. It's nice for small business owners who don't have the time, energy, or resources to allocate to figuring out an email marketing platform.
Puntos en contra:
I love this platform, but it's extremely out-of-date compared to other email platforms. For example, it's impossible to edit a template. For it being 2022, I would assume this would be easier from a user-friendly perspective.
Respuesta de iContact
hace 3 meses
Meghann, thank you for your review! It is possible to edit a template. If you need assistance, our support team can help.