¿Qué es ThunderTix?
Una plataforma para todo en un diseño fácil de usar con una excelente asistencia al cliente. Controla tus propios datos de clientes privados, los precios de tus eventos, cupones y descuentos. Recoge donaciones, vende productos y tarjetas de regalo con registro de canje y saldo. Y a diferencia de cualquier otro servicio de venta de entradas, ThunderTix no cobra cargos por las entradas, pero te permite hacerlo de forma opcional y obtener las ganancias. ¡Pruébalo hoy mismo con la prueba gratis!
¿Quién usa ThunderTix?
Orientado a eventos recurrentes como artes escénicas, recorridos turísticos, eventos anuales y espectáculos de música en vivo.
¿Dónde se puede implementar ThunderTix?
Cloud, SaaS, Web, Mac (desktop), Windows (desktop), Chromebook (desktop), Android (móvil), iPhone (móvil), iPad (móvil)
Sobre el proveedor
Thunder Data Systems
Fundada en 2000
Asistencia telefónica
Asistencia 24/7
Chat
Idiomas
español, francés, inglés
Sobre el proveedor
Thunder Data Systems
Fundada en 2000
Asistencia telefónica
Asistencia 24/7
Chat
Idiomas
español, francés, inglés
Imágenes y vídeos de ThunderTix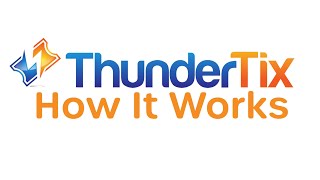 Comparar el precio de ThunderTix con productos similares
Funciones de ThunderTix
API
Acceso móvil
Actualizaciones en tiempo real
Alertas y notificaciones
Arrastrar y soltar
Asientos reservados
Automatización de marketing
Calendario de eventos
Compra de entradas
Confirmación y recordatorios
Controles o permisos de acceso
Creación de informes y estadísticas
Creación de informes/análisis
Creación de marca personalizable
Facturación
Formularios personalizables
Gestión de clientes
Gestión de contactos
Gestión de datos del cliente
Gestión de encuestas/sondeos
Gestión de entradas para eventos
Gestión de eventos
Gestión de exposiciones y de proveedores
Gestión de inscripción
Gestión de la comunicación
Gestión de participantes
Gestión de promociones
Gestión de páginas web
Gestión de reservas
Informes personalizables
Inscripción en línea
Integraciones de terceros
Integración de redes sociales
Lectura de código de barras/tickets
Mapa de asientos
Marketing por correo electrónico
Modelos personalizables
Pagos en línea
Panel de actividades
Procesamiento de pagos
Programación de eventos
Promoción social
Punto de venta (POS)
Reserva de entradas
Seguimiento de la participación
Alternativas a ThunderTix
Sergio G.
Usuario de Linkedin verificado
Ha utilizado el software durante: 1-5 meses
Fuente: GetApp
Easy Interface. Easy to Setup. Reliable & A+ Professional Customer Service.
Comentarios: I enjoyed the overall experience. What was great about ThunderTix was a combination of two things, dependability and customer service. Whenever I had a question they answered it either by phone or email in a timely manner. They were also very thorough as to what you cannot and could do. With much creativity and flexibility there isn't really much you cannot do with their ticketing system.
Puntos a favor:
It's affordable with its different ticketing plans, and you are not stuck paying an outrageous percentage of your sales. *Customer Service *Dependable *Automated Pre-sale system *Automated Post-sale system *Works on smartphones and tablets with easy. *Promotional tools. *Easy simple buttoning system even low tech Church volunteers of an elderly age were able to operate. *SSL Encryption on their end. *Works with multiple merchant portals
Puntos en contra:
I am not really sure. They seem to even be concerned about quickly changing their system to benefit you from their open customer support page. You can see what the customers complained about, and even how they solved it. It was freaking incredibly risky, but also awesome to see how they fixed it. So if there are issues which I did not experience, they probably won't last too long.
John P.
Technology Director en EE. UU.
Entretenimiento, 2-10 empleados
Ha utilizado el software durante: 6-12 meses
Alternativas consideradas:
Crash, Boom, Bang! ThunderTix Makes Noise!
Comentarios: For the value, we have found this to be superior for our use. We are very happy so far. On March 14th, our first event goes live. We have tested, tested, and tested. If the system holds up, we will have exactly what we expected...........a great solution for our ticketing.
Puntos a favor:
TTix was one of many ticketing packages that we researched. It was mid-range priced, had a very nice cross platform web based interface. We especially found that the product was easy to use, and when needed, video tutorials were provided. They also have a robust help forum, and a support ticket system that is quick and helpful. They also offer a paid top tier support package that we did not choose. We also liked their pricing structure that allows you to move to a maintenance status for "off times". Lastly, we found that the integration with our current STRIPE account was seamless.
Puntos en contra:
The added costs made us hesitate a bit. For example, reserved seating is a must for our venue. In this package, you must have them create the seating chart for you (at cost). There is a bit of a delay in this process, and other competitors allow you to create your own charts. They also charge for adding Thermal ticket printing. We found that odd but ultimately decided not to offer Thermal ticketing. There is also added costs for using their email marketing.
Respuesta de Thunder Data Systems
hace 4 meses
Thank you, John, for shouting out those accolades for us! Our support staff will certainly love reading your comments. We realize that there are folks that might want to create the charts on their own, and one day we hope to offer that. Our design team is phenomenal, and they talk through the presentations with our clients to ensure we've covered every detail before ticket sales begin. Most of our clients appreciate that hand-holding, but we certainly can look at a self-serve model. The self-serve model will be coming for thermal tickets, so should you decide to add that, you can avail yourself of our designer. (You can design eTickets now.) Again, thank you for the fantastic rating!
Linda E.
Festival Events Manager en EE. UU.
Entretenimiento, 2-10 empleados
Ha utilizado el software durante: Más de dos años
Love building events with Thundertix.
Comentarios: I have been using Thundertix for about 5 years now and have been thoroughly satisfied with this event building software. Our Accounting Dept. appreciates the reports that I am able to generate for them.
Puntos a favor:
Thundertix is very user-friendly and I love the efficiency in them answering your support requests. [SENSITIVE CONTENT] was especially helpful and did not disconnect until she knew my request was totally answered.
Puntos en contra:
I do not have any negatives for Thundertix at this time.
Respuesta de Thunder Data Systems
el mes pasado
I'm not sure who you spoke to Linda, but I'm going to try to track down the customer success member who wouldn't let you go until you were confident! I promise to put a feather in their cap, so they can wear it prominently the day through. :) Now, I'd like to turn my attention to the areas you feel we could improve -- overall quality and value -- since these are areas we tend to brag on. Would you reach out for a quick chat with one of our team to share some feedback? We'd love to be the 5-star service you hoped we'd be! Thank you for your review and the opportunity for us to improve.
Usuario verificado
Group Sales Representative and Events Assistant en EE. UU.
Usuario de Linkedin verificado
11-50 empleados
Ha utilizado el software durante: Más de un año
Fine but not the best option out there
Comentarios: I feel like the biggest benefit is the price and the customization of the software. I would highly recommend spending quality time on the set-up to ensure you're using it to the best of its ability for your organization.
Puntos a favor:
The customization is really nice -- from show details, customer reminders, and prices. The customer side of things is really clean and well setup.
Puntos en contra:
The navigation can be non-intuitive, but understandable once you get the lay of the land. The biggest issue we've come across is the inability to delete or archive orders. Our group sales processes including deposits were always in jeopardy of getting really messy on the back end. Even leaving notes about orders that you couldn't later update would get irritating for the small space provided.
Respuesta de Thunder Data Systems
hace 4 años
Thanks for your great feedback. We spent a bit of time this year trying to improve our interlinking to make it easier than ever, and our efforts will continue. We truly want to be the most efficient, time saving software. If you have specific suggestions, I am all ears. You are welcome to write me directly, or you can create a feature request once you're logged in. I'll look forward to hearing from you!
Alecia O.
Executive Director en EE. UU.
Entretenimiento, 2-10 empleados
Ha utilizado el software durante: Más de dos años
ThunderTix for the Win
Comentarios: I've been a Thundertix fan and user through at least 10 years and two different nonprofit organizations. [SENSITIVE CONTENT] and her staff are phenomenally helpful and personable, and the software itself is always improving. If you think of a useful feature or a shortcut and suggest it to them, it will usually appear shortly - unless they've thought of it first! Thank you Thundertix!
Puntos a favor:
Aside from the user-friendly, easily navigated and well organized features, what I like most about the software is how it anticipates features you need before you even know you need them. The combination of tech support and responsiveness to users' requests makes this software essential for organizations of any type or size. Plus, they have a very active and responsive Facebook presence. And easy integration with our secure ticket purchase system.
Puntos en contra:
ThunderTix is perfect for us, a non-profit in a rural community; our own technology needs to be improved to make the best use of ThunderTix features such as scanning performance attendees' tickets from their smart phones, which is becoming increasingly popular with our audiences.
Respuesta de Thunder Data Systems
el mes pasado
Love the title of your review, Alecia! "ThunderTix for the Win" is exactly what we aim to do -- help you win back more time with ease-of-use, win more revenue by allowing you to add (or not!) a fee to your tickets, help customers win by keeping any fees low or non-existent, and win more fundraising dollars with automated donations. We have some pointers on how to make scanning work best such as locking down your WIFI to keep it fast for your venue. Thanks for spending the last 10 years with us!